evolution / natural selection
—
yesterday i found an old Haro catalog from last century (1997). there is a picture of my 2nd bmx, the Haro Blammo. now, below you can see the evolution of the components/looks of my trusty ride over the last 6 years.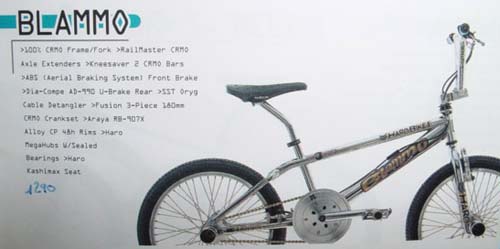 stuff i changed :
seatpost. it broke… no wonder! look how it is bent in its original shape!!
cranks… the right crank arm broke on a landing on flat, taking the chainwheel into its painfull death
handlebar… switched to 2pc 3-4 years ago
stem. the original Haro stem has small cracks… i 'could' still use it, but i don't trust the thing!
obviously many tires and tubes
pegs… the original ones (weighting 0.5kg EACH) had a very weird design…
brakes: front brake lasted about a year, and rear brake is coming on and off depending on my mood… it's actually really fun to ride brakeless, well except in traffic
seat. i broke 1 seat in 6 years, respect!
rim… recently had to change the rear wheel's rim
hhmm… in fact, i had to change everything except the most expensive parts on a bmx, namely frame'n'fork and wheels… that's not bad for a complete bike made in Taiwan!