2 cool days in Chalais, VS
—
my ex-roomie Stéphane aka smojon invited me to spend 2 days in his parents' chalet in Chalais (no joke). Other guests were Nadine, Maya, Saya (sp?) and Natalie. I considered this as a good opportunity to change my daily tv-computer routine, so i accepted.
We left on wednesday morning from Renens and drove straight to the chalet (Renens-Lausanne-Vevey-Montreux-Martigny-Sion-Sierre-Chalais). After unpacking, smojon suggested we'd go to the Forest Adventure Park, despite the fact that Maya is height-sick (exact term??).
The "experience" was quite expensive -40 SFR- but it turned out to be fun, even though knowing that you risk absolutely nothing takes a little bit of the charm away. We had to skip the last 3 runs coz we wanted to catch the last skilift down to Vercorin.
Afterwards we went to Manor in Sierre to get food and alcohol for the upcoming bbq. ok… we wanted to get beer, so we took a 12pack of Feldschlösschen… back at the chalet, we realized that it was alcohol-free… DUH!!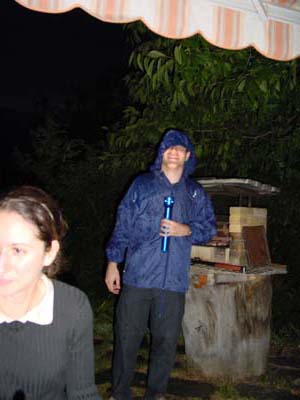 The bbq was nice, even though it started raining. Unfortunately didn't get to know people better, coz every conversation ended up being about sex… it's incredible how you can 'manipulate' words so that they have sexual meanings… actually i don't like these conversations much… anyone can joke about sex, you have to ACT… yes i'm talking to you girls! it's easy to joke about threesomes, but how many would really do it, eh? ok… whatever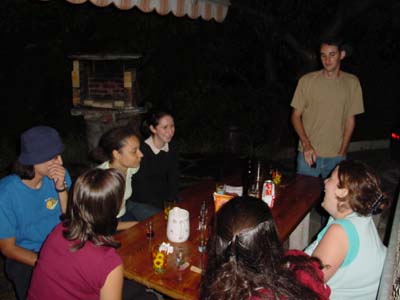 sooo… next morning. more or less everyone got up round noon, breakfast, packing, cleaning. smojon suggested a trip to the Observatory above St-Luc where there was a "planet walk", basically a track with stops, each one with a symbol of a planet of our solar system. the distances between the planets was proportional to the real ones, so the stops were getting more and more stretched out from each other. we wanted to see if it was possible to travel faster than light, meaning that we had to get from the sun to the earth in less than 8min (ain't that geek… ). conclusion of the experiment: yes, it IS possible to travel faster than light… blahblahblahblahblahblahblahblah… small incident on our way back home: it happens that rocks of respectable size fall onto the narrow mountain roads; it also happens that cars hit these rocks. well… guess what! it happened to Natalie's car. she blew her (resp. the car's) oil tank.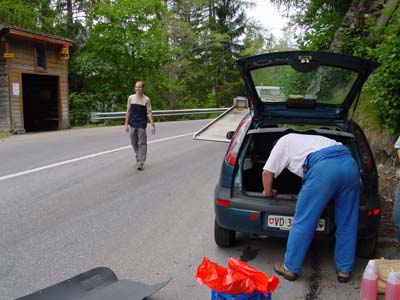 smojon was lucky, coz he was following her, but didn't hit the rock. on the other hand, the car behind smojon (and Maya and me) smashed his front right rim while trying to avoid it… haha (i know… not funny). Nadine and Natalie ran over to the rock to get it outta the way. everything went back to normal from then on…
A few hours later we were all sitting in a nice lil restaurant in Sierre eating rösti (most of us), looking back on the happenings of these 2 cool days in Chalais, VS
oi to the world.