my trip to hawaii
(written on 26.11.2005)
ok. here we go. let me switch my brain into english mode. like last time i went to the US to see groot, i'm a little late with my travel report. that's the way it is. i usually keep little notes to remember what i've done on any given day. i read the notes (in french this time) of my short stay in hawai'i yesterday in the train and i have to admit that they are very very minimalistic and i had to think hard sometimes to find out what exactly i was supposed to remember. first timetravel here here and here. ok.
friday september 9th, 2005
notes : réveil tot, école alex, vol hilo, pontiac grand prix, cote nord-est, akaka, pizza @ aloha luigi, tente walmart, borders, stacey aéroport, lava flow, camping paumé
the day started off very early in the morning, so that we could make it in time to alex's school at the other end of honolulu. groot had one short flight that morning, so i decided to stay in one of the school's rooms and read sections of the travel guide about the island of hawai'i, which is one of hawai'i's islands. huh, no, there is no error in my sentence. hawai'i is a state of the USA. this state basically is a group of islands. one of these islands is called hawai'i, it's the biggest one, but not the one where honolulu is. that one is called o'ahu. well, i guess a map will help you understand :
soooo in the travel guide, i mostly read about hawai'i's history (the state, not the island). interesting, but i don't remember much… slavery, fights about land ownership, butching of polynesians by polynesians, butching of polynesians by whites, butching of asians by whites and polynesians, and what not. all this resulting in the current melting pot of polynesians (natives), chinese (working force on the sugar plantations), whites (assholes), japanese (tourists). i've also read that hawai'i is the state with the highest %-age of military owned ground. crazy…
well, alex eventually safely (!) returned from his aviatic adventures, and we headed straight to the airport to catch our flight to hilo. everything went ok. groot then grabbed a rental car, a pontiac grand prix, for a lower class's price. we decided to drive the east coast up north to waipio bay. great view. on our way, we stopped at 2-3 places, and i soaked my shoes while crossing a small stream. usually these kind of things happen to groot :) . on our way back, we stopped at the akaka falls, and then we had lunch at "aloha luigi". there were some other french-speaking folks there (swiss? i don't remember). one of them was working at the observatories we were going to visit the next day. one of our team members was still missing: yup, stacey was going to land soon at the airport. we made a quick stop at a walmart to buy a disposable tent (well, it was meant to be disposable, but in the end, alex kept it) and at borders to get… nothing. once we picked up stacey, the next goal was : the lava flow. by the time we got there, it was already dark. we tried to walk to the lava nevertheless, each one of us equipped with a flashlight. i was a little dissappointed that we couldn't make it closer than a couple of hundred meters. it still was quite impressing. back at the car, we still had to find a camping place. a long drive later, that was done too. building the tent was fun, maybe because we were so tired. yup that was a long day.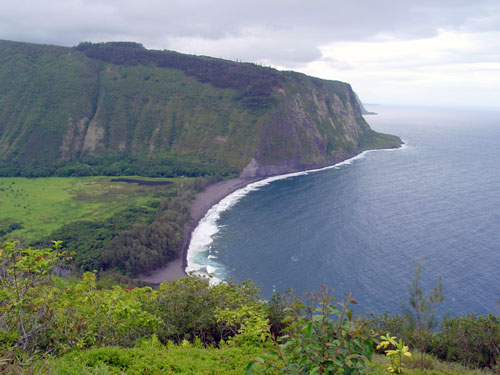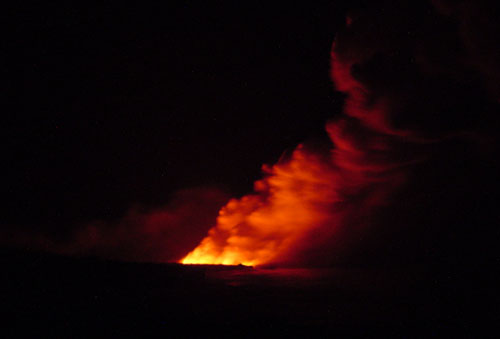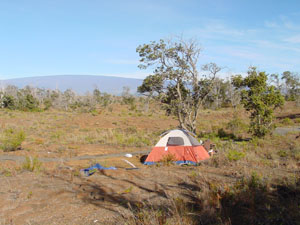 saturday september 10th, 2005
notes : petit dej dèg, cote sud-est, heated pond, black sand, beach, volcan, camping cool
after breakfast (for stacey and groot) at a disgusting place, we drove to the south, south-east of the island, stopped at a black sand beach and a naturally-heated pond. the road must have been fun to drive on, all bumpy and curvy (whoa…gay words!). next stop : the observatories on mauna kea. we had to stop a while at the visitor information station to avoid feeling funny because we went from sea level up to 4000+ m in a few hours. the guide there was all hype telling us stories and facts about the place, the stars and the galaxy. the view at the top was amazing. we stayed there to see the stunning sunset. bus loads of japanese tourists kept us company.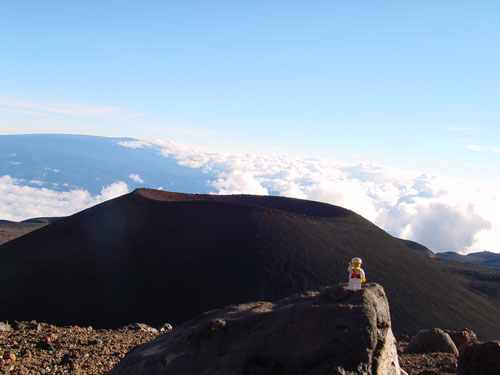 (written on 27.12.2005)
time flies! it's been one month since i wrote the lines above!
sunday september 11h, 2005
rainbow falls, stacey aéroport, cote sud-ouest, amende, south point, pied, kona, thai, camping, douche
ok. we got lost a couple of times while looking for a suitable camping ground on the night from saturday on sunday. the one we chose was really great, with grass, table and trash at each one of the spots. the "bathrooms" were alright too. like the night before, stacey fell asleep in the car and we built the tent. on sunday, we went to a lava-tube-cave-thing nearby. cool stuff. very jurassic park-esque, like all the rest of the landscapes (mmhh… i wonder why ;) . stacey was leaving that day, so we drove back to hilo, where we had a little time to kill. we had a quick look at the rainbow falls (boring after the akaka falls on friday!) and then dropped stacey off at the airport. alex and i then headed to the south, and western part of the island. on our way to south point, alex got a ticket. again. a classic :) a trip with groot without him getting a fine wouldn't be complete, haha. for his defense, i would have been speeding too on this part of the highway : emptiness, no traffic, straight lines. the officer told us to be carefull on the road to south point, as the natives are kinda hostile towards tourists. obviously we survived, but i confirm that the environment was hostile indeed. there were a bunch of natives fishing on the cliffs at south point, but by the looks they gave us, one could tell that we weren't welcome. the thing that is nice about south point is the clear water (with trash in it, sadly. tourists' or natives' trash?).
on the road to kona, we stopped at a beach. it was my first time in the pacific ocean and i stepped onto a sea urchin. sweet. i was supposed to pee onto the injury, but coz i can't pee on command, this wasn't an option. we bought some vinegar instead, but that didn't help. we then visited kona (i was limping), and ate at a thai place. good food. we tried to get 2 beds at a youth hostel, but everything was booked. we found a camping ground a little more up north, right on the beach. i took my first shower of the trip there - what a relief! - even though the place was disgusting. the moto was "don't touch anything or die of a tetanus attack".
monday september 12th, 2005
saddle road, glandage hilo, natural foods store, honolulu, barnes & noble
last day on hawai'i. we drove right across the whole island on the "saddle road" (the region between the 2 volcanos is called 'saddle'). must have been fun to drive. groot was driving a little slowlier than he would have wanted, not willing to indulge in another ticket. back in hilo (again), we had some time to kill (again). we went to a nice beach, where some folks were diving for mysterious things. groot tried to find out what it was, but didn't dare asking. that was the end of a cool trip. back in honolulu, we went to barnes & noble and i think that's about all we did on that day.
tuesday september 13th, 2005
north shore, hitchhiker's guide to the galaxy, apple store
on tuesday, my tour guide had the great idea to drive me to the north shore, the surfer mecca. alex was surprised by the waves, which usually don't show up until later in the year. t'was cool for me too, of course, coz it was easier for me to imagine the real winter waves. we stayed some time (enough for me to get sunburned) at pipeline, then drove back to honolulu. the initial idea was to go snorkeling, but because of the waves, that plan fell short. alex grabbed a copy of the hitchhiker's guide to the galaxy at borders (?) and i wanted to go to the apple store at ala moana mall one more time to have a look of my potential purchase.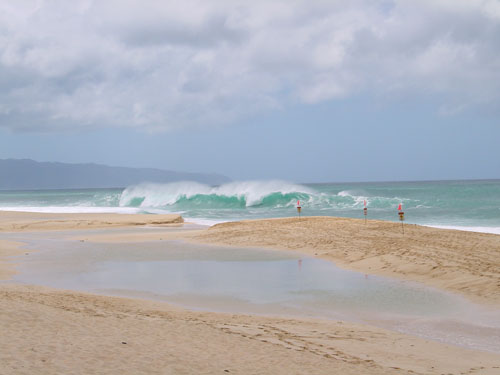 wednesday september 14th, 2005
hike rain, waves, lost, calif pizza kitchen
every day basically was some long hours of boredom, punctuated by a couple of niceties. on this wednesday, those were a very wet hike, big waves hitting the shore somewhere on the easter parts of honolulu, the season 2 premiere of lost and a dinner at california pizza kitchen. first the hike. alex had that great idea (no, really) for a short hike through the jungle to a small waterfall. when we were halfway through, rain started pouring, in typical hawaiian style, big fat rain drops. m'kay. my camera fortunately didn't get wet thanks to my waterproof bag. it was much fun nevertheless. that was enough adventure for a couple of hours. on the evening, the meteo guys informed us that big waves were hitting the shores, because of the hurricanes far far away. it was pretty impressive. afterwards, we went to the season 2 premiere of lost. michelle rodriguez in flesh and blood only a bunch of meters away :) . no, actually i'm boasting. she was there, but i didn't see her closely. i (once more) didn't have the guts to stand up for my opinion and walk forward to have a look. oh well. last event of the day, and not least : a very very tasty pizza at cpk !
thursday september 15th, 2005
step into liquid, bar 35, costco, home depot
not much going on on that day. groot showed me the movie called "step into liquid" about surfers and shit. good movie, but i guess i'm not enough into that surfing stuff (which is kinda normal, as i don't live next to the sea/ocean). as i said, some impressive shots anyway. in the afternoon, we made a small field trip to costco. it really is a must-see. i think i've been to a costco (or similar) once back in pittsburgh. everything is double in size and half in price. in the evening we had a drink at bar 35 where groot's friend/classmate vivo was working.
friday september 16th, 2005
simpsons, ben, cadeau aïsha, tacos, revolution, météo, ducky's
the day started off with some simpsons episodes :) . ben was moving in at the end of the road (i.e. couple of blocks away) and we had to bring him some of his belongings. his new appartment has a nice view of honolulu (no pics, sorry). while i'm talking about ben, i have to mention his funny accent from dunno-where (minnesota?). he seems to be a bit of a weirdo, yup.
later on, we went to the post office to send aïsha's birthday present (a t-shirt), but alex forgot the address at home and we had to call her. katia (who was in montreal visiting with anya) answered the phone and thought we were drunk ?!?! somehow, we got the address, sent the thing, and went get some tacos. back home, some slacking, internet surfing, etc. in the evening, we had a drink at the university with the meteo guys, followed by dinner at ducky's (where the waitress said that i have an accent, asshole! (it was AFTER hearing us speak french)).
saturday september 17th, 2005
surf, siska & kenan
my first time surfing! woohoo! actually, it was crap. i gave up after 20 minutes or so, hehe. i couldn't even lie correctly on the board! the rest of the day : killing time. stacey, alex and i were invited to siska & kenan's in the evening. if i remember well (hum hum), stacey ex-roomate is a friend of siska & kenan. kenan also happens to be a pilot in the air force (yak!). siska is from belgium, from a town right next to where groot is from (small world!). some other people were invited too, but i don't remember who they were. all military, and pretty stupid in my opinion. i dunno, there isn't much more to tell about it.
sunday september 18th, 2005
marche, teddy's bigger burgers, ibook, constant gardener
the hike of death. the plan : get from one side of the island to the other, over a mountain. we parked one car on the one side, and the other one on the other side. it all started at 4 in the morning at the bottom of the so-called "stairway to heaven". we had to get up so early in order to get past the security guard who takes on his duty at 5am or 6am at a gate leading to the stairs. despite what it looks like, the stairs were the easy part of the hike. once we got to the top, we couldn't find the trail that would lead us down the other side of the mountain. i spotted the beginning of what looked like a trail, became a trail and ended in a dead-end. all in all, that detour took us at least 3 hours. and i really was scared to death, no kidding. i honestly think that i've never done anything so stupid. we found ourselves walking ON cliffs, with the wind blowing irregularly, slippery volcanic rocks, etc. well, we eventually made it back to the top and found the right trail downhill. from then on, everything went ok, any trail would have been easier than the one we went down a couple of hours before! i must admit, that i was a little relieved when we got back to civilisation :)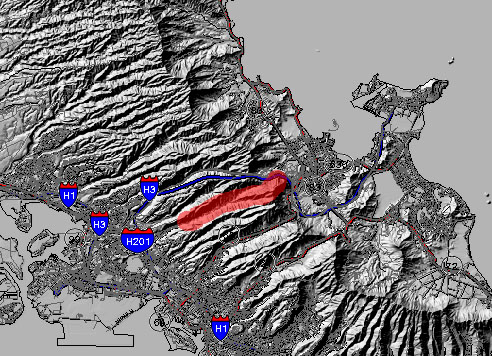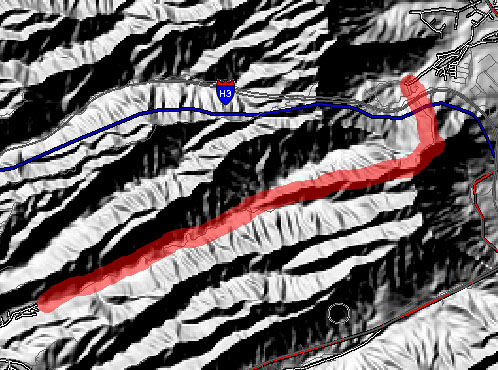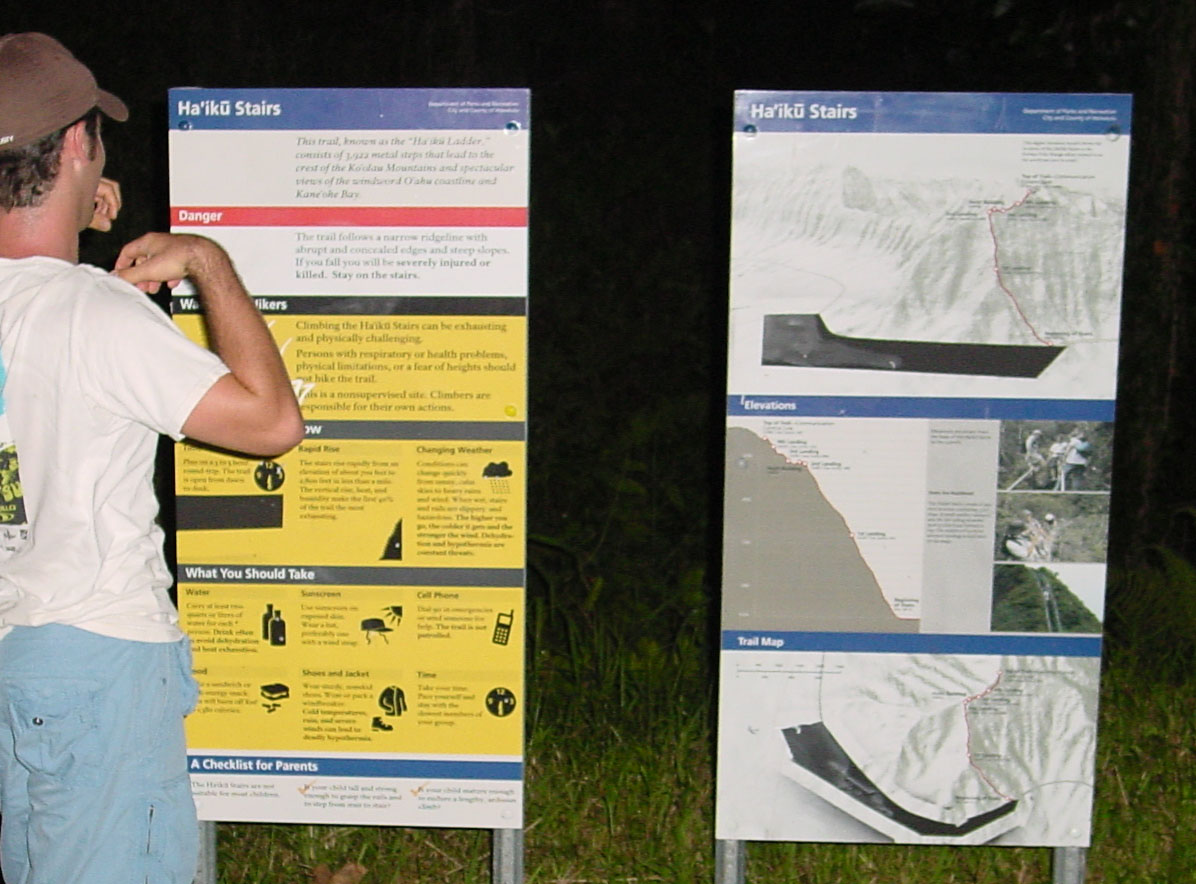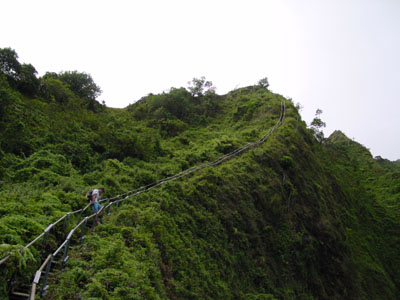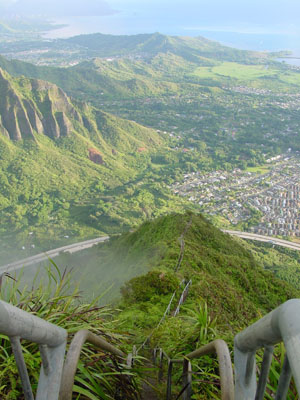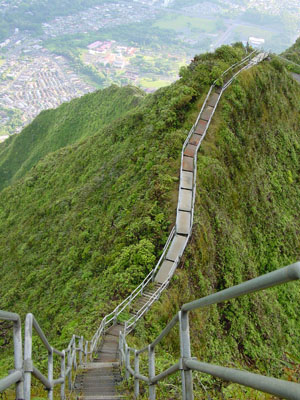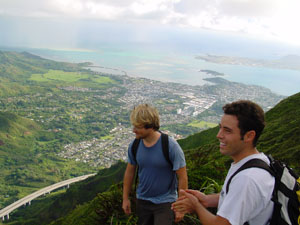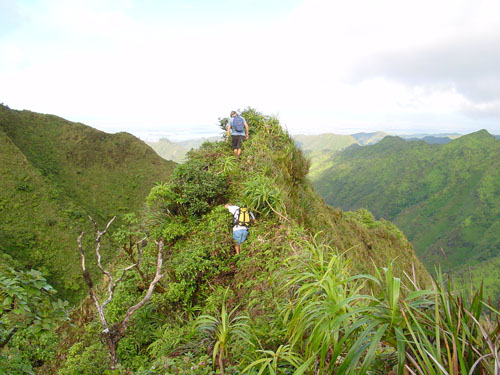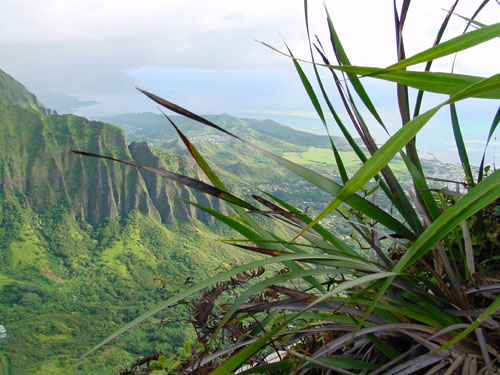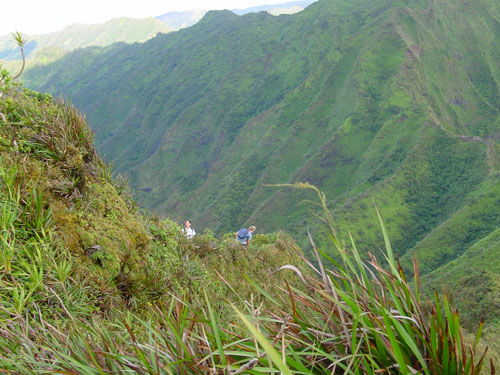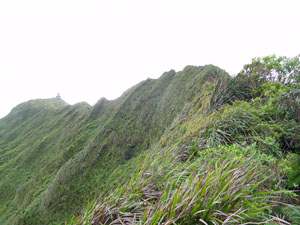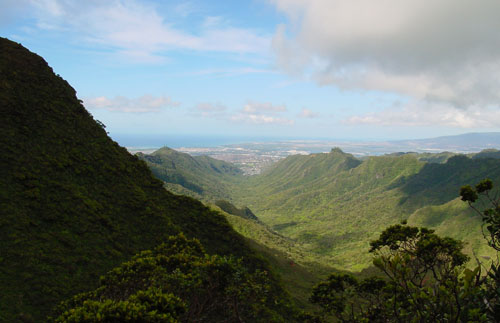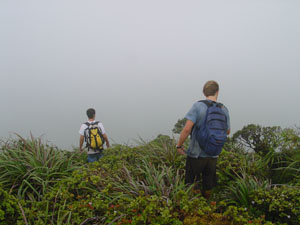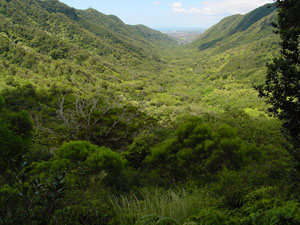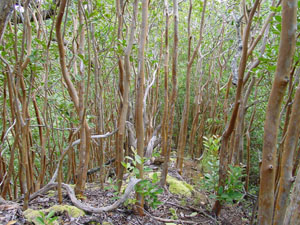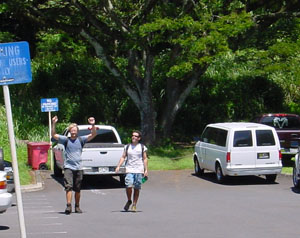 such a hike had to be rewarded. after a goooood shower, we went to have lunch at teddy's bigger burgers. maybe it was because we were very hungry, but the burger and the fries were amazing! reward #2 : i got an ibook (1.33GHz G4, 512MB ram) for 999$ at the apple store. i've been thinking about it for a long time, and wanted to wait for the intel powerbook, but i thought… whatever.
in the evening, we watched 'the constant gardener'. good movie.
monday september 19th, 2005
city of god
hum… it seems like nothing was going on that day. we watched 'city of god', good movie too.
tuesday september 20th, 2005
surf, nation of rebels, the search, cpk, constantine, elephant
ok. my second time surfing. i did a better, i succeeded in liing stable on the board. i even caught some waves, lousy ones, but still. getting up on my feet was too much though. this time, it was a lot of fun. too bad that groot had to stay on the beach, learning for his exam. later on, alex went to school and i went to barnes and noble again to get some books for my flight back to suisse. i bought "nation of rebels" and "the search". i've only read the first one so far, and it's good, real good. in the evening, we got another pizza at cpk (sooo good!), watched bits of 'constantine' and 'elephant'.
wednesday september 21st, 2005
snorkeling, the crash
another todo in hawai'i : snorkeling. we drove to the north shore (after making sure that this time there were no waves around) to see some sea turtles and nemo-style fishes. mission accomplished. everything was beautiful, but, god!, i hate snorkeling! haha… i have some trouble breathing with a snorkel, and the palms (?) were x sizes to small, so my feet were all squeezed and red. but as i said, t'was a nice experience anyway, and i saw nemo and his duuuuuuude the turtle. no sharks though. thankfully.
…and another movie in the evening, this time we went to the theatre watch 'the crash'. i liked it.
thursday september 22nd, 2005
bike, reading, sunburn, grill, bbq
alex had some classes/flights again that day, so i took his bike for my one and only :( bike ride in hawai'i. i just wanted to go to waikiki beach to get some sand for katia. i was fun riding in the traffic, the cars and trucks showed more respect than i thought they would. back home, i started reading 'nation of rebels' and got a sunburn, again. when alex came back from school, we drove to home depot to buy stacey a grill for her house. i ended my 2 weeks stay in hawai'i with a nice bbq on stacey's patio. cool.