CA-TX trip
For years I've been dreaming about this trip, going back to where BMX once started. When my friend Adrien told me that he was going to do an internship/school in California end of 2010, I thought it would be the ideal opportunity to do a BMX roadtrip. On one of my previous travels to the USA[1], my man Alex and I did a roadtrip through all the southern states from Miami FL to San Francisco CA and back. I especially liked San Francisco and promised myself that I would make it back one day. What's more, since 2010, Swiss Airlines had direct flights from Zurich to San Francisco. So, mandatory stop #1: San Francisco. I booked the flights pretty early, probably too early, as Adrien later told me that he wouldn't do his internship after all. Initially we picked January because of that, despite the kind of weather one could expect around this time of the year. Now we were going in January for no reason at all. Bummer!
Anyways… because we would be in California, I thought that I should try to get to Woodward West. A quick check on their website informed me that there wouldn't be any camps in January, so I wrote an email explaining that we've been riding for 15 years and that we really really would love to spend some days at Woodward. Some lady answered me right away and told me I should contact someone else, etc. etc. One week had passed and I got another email from Steve Swope[2]! He tells me that we could ride there, and all we would have to pay were 20$ per night. Awesome! He told us however that only the hangar (indoor park) would be accessible. I didn't quite understand why. I thought, it's winter in Cali, it should be ok weather. But when we got there, the reason was pretty clear: there was snow. So, mandatory stop #2: Woodward West.
My plan was to drive from San Francisco to Woodward, and back. But Adrien suggested that we continue south to Los Angeles. He said we might even have sleeping arrangements in Huntington Beach, thanks to Thomas[3]. The S&M factory was pretty close, so were the Sheep Hills dirt jumps. I didn't need more to be convinced that Los Angeles was mandatory stop #3.
Throughout the years, Austin TX has become one of the BMX capitals of the world. The legendary RoadFools 98 had a substantial amount of footage from Austin. I also regularly watch footage of 9th Street trails. There's a bunch of companies there too: Terrible One, Empire, Mutiny, Sunday… and some notorious riders live there or are spending some winter time-off: Joe Rich, Chase Hawk, Tom Dugan, Aaron Ross… Needless to say that this was mandatory stop #4.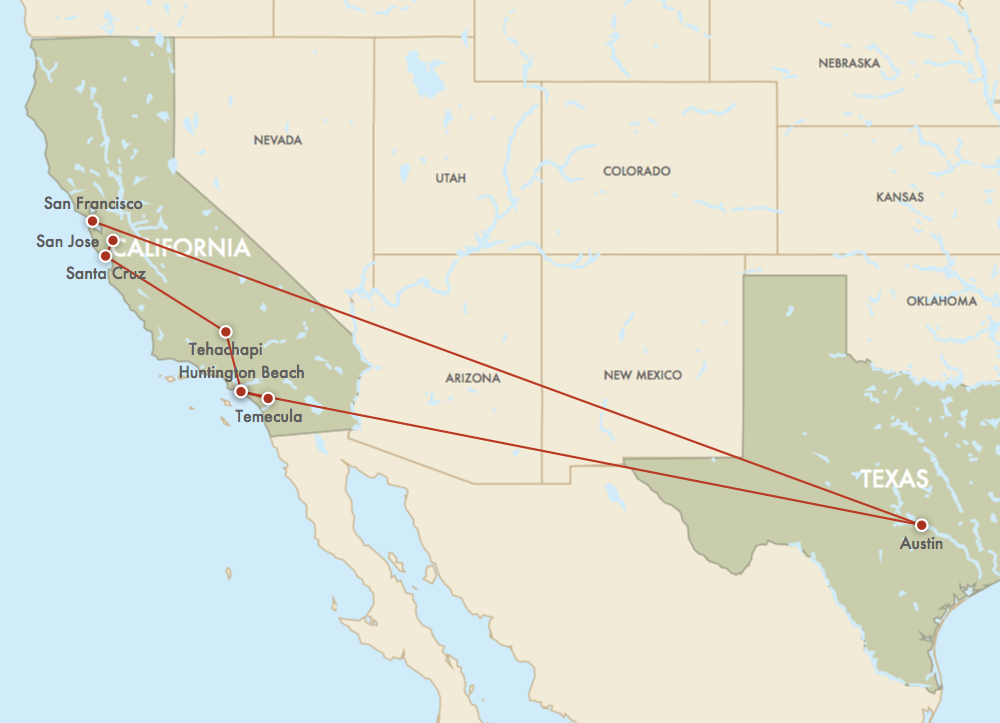 So… here we go for a quick trip recap. Sorry for my english.
Wednesday 5 ↑
The day before the trip, I met with Adrien to pack our frames into a cardboard box. At the beginning of December, I ordered a DK Flight bag at Empire, but probably due to Christmas, it hadn't arrived before we left. It later turned out that the first delivery attempt at my door was the day after we left. Argh! So close! So we put the 2 frames and a couple of Adrien's stuff into the box, and all the parts in our suitcases. We were expecting to pay extra for the box, but it wasn't the case. I also think my luggage was overweight, but it wasn't charged extra neither. The flight was 11 hours, so quite long, but just the thought of what was expecting us made it very bearable. On our arrival, we went straight to the car rental. Back home I quickly checked the prices and there was one company that seemed 4x cheaper than the others. Well it turned out it wasn't: 1'900$ for a Ford Fusion for 12 days. Ugh! already half of my credit card's limit was gone on day 1. And of course, Adrien didn't have a credit card (!?!). The first hour driving, we got completely lost because for whatever reason the GPS wouldn't pick up a signal. The fact that I really don't drive much, that it was nighttime, and there were 4 to 8 freaking lanes on the highway got me completely stressed. Oh yeah… the car rental company, Budget, said that it wasn't possible for people under 25 to drive their cars. Adrien is 22. So I had to drive for the whole fucking trip. I can understand, to a much lesser extent, how Alex must have felt during our southern states roadtrip. Anyways. We arrived at Stephen's[4] place in Campbell completely exhausted.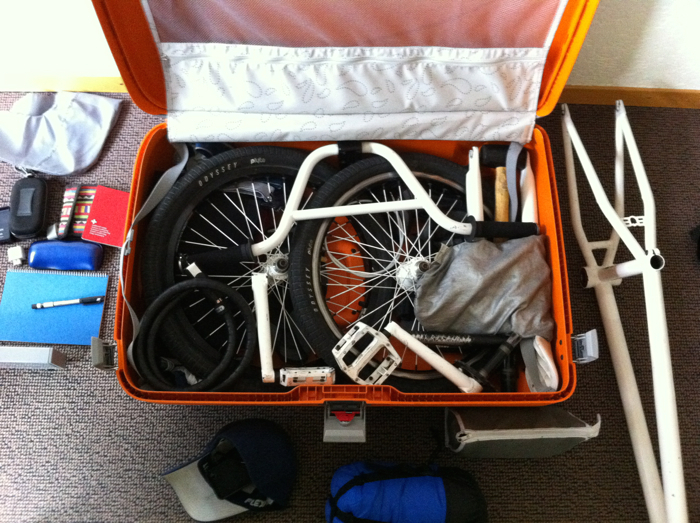 Thursday 6 ↑
Is there any other way to start a trip to the USA than by a donuts-only breakfast? We both quit after 2 donuts, which actually kept us going till dinner, haha. The plan for the day was to go ride the Lake Cunningham skatepark. After putting our bikes back together, we headed right there. Unfortunately, the park was closed till 3pm. So we decided to go get some BMX magazines at the closest Barnes & Noble and chill at the Lake Cunningham park. The weather was top notch: sunny and between 15ºC and 20ºC. When we finally got to enter the skatepark, we couldn't believe our eyes. There were so many lines, we got completely lost. It was fun nonetheless, especially the huge 6m wide full pipe and the big cradle.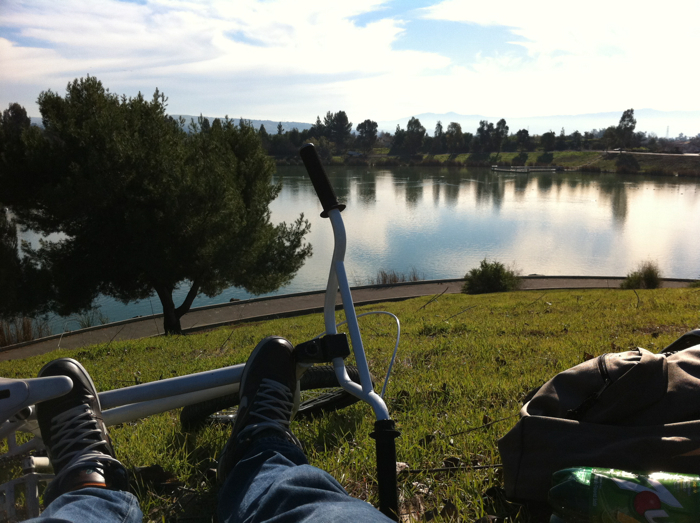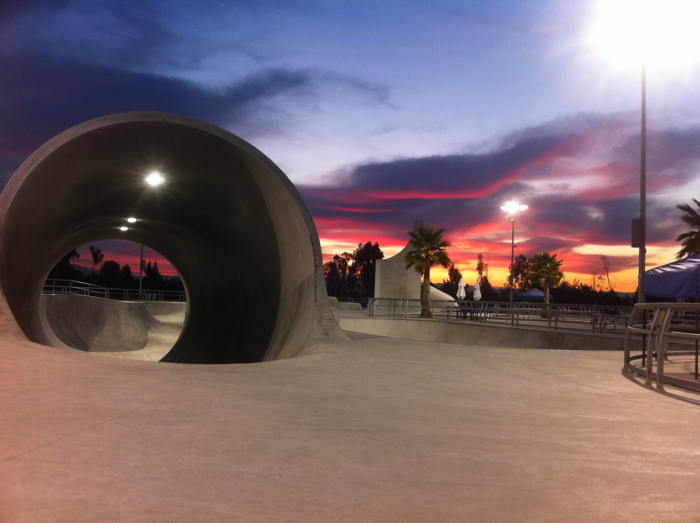 Prior to our trip, Adrien told me that he met a guy on Chatroulette, who would take us to a NHL game. I was a bit suspicious about the whole thing, but it turned out that Brian is a cool dude. Adrien managed to make him pick us up at Stephen's place, which turned out to be a 5min drive from Brian's. The world is a small place. So I got to see my first NHL game! (which is kind of a shame because I lived almost 1 year in Pittsburgh, home of the Penguins) And I loved it. So entertaining compared to swiss hockey! After the game, San Jose Sharks VS Buffalo Sabres at the HP Pavilion in San Jose, Brian wanted to take us to dinner at Hooters. But they wouldn't let us in without ID. Yeah, we forgot our passports at Stephen's. So instead we had pizza (#1)
Friday 7 ↑
On our second day, we decided it would be better to have a more normal breakfast, so we got some cereals, milk and oj at the 7-11 right next to Stephen's place. Then we headed to a couple of Home Depots to check out the shovels Adrien absolutely wanted to buy. What do you want to buy shovels for? you might ask. Well that's what the clerks were asking too. We need shovels to build our dirt jumps, and it seems that in Suisse, it's impossible to buy or import square point shovels. In the USA, they're everywhere. Big problem, simple solution: buy a whole bunch of shovels and bring or send them back to Suisse. But careful! not any kind of shovel. Boy oh boy, Adrien is picky! Everywhere we asked, it wasn't possible to buy shovels without handles, i.e. just the metallic part. We thought it would be best to continue looking around and go back to the best store at the end of our trip (to avoid having to carry shovels back and forth to Texas!).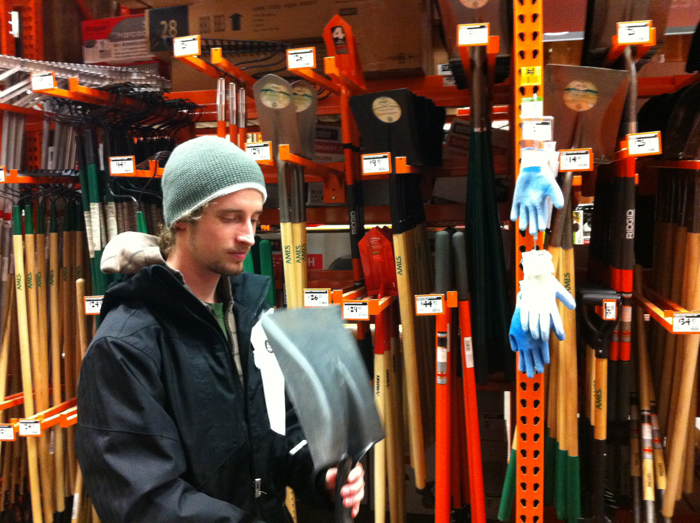 During my stay in Hawai'i in 2005, Alex took me to California Pizza Kitchen. I loved it. I had to go a second and a third time. When I went to NYC with Katia in 2009, we've been to CPK twice. Of course, I had to go this time too. We found one at the Westfield Valley Fair Mall (I think). So good. (pizza #2)
Since we were in Silicon Valley, I had to go visit at least Apple and Google. I have to admit that both were a disappointment. But what did I expect? You can't simply show up there and get a guided tour of the facilities. Especially not at Apple, because of their cult of secrecy. It was cool nonetheless just to be there. We even drove once around the Infinite Loop. I was tempted to do it infinitely, but then again, Woodward was expecting us ;) Google's campus was so huge, I didn't know where exactly I should park to walk around.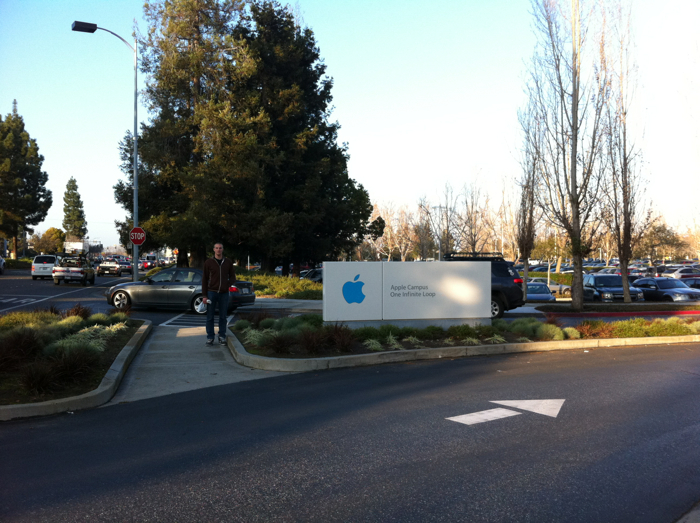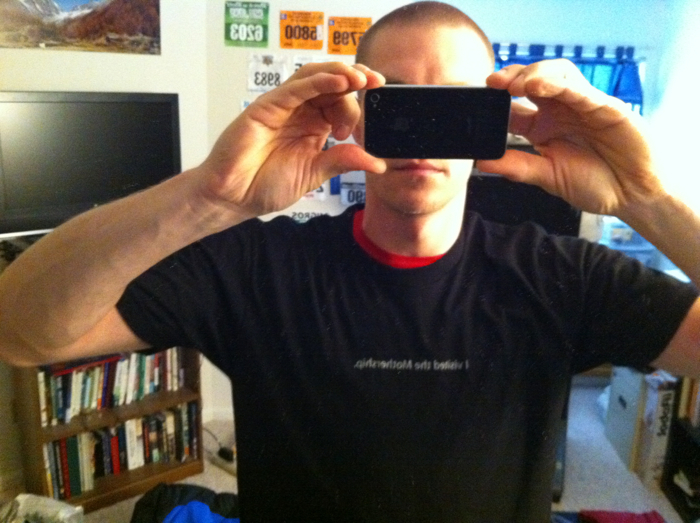 In the evening, Stephen showed us around Adobe's buildings in San Jose. Finally I got to see a company from the inside, sorta. There wasn't really much to see, but it was nice. The working environment is very different from what I'm used to. On the plus side, there were nice cafeterias, free soda (probably a bad thing on the long run), fitness rooms, environmental awareness, "fun zones", etc. Oh, and nobody seemed to be working at 6:30pm-ish, and I'm pretty sure they don't start at 8 in the morning. The only negative aspect I remember was the windowless offices. I would hate that.
For dinner, Stephen took us just around the corner from Adobe's offices to Peggy Sue's, a great 50s style hamburger place (burger #1). Later Brian joined us at the Dave & Busters at the Great Mall in Milpitas. I had most fun racing against Stephen at Daytona USA (that game is o-l-d! …like me I guess) and driving that little RC cars in the wrong direction. Good times.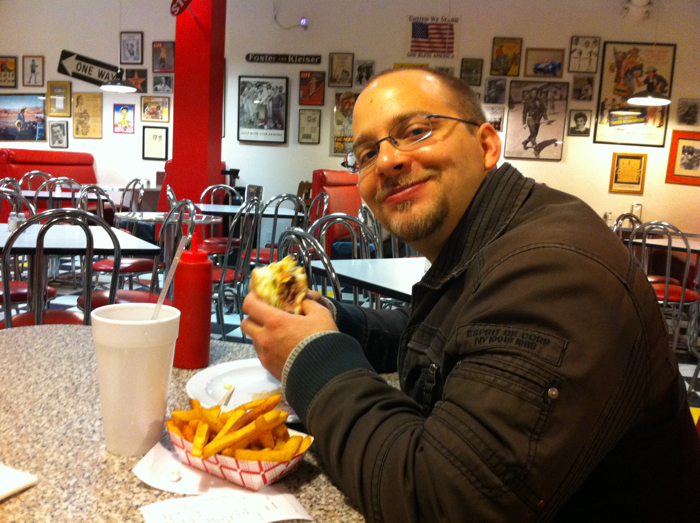 Saturday 8 ↑
No BMX yesterday, no BMX today. Instead, Adrien and I paid Rachel and Stephen lunch at Sonoma Chicken in Campbell, to thank them for their hospitality. I had a tasty piece of ribs. They took us then to Kara's Cupcakes at Santana Row. Mmmhh! first cupcake in my life! The day before, I told Stephen that I never had any cupcakes. Thanks for the nice surprise!
We went back to Stephen's place to chill a bit. Later on, Stephen took us to the Silicon Valley Autoshow. It was… uhm… a joke. The Geneva Autoshow owns the Silicon Valley "International" Auto Show. But then, who cares, it's just cars, you know, that petrol gulping thing that almost runs you over each time you're riding your bike.
I don't remember well, but I think my dinner was a Ben'n'Jerry Cherry Garcia ;)
Sunday 9 ↑
No BMX yesterday, but BMX today, hehe! It was our second time at the Lake Cunningham skatepark. There were a little more people riding, given it was Sunday. But it still wasn't as crowded as Geneva's park on the weekends. On our way out, we asked for directions to skateparks in the area around San Jose. The guy gave us indications to get to a park or trails in Santa Cruz.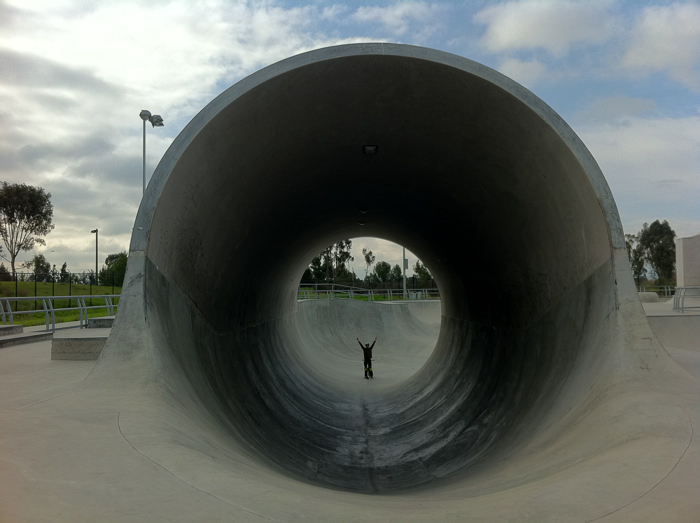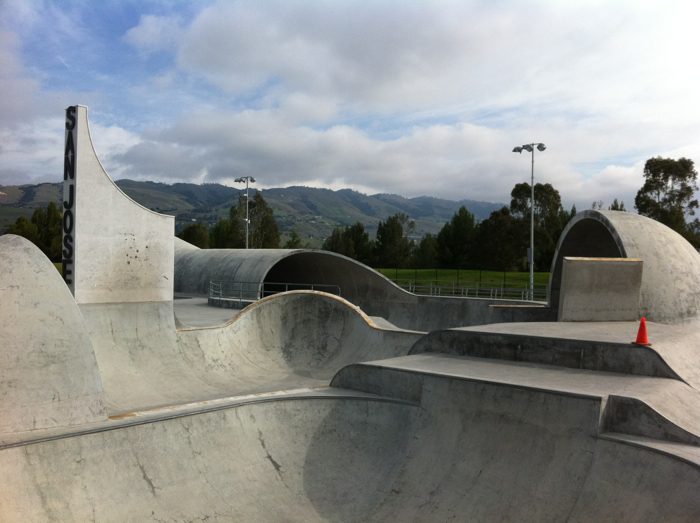 We met Brian again for lunch at Santana Row (burger #2). It's funny that he wanted to show us that place and we've been there right the day before. It was already getting late and we really wanted to check out Santa Cruz, so we grabbed our Fusion-mobile and drove the curvy road from San Jose to the coast. It was fun to drive, although I almost rear-ended a big SUV at one point. I guess Katia was kinda right when she said that I had a bad tendency to wait for the last moment to hit the brakes. It's a habit I got from bike riding, where you hope you can keep your muscle-earned speed as long as possible. We found the skatepark fairly easily. We had a kinda short session, because we also wanted to check out the pier and the beach before the sunset. We rode a bit along the shore, but it was getting cold and boring, so we drove back to Stephen's, exhausted after a good day of riding.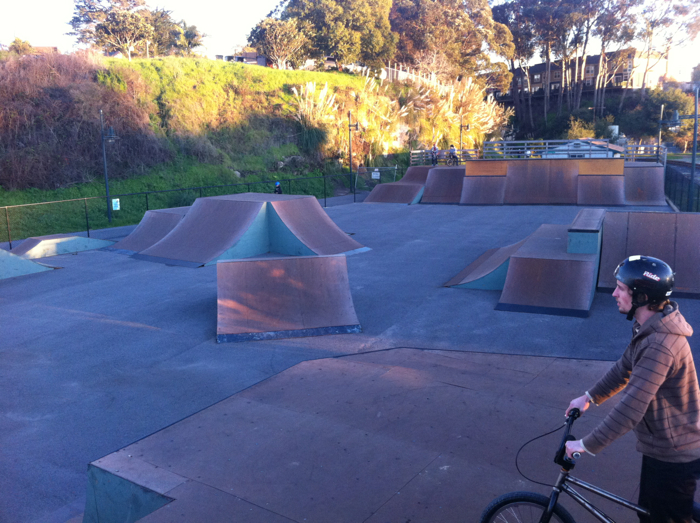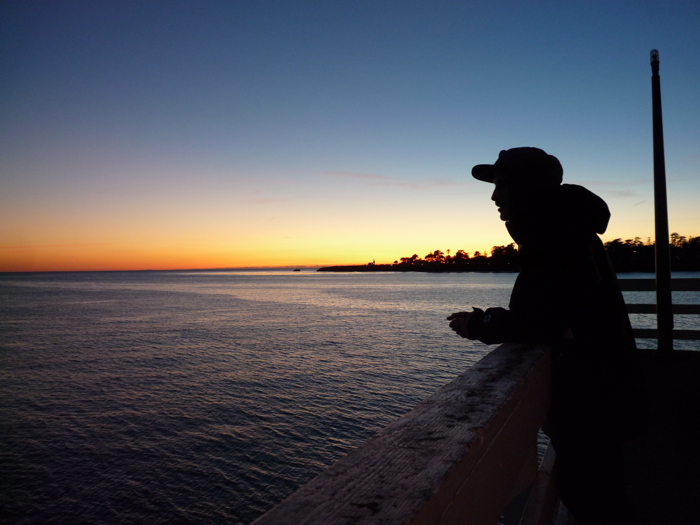 Stephen greeted us with a surprising request: he wanted us to order a complete BMX bike! We put together a 1'700+$ jewel. I pretty much chose the parts[5] as if I was getting myself a new bike. Awesome.
Rachel made us all some good chicken wraps and yummy brownies. It was our last night in Campbell, and we spent it chillin in front of the tv and playing Mario on the Wii.
Monday 10 ↑
We got up pretty early because we wanted to arrive at Woodward at a decent enough time to squeeze in a short session. Brian took us to Campbell Ave for breakfast. I still don't get it how someone can eat sausage and bacon early in the morning…
The drive from San Jose to Tehachapi was loooong, the longest I drove in my life (which is nothing compared to what most people do). I wanted to do it non-stop, just to get it over with. We drove through deserts, almost-mountains (sorry, I'm swiss, I'm picky with what I call "mountain"), and a lot of shit-holes. We made it to Woodward around 2pm, checked in, unpacked our stuff and headed straight to The Hangar. Holy crap! We're in Woodward! Once the excitement and hype gone, we found out that the ramps were actually pretty sketchy to ride. Indeed, the top layer is skatelite, which turns out to be a stupid choice for indoor ramps. The slightest bit of dust, and your ramps are turned into ice rinks. I smashed onto the floor by simply carving the bowl. That doesn't make you confident, to say the least. But yeah… we were in Woodward! so we tried to deal with it. Around 5pm, the park closed, so we went shower and geek a bit on the internet.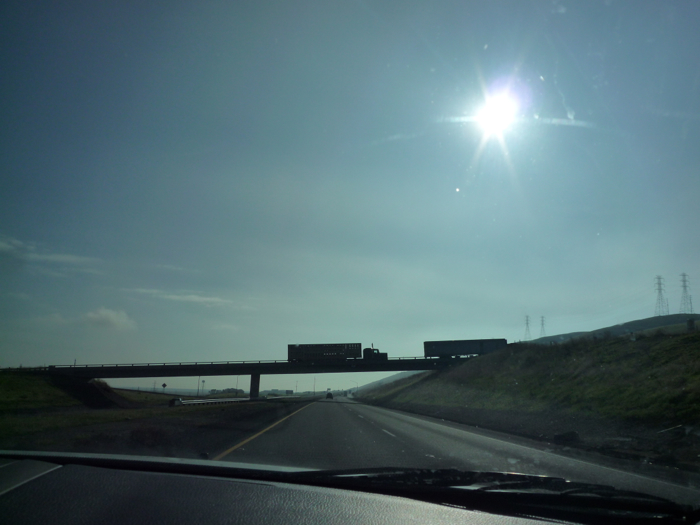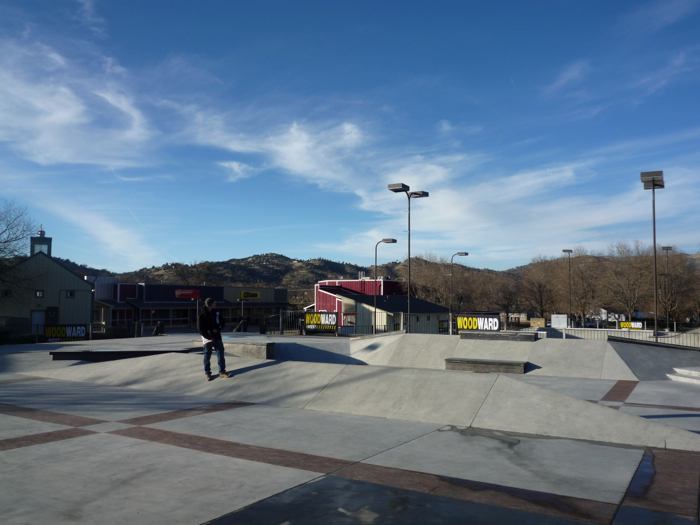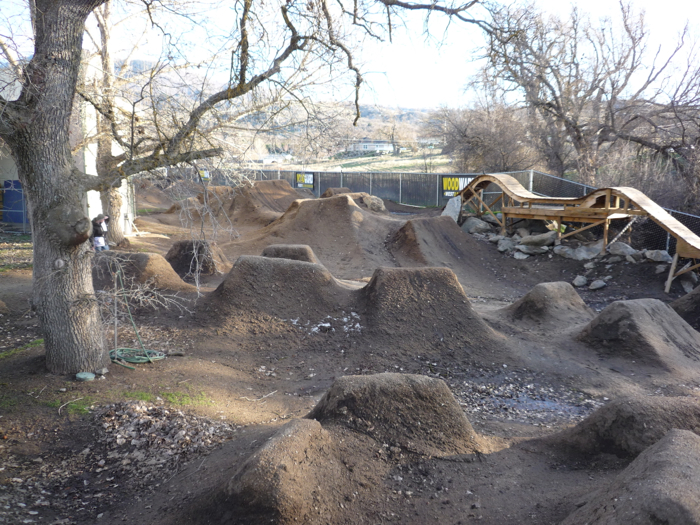 We drove back to Tehachapi to find a place to eat. I got really mad driving around at night in an unknown place. The GPS was of no use to help us find a place to eat. We wound up at Pacino's Spaghetti Factory, a surprisingly good italian restaurant, with a nice waitress (pizza #3).
Tuesday 11 ↑
We were really upset with the slipperiness of the ramps, so we decided we'd try to broom at least the bowl. It was still slippery. We were completely alone in the morning, so we could play our own music on the hangar's p.a. With no one watching, we started to practice a bit in the foam pit. This was only the second time I jumped into a foam pit, and compared to the one in Lausanne, it was absolutely awesome. It really absorbed your fall well and didn't make you bounce at all. I had to try a couple of things. I've never done backflips, not into foam, not into water, and especially not onto any hard surface. I pulled my first one in just 2 tries. What a great feeling! I also pulled a condor on first try (boring!). I don't remember if it was on tuesday or the day after, but I "landed" a nothing and a no-footed can-can on first try too. It annoys me to know that I can pull these tricks, but that I'm just too chicken to do them on real jumps.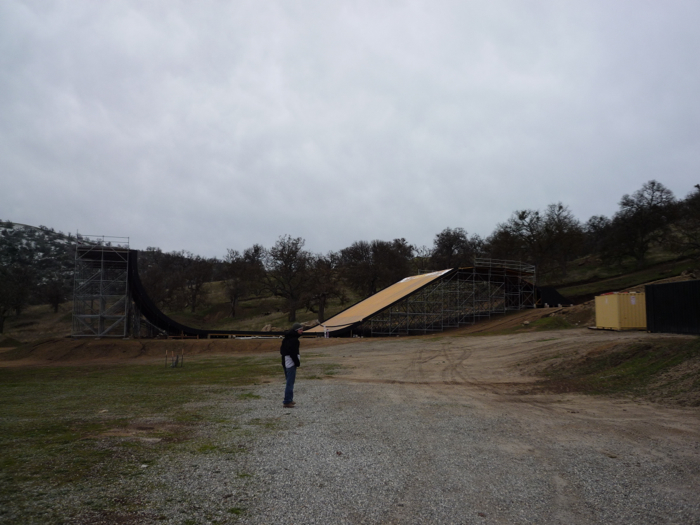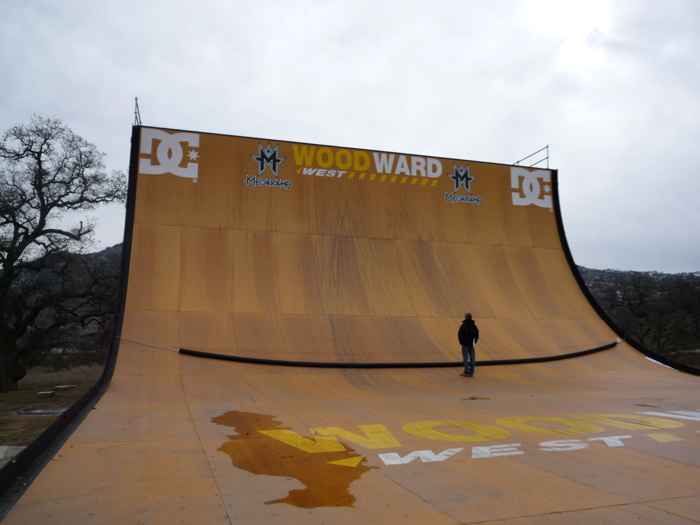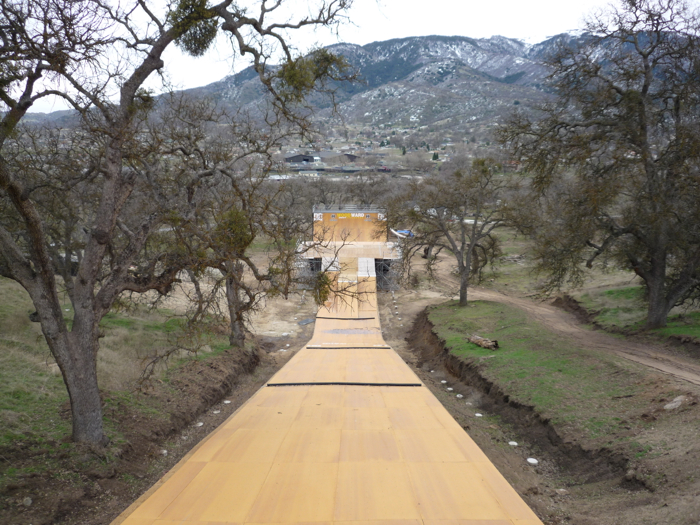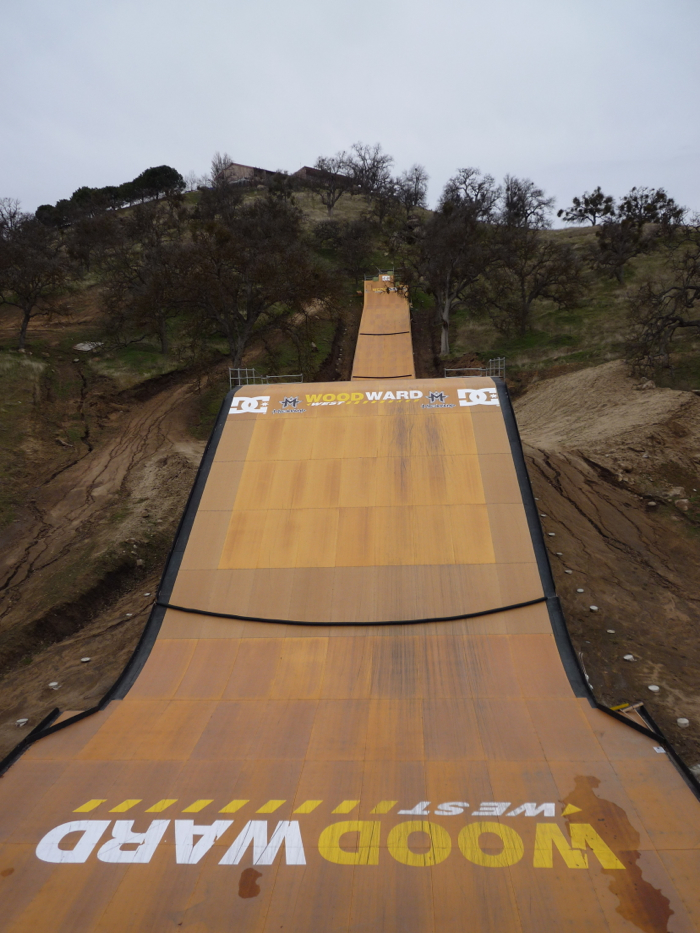 I don't remember what we did during the rest of the day. I think we drove to Tehachapi to grub at a Jack in the Box (burger #3) and get some fuel.
Wednesday 12 ↑
Again we spent way to much time in the foam pit. Since backflips were kinda easy now, into foam, I wanted to try a frontflip. It's weird! I landed one after 3 tries. I also remember pulling a perfect 360 x-up on first try. I couldn't reproduce it afterwards. Tailwhips still don't work, and I didn't even bother trying a barspin. My neck took a pretty harsh hit on a no-handed backflip attempt. Yeah, note to self: never land head first in a foam pit! Bad idea!
In my e-mail exchange with Steve Swope, he wrote me that we couldn't ride all the outdoor parks of Woodward. Thanks to the sun however all the little snow patches dried up. There was sooo much to ride! I was in paradise, seriously. The concrete bowl's shapes were just perfect, the best I've ridden so far. The huge wooden park/bowl/thing was a bit sketchy, but we found some decent lines. I would have loved to watch a pro carve in there… Because we didn't know if tomorrow's weather would again allow us to ride outdoor, we didn't want to waste too much time getting lunch. So we just went to a little pizza place in Stallion Springs (pizza #4). A funny thing happened there. While waiting for our pizza, Adrien and I were chatting in French (of course), and the only other customer overheard us. He was an old farmer (with a John Deere hat :-D), like there were probably many in this hellhole. He came to us and started talking in French! He explained that he came from Europe when he was a kid, and his parents emigrated. I didn't quite understand why and where from.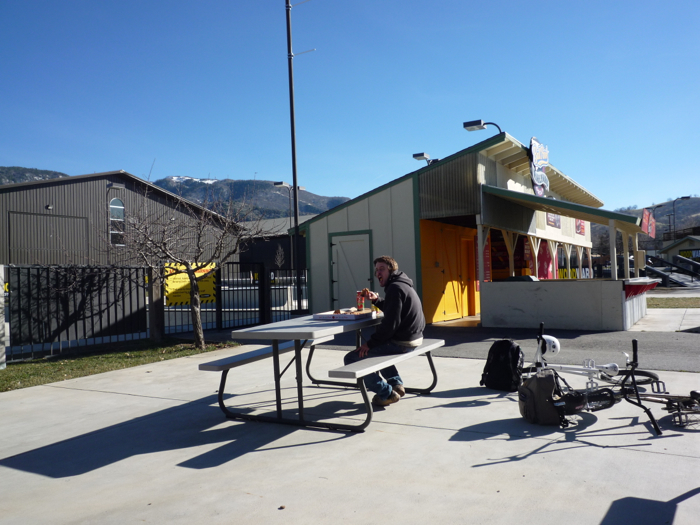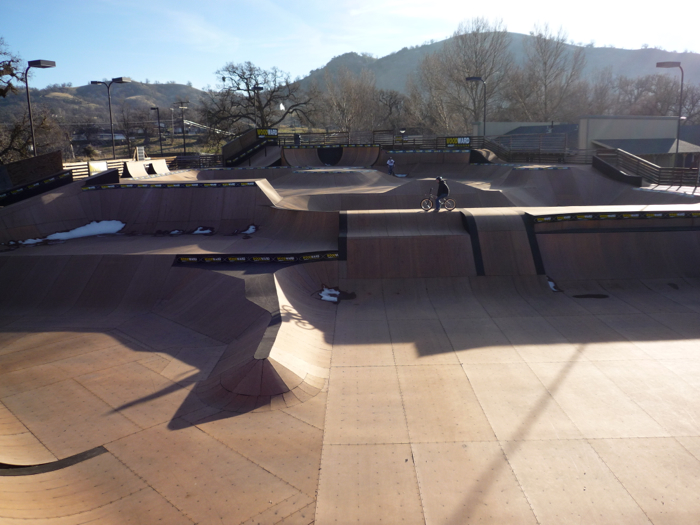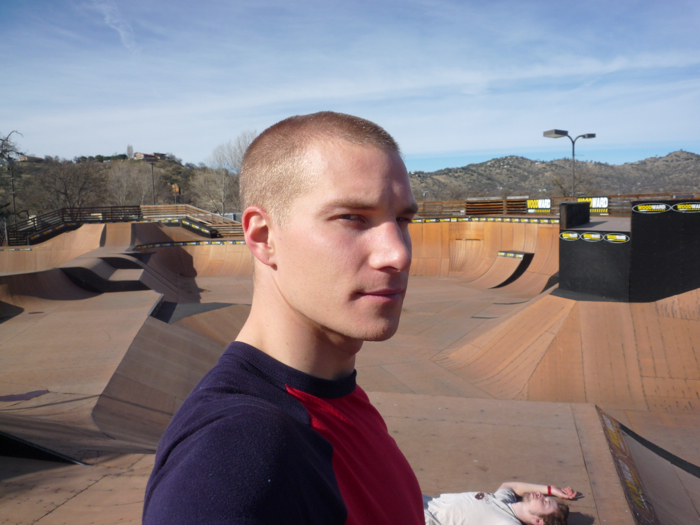 Thursday 13 ↑
We were starting to feel a bit tired, and the very weird fruit salad we had for breakfast wasn't going to give us the needed energy. The bigger part of the morning was spent practicing in the foam pit, again. Then we had to do our first laundry of the trip. While our clothes were being cleaned, we went to get a McDonald's (burger #4). Back in Woodward, we had a short riding session till the park closed, and then we headed back again to Tehachapi for pizza, at the same place we ate the first night (pizza #5).
Every night, we were watching Family Guy and American Dad on tv. I really start to like these shows!
Friday 14 ↑
Our last day at Woodward West. We got up late, so we didn't have time to have one last session. The day was already fully booked, so it didn't really matter I guess: drive to L.A., try to visit S&M, try to find Sheep Hills and then be on time at Glenn & Gina's.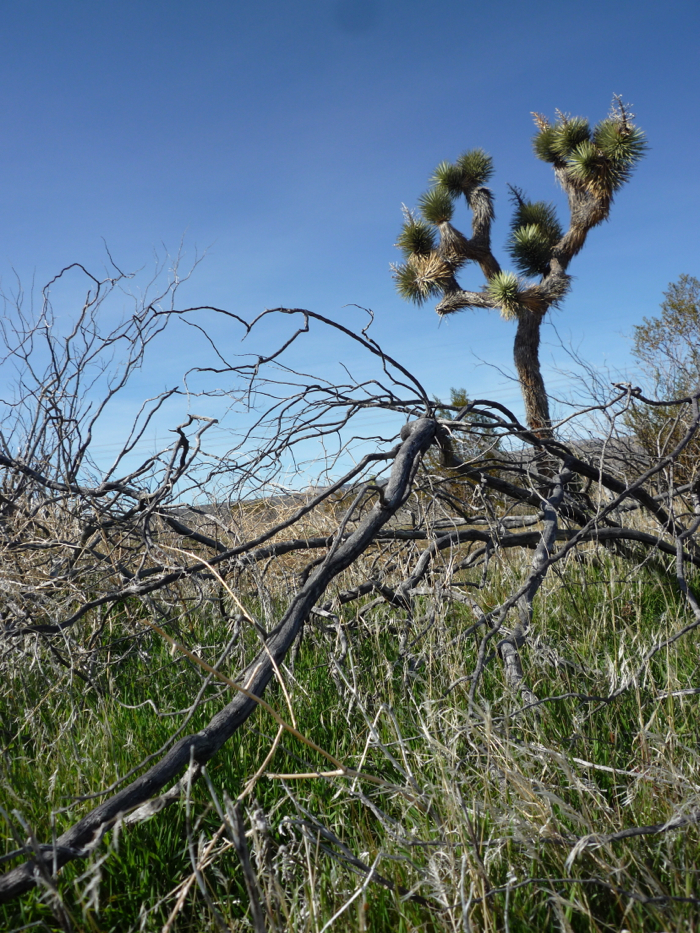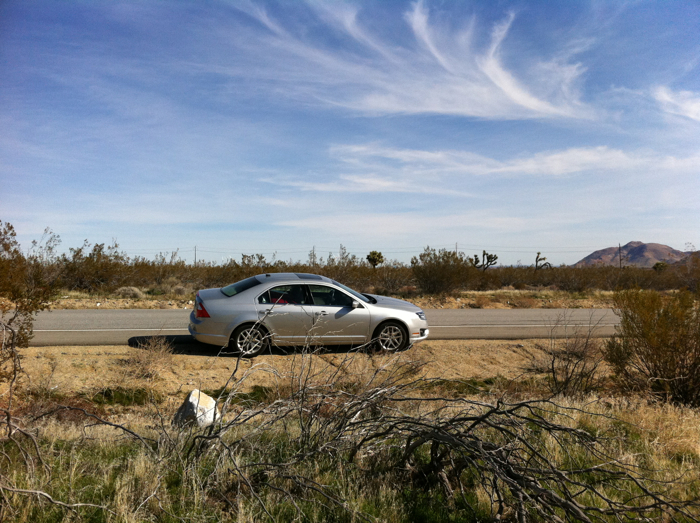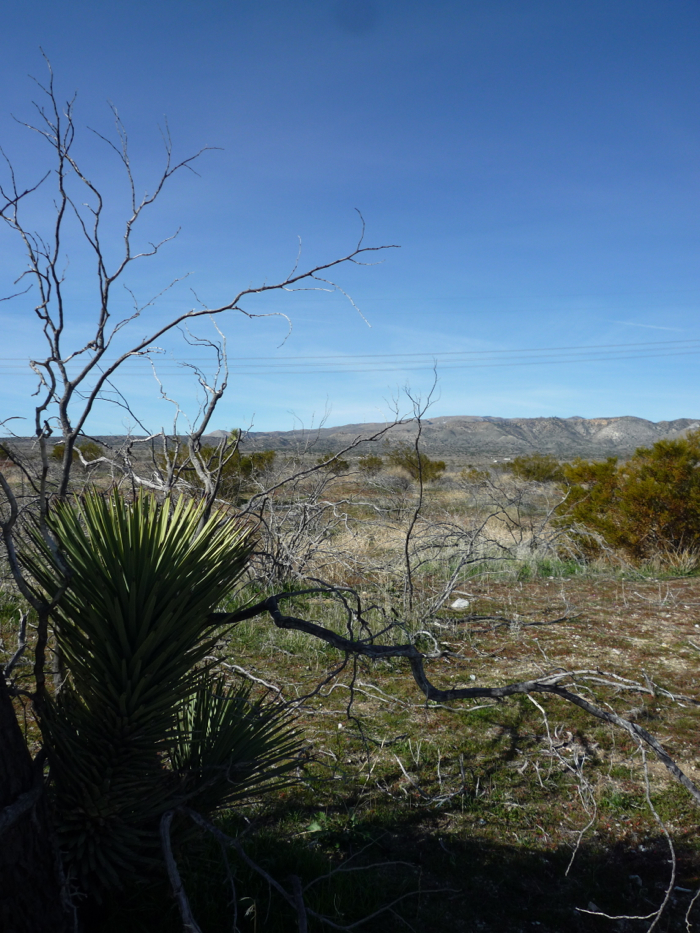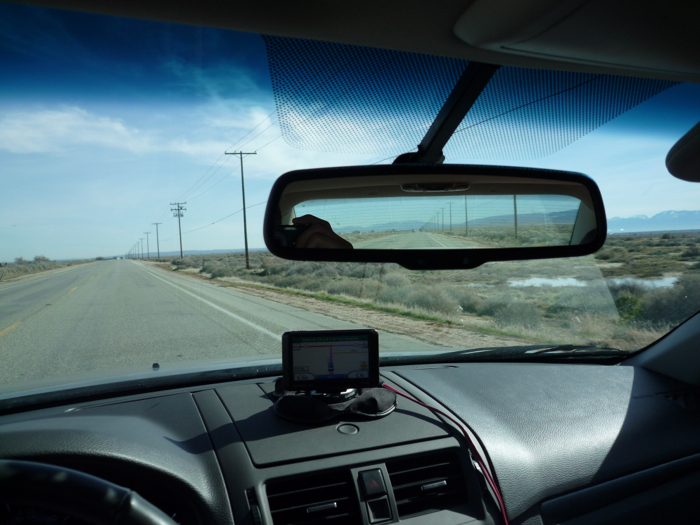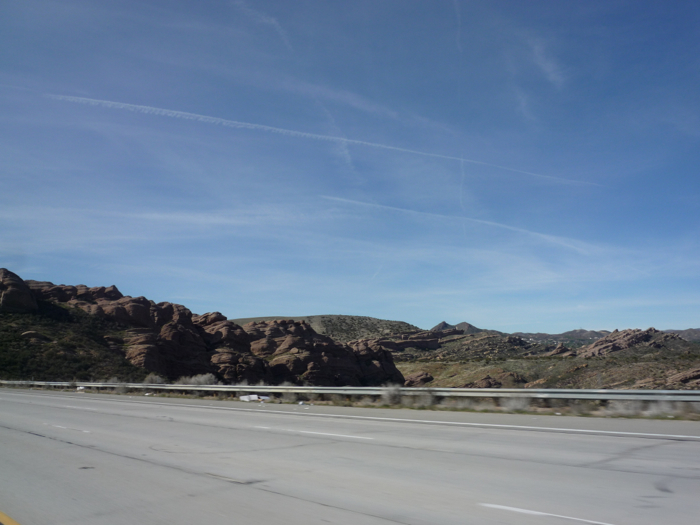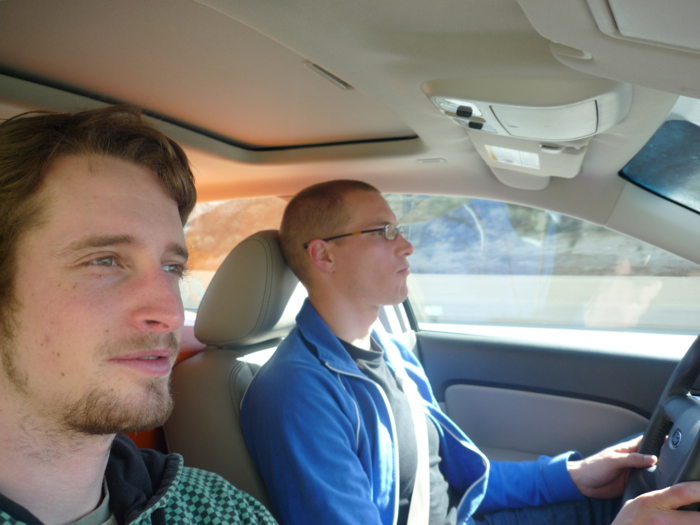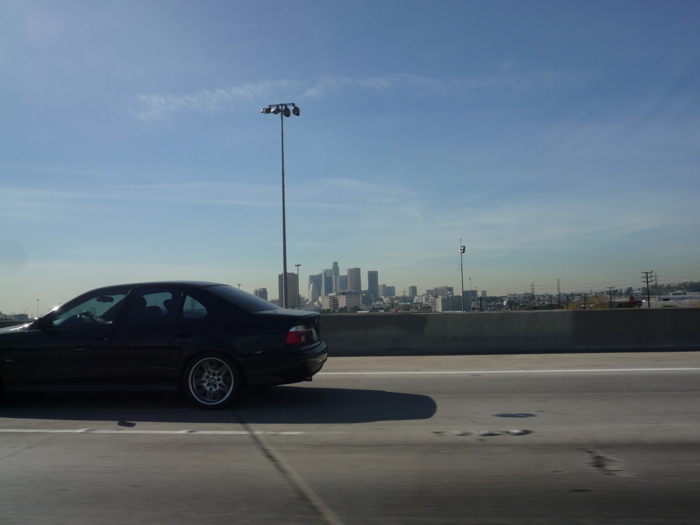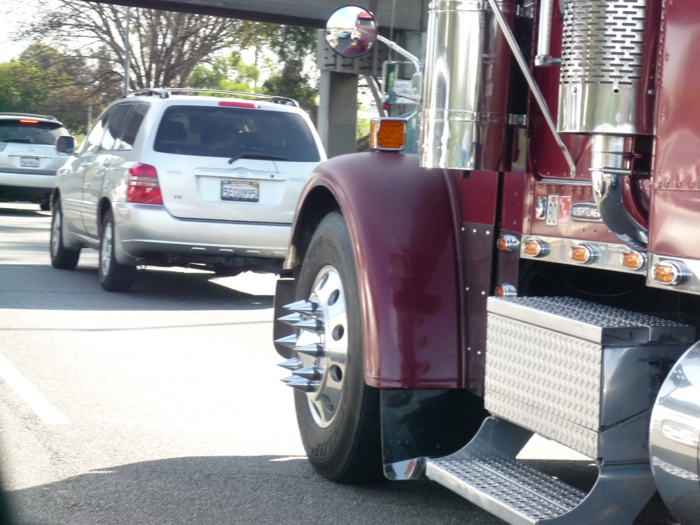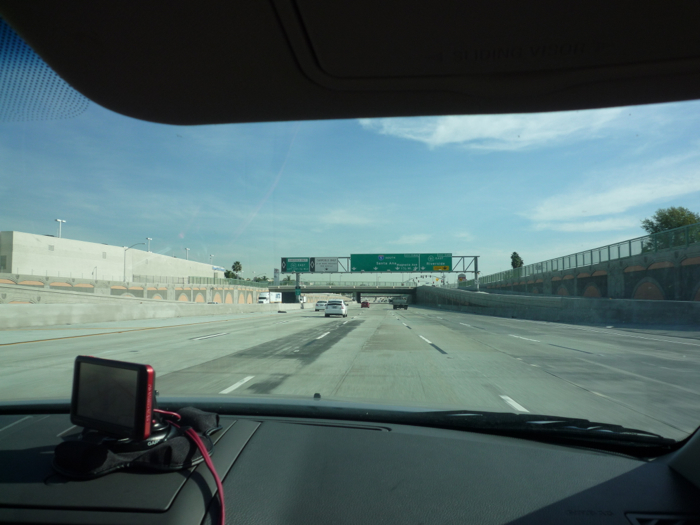 The drive to Los Angeles was bordering the Mojave desert (where the Edwards Air Force Base is located, you know Area 51, aliens, etc.). It was interesting, but I'm definitely no fan of deserts. Flat dirty nothingness. Boring. As soon as we got into the L.A. suburbs, there was traffic. I was starting to really look forward to return the rental car. I was so fed up with driving. Anyways… we got very easily to the S&M warehouse. I parked the car on their parking lot, and when we got out, we ran into some dude who asked us if he could help us. We told him that we would love to visit the warehouse, and he said no problem. The dude turned out to be Sean McKinney[6], one funny weirdo I tell you. The tour was fantastic of course. We got to see where and how frames and bars were made. So cool. He showed us around the small office also, where we met a guy who asked for Thomas, the tall swiss dude. And we were even introduced to Chris Moeller, the co-founder of S&M. It was very tempting to buy some bike parts, but we didn't have enough room in our luggage, so we just got some softgoods. 2 t-shirts for 10$ each, a bargain! And free stickers, a pin-up calendar (kinda) and a magazine. We told Sean we wanted to go to Sheep Hills next, and he was kind enough to write the directions down. They did help us to accurately get to the area where the jumps were located, but once there, we had some trouble finding the jumps. Adrien finally asked some people. I must say I was a bit disappointed. The jumps were flooded and in really bad shape. But then again, these were the legendary Sheep Hills trails! What a day!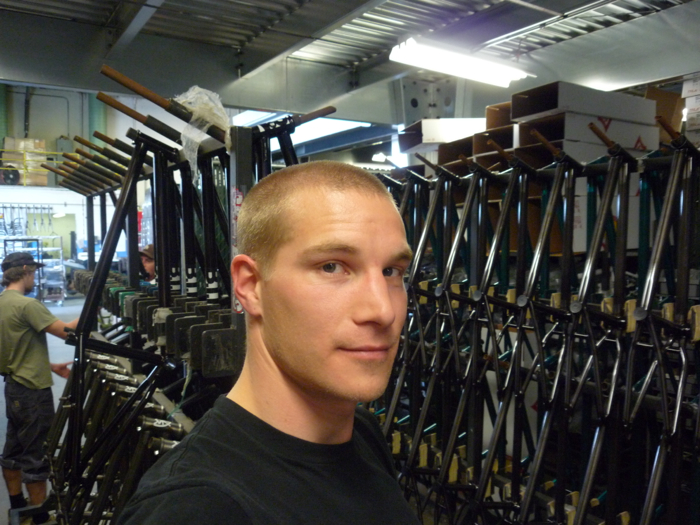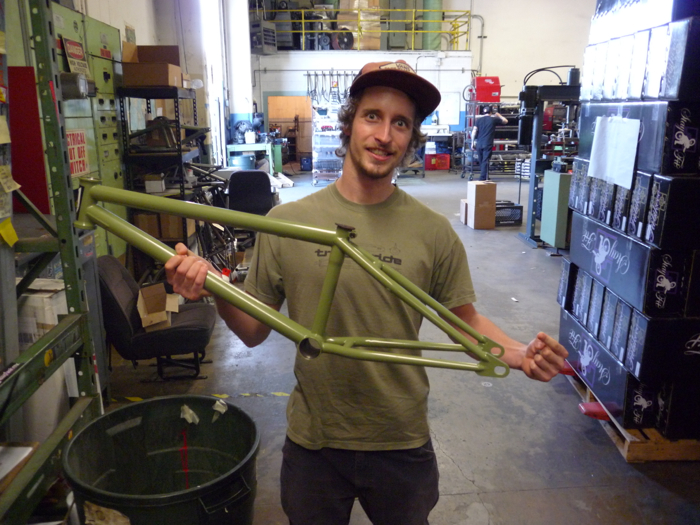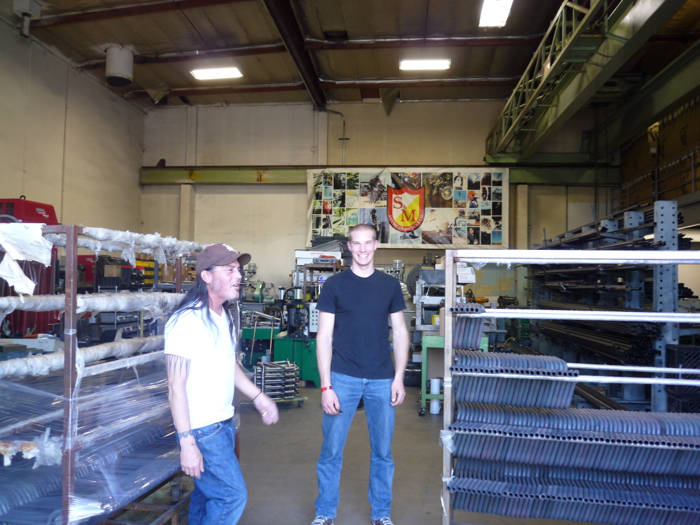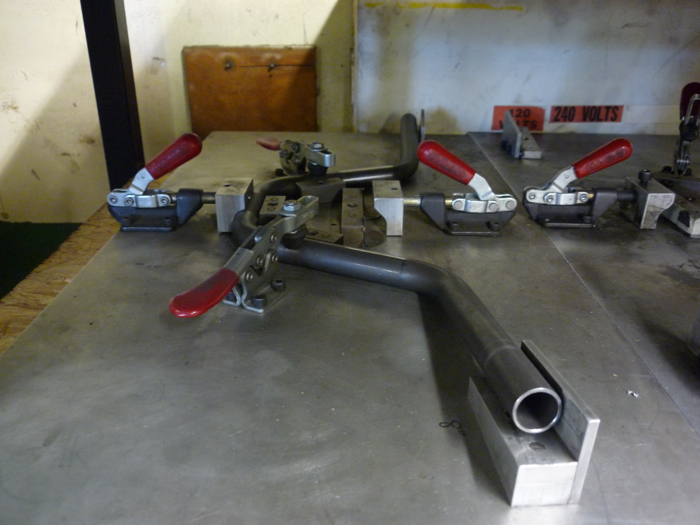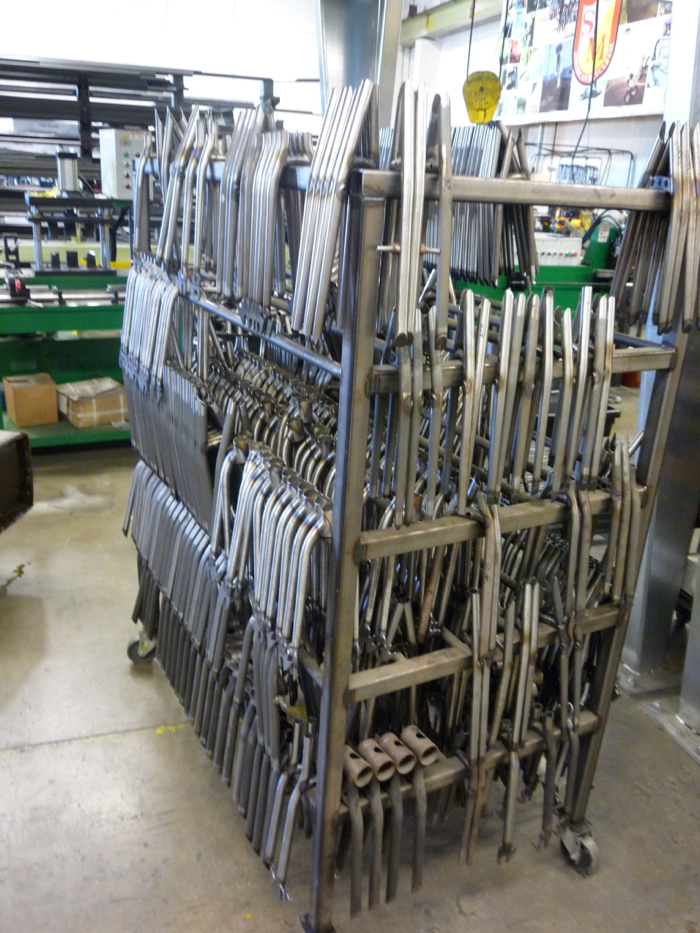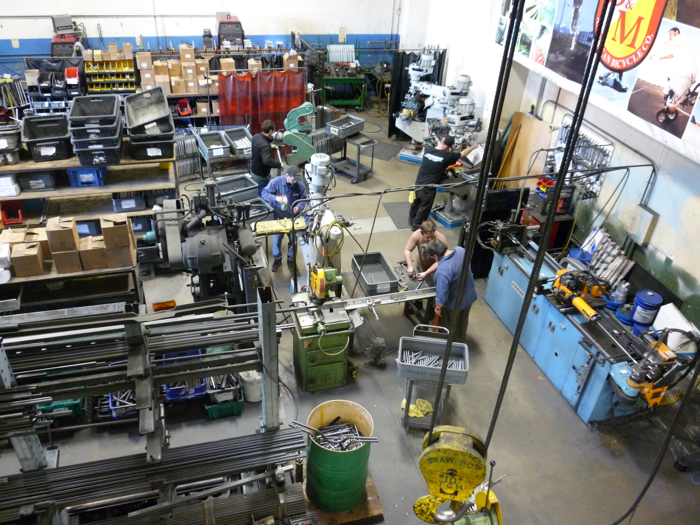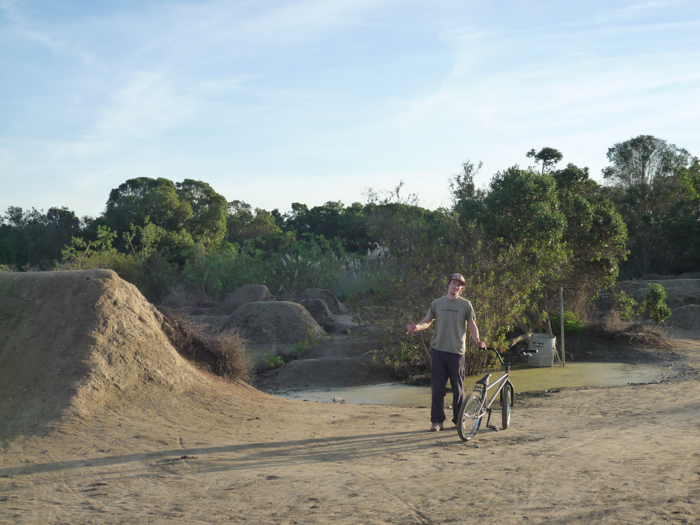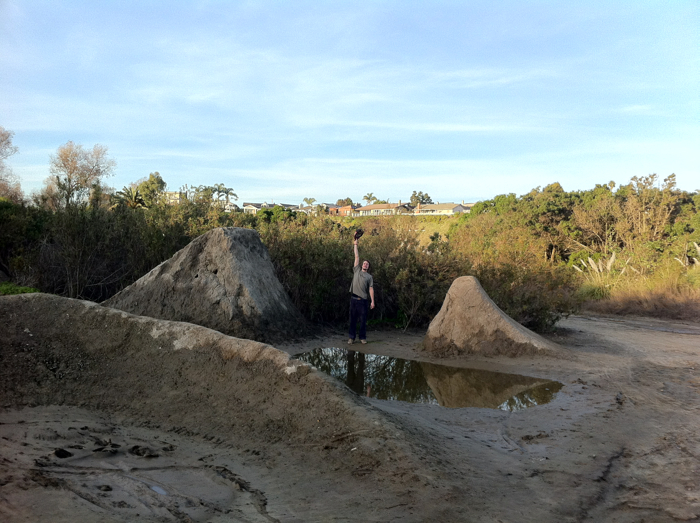 From Sheep Hills it was only a short drive to Glenn & Gina's place. We didn't know them, and they turned out to be the greatest people. Back in the days, when Thomas was spending some time in California, he went buying some smokes at a random store. That's were he met Gina. Later on that same day, he rode to Sheep Hills, where he met Glenn. When Glenn got home to Gina, he told her about that swiss dude, and Gina was completely astonished, because she met the same swiss dude earlier. Later on, Thomas would live at their place for some time. So would we now, only for a weekend. We were greeted with smiles, beer and weed. Glenn has a state license to grow and smoke his own weed. He and Adrien talked a lot about the stuff. I don't smoke, so it didn't really interest me, nor did I understand much, but it was cool to see responsible adults not turn into slow annoying idiots, like 90% of the people I know, as soon as they smoked some weed.
Gina made us some Tacos for dinner, and then Glenn, Adrien and I rode to "downtown" Huntington Beach, Main St, the pier, the beach, the bums…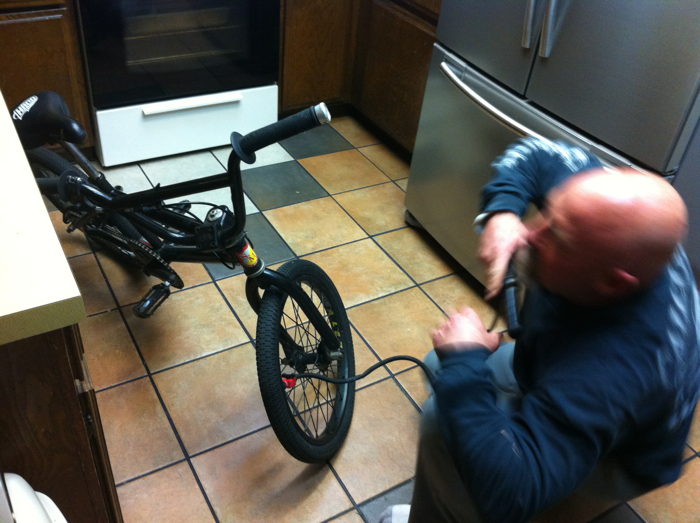 Saturday 15 ↑
On the first night at Woodward, there was an Australian dude riding really good. He introduced himself as Josh Stead, and said he used to live with Cory Nastazio in Tehachapi. I wasn't aware that Nasty's backyard was located in the neighboring town. I asked if it was ridable and Josh told us that it wasn't dry enough, but that there would be a Stephen Murray benefit jam at Nasty's new place in Temecula, a short drive from L.A… Well, short in american terms I guess. Sure enough I checked on Nasty's twitter and on FatBMX, and there it was. The date was marked in our roadtrip agenda!
Glenn and Gina actually know Nasty quite well, and they told us that it was useless to get to Temecula too early. That left us some time in Huntington Beach. We had breakfast with Glenn at the Sugar Shack (Gina was at work). Then Adrien wanted to check out some more shovels. We found some at a place called Orchard Supply Hardware. Adrien was all hyper, those were exactly the shovels he wanted. But the clerk again told us that it wasn't possible to buy only the head of the shovel, without the handle. Glenn then brought us to a UPS store to find out how much it would cost to ship 10 shovels back to Switzerland. It turned out it was waaaay too much. I don't remember how much, and maybe the guy was bullshitting us or didn't understand exactly what we wanted. Glenn then went home, so Adrien and I went to hang out a bit at the beach. Eating a Ben'n'Jerry ice cream while watching pretty girls pass by, what more do you want? (I do know what more: talk to the pretty girls… but well…)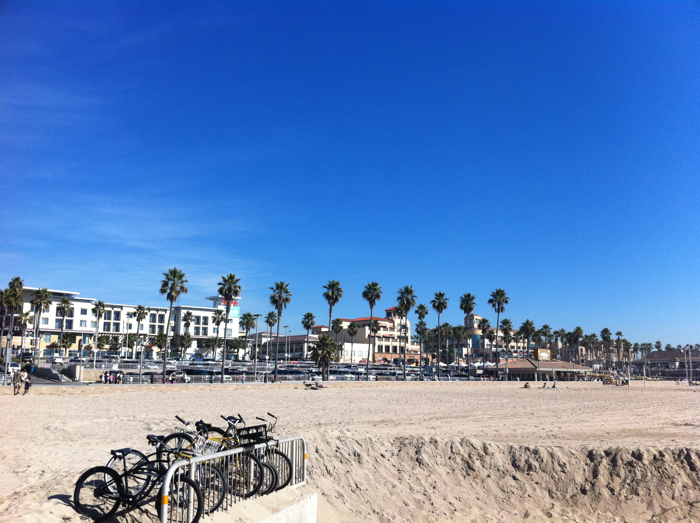 The drive to Temecula was very annoying. It was getting really hot, like Switzerland-summer-hot. And there was traffic, because of an accident. I was starting to become edgy I was so fed up with driving. Thanks to the GPS and FatBMX, we found Nasty's place right away. We had to sign 2 waivers: one for VH1's reality show, The X Life, and one basically saying that no one was responsible to what could happen to you during the jam. The atmosphere was very laid back. Security was present, but discrete. BMX pros were everywhere. A bit like at the Worlds in Köln. The ones I could recognize: Nasty (of course), Gary Young, Ali Whitton, Luke Parslow (who took first place), Ryan Nyquist, Colin McKay, Ryan Biz Jordan (wasn't riding), Todd Lyons (not riding either), Midget Cory, Josh Stead (we met at Woodward)[7]. While walking to our car to get our coats, we also ran into Chris Moeller who shouted "Sweden!" at us… I corrected him :-S I still don't understand what the problem is with the Americans and their complete inability to distinguish Sweden from Switzerland. Anyways… later that night, we again ran into him, and he shortly introduced us to Keith Mulligan, the editor of Ride US. We didn't stay too long after the "pool party" started. It was entertaining for a little while to watch drunk famous BMX pros pushing each other fully dressed into the pool. But you quickly get enough of it, especially if you stay sober and you still have a 2 hour drive waiting for you. We were back at Glenn & Gina's around 10pm.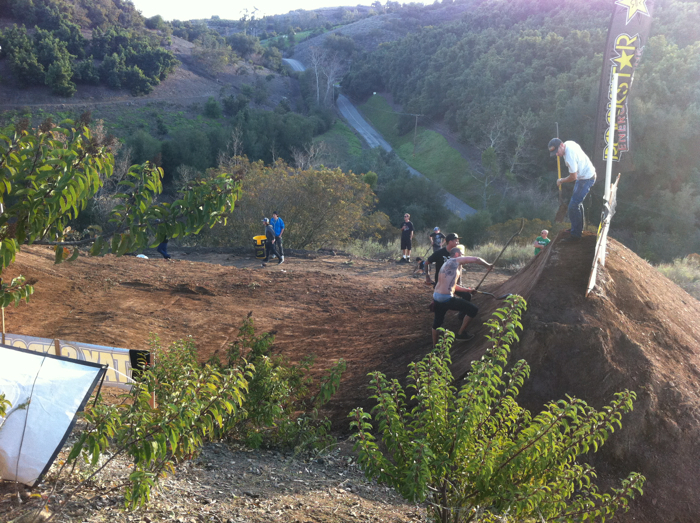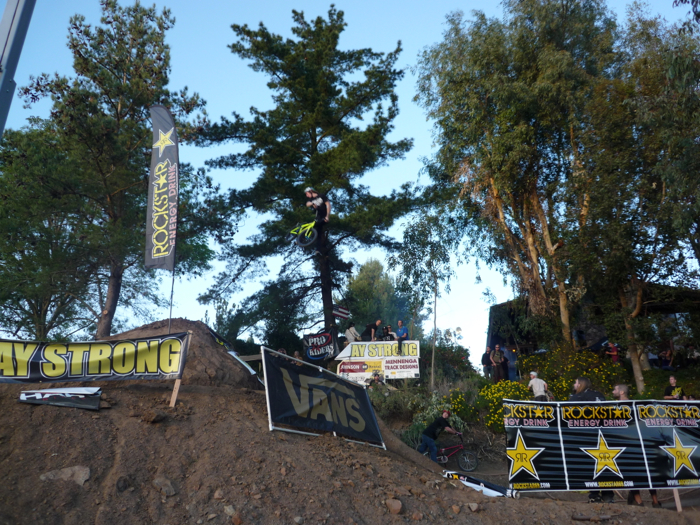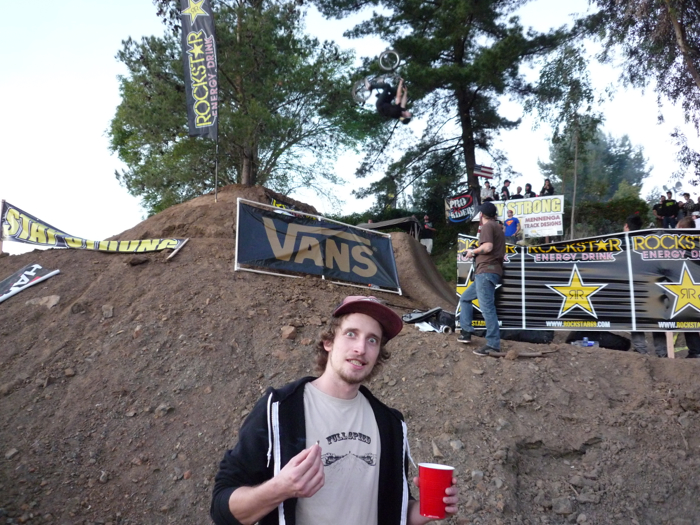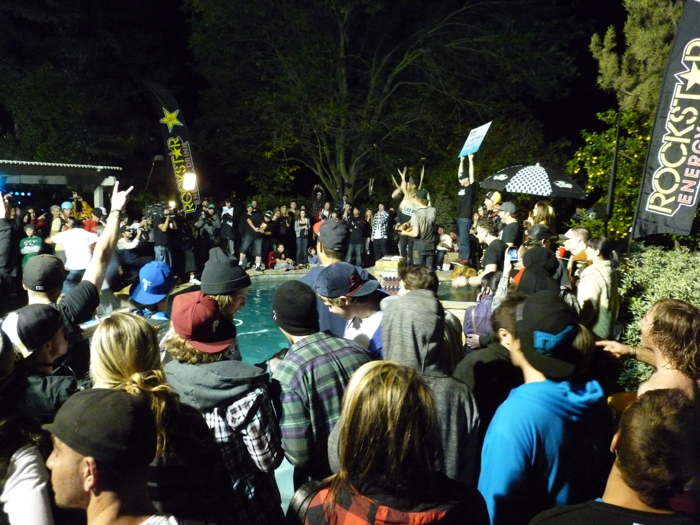 Oh… we had burgers at Nasty's place. Plus one on the burger count: burger #5.
Sunday 16 ↑
Glenn used to ride BMX. But now his adrenaline kicks were coming from night-time lobster fishing expeditions. He and Gina explained us that those lobsters were a delicacy, and they absolutely wanted us to try some. So on that sunday morning, we had fresh lobster for breakfast/lunch. I usually don't eat seafood, but we were their guests, and since they insisted on the exclusivity of the thing, I thought what the heck, I might as well taste it. Well, my verdict: the texture is ok, but the taste was… new, hehe. I don't know, I was good I guess, but it will probably stay a one-time thing.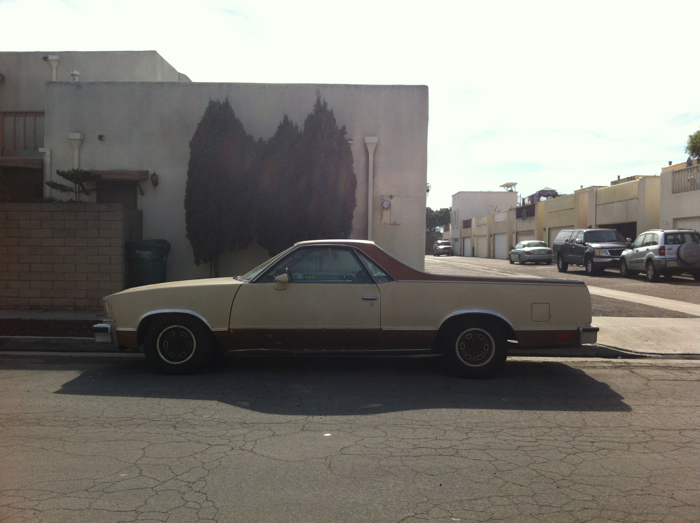 Adrien and I spent the rest of the day riding around on our bikes. I first wanted to check out a sporting goods shop to buy a big hockey bag to put our bike frames in for the next 3 flights (L.A.–Austin, Austin–San Francisco, S.F.–Zurich). I found the perfect one, it even was at a bargain price because the shop was liquidated, but then Adrien wasn't convinced by the idea.
Gina recommended us to ride south to Newport Beach. The long stretch between Huntington and Newport was a bit boring, but then Newport itself was nice. Again, lots of girls, lots of cruisers, the californian way of life, baby! After a pseudo-nap on the beach we rode back to Huntington to eat at a mexican place on Main Street. The food was ok, and the prices were probably a bit higher because the area is a bit touristic, but it still was cheaper than in Switzerland. It was my 5th time in the USA, and I don't remember the food being so cheap. Is it because 1 USD = 1 CHF? or maybe I'm more aware of what eating out costs in Switzerland? I don't know. We usually could eat for 20-25$ for 2, easily.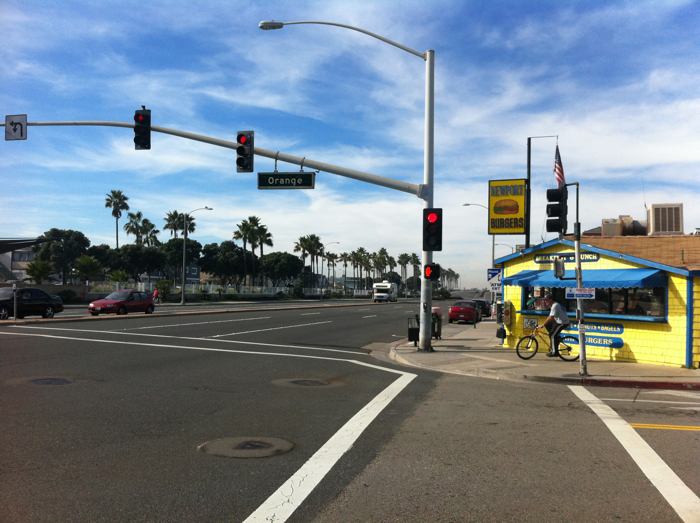 Right after that early dinner, the sun was starting to set. It was an awesome sight, the perfect way to end our short stay in L.A. (which in fact wasn't in L.A.). Back at Glenn and Gina's, we had to take our bikes apart again for tomorrow's flight. I got an annoying technical incident, as a screw of my stem was stuck. Glenn saved the day, thanks to his mechanics skills (he fixes cars as a job). Glenn's the man!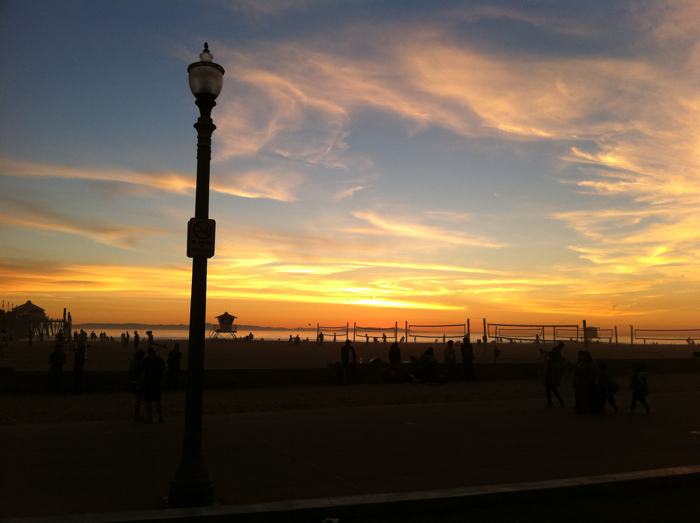 Monday 17 ↑
I was smart enough to book a flight to Austin from Long Beach airport and not from LAX. Actually, the smart move was on day 1 of the trip, when we rented the car, as I had to tell the rental company where I wanted to return it. So, Long Beach it was. We left Glenn & Gina's around 8:15am and arrived at the airport at 9am. The rental car return went down smoothly, but the luggage check-in didn't. Jet Blue only allows for 1 piece of 50 lbs (= 22.7 kg). My suitcase was 58 lbs, and we had the bike box extra. The dude was kind enough not to weight Adrien's bag, I'm pretty sure it was overweight too. All together it made a total 80$ fee :-( The only positive point I guess was that he considered the bike box as an additional bag, and not some kind of oversized luggage. The other thing that sucked was prior to the trip, I had a quick look at the flight's price. It was around 100$, but I didn't book it, because our schedule wasn't settled yet. In the end, we paid 300$ each, plus the 80$ luggage fee. So much for not planning your trip…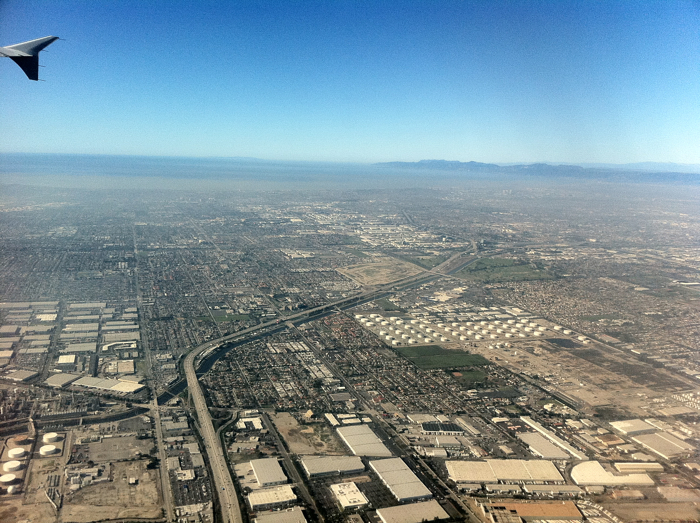 3 hours later, we got into Austin. I had to arrange a shuttle to the hotel. They almost wouldn't take us because of the bike box. At the hotel (the Days Inn next to I-35 and UT), we put our bikes back together and went for a ride into town. I grabbed a map at the reception, and tried to figure out where we were going as good as I could. Adrien was lost, as usual. Having not eaten all day, we were starting to get really hungry. We stopped randomly at the Spaghetti Factory in downtown Austin. On our way back to the hotel, we came across the famous Austin church gap Jimmy Levan conquered during Roadfools 98. Sadly it's now under construction, but we did get a feel of Jimmy's impressive achievement. We got to the hotel kinda early, so we just watched some tv while surfing the web. Or the other way round.
Tuesday 18 ↑
We didn't get our lazy asses out of the hotel room before noon! I couldn't believe it. Our first day in Austin, and already we were slacking. I wrote down addresses we had to check out: Empire and 9th Street trails. We rode down to the area where Empire was located, but couldn't find it. I fired up Google Maps on my iPhone (part of my +50chf data roaming bill…) and it turned out we passed it 3 times without noticing. Duh! I think I've never been to a real BMX shop. So much stuff I wanted to buy! I stayed reasonable and only got a T1 sweater, 2 Odyssey Bluebird chains, a replacement bolt for my stem (a 6-pack actually) and 2 mags. Reasonable, but still over 100$ :P While we were looking around, Aaron Ross[8] entered the store and started talking about his weird haircut. It was funny seeing him in what must be some kind of daily routine: wake-up, twitter, breakfast, twitter, go to Empire, twitter, etc. …haha
Then we tried to find 9th Street trails. The street was easy to find, but then we didn't know which direction to go. Of course, we ended up going the wrong way. We finally made it, but were really disappointed, because the trails were completely soaked. I took a couple of pictures, and we left to get some food at the Opal Divine's (burger #6). Pretty girls at one of the tables, and a mighty pretty girl on the streets… bon appétit!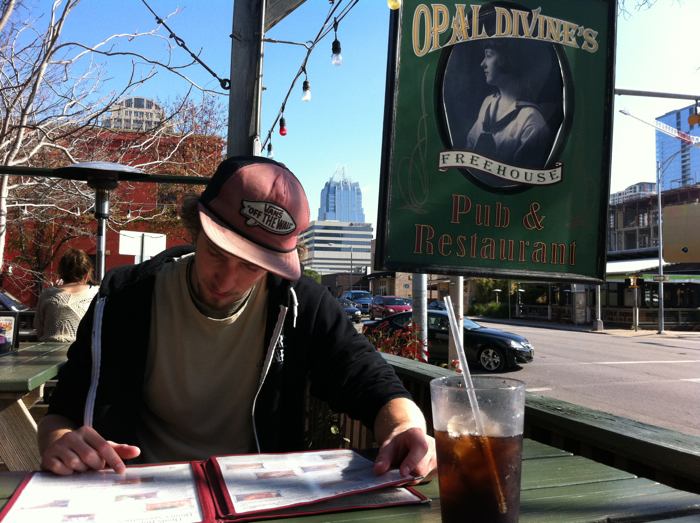 After our late lunch, we rode down to the waterfront and rested a bit on a bench. Then we decided to go back to Empire to ask for directions to T1 and to the Eastside trails. Tyler (?) at Empire helped us out by printing some Google Maps. Awesome! This time, Chase Hawk[8:1] entered the store. It's so great to have a big BMX store where people from the scene meet. Adrien and I decided to try to meet Joe Rich[8:2] at T1. We were craving for something to ride. I mean besides street spots… street riding is boring.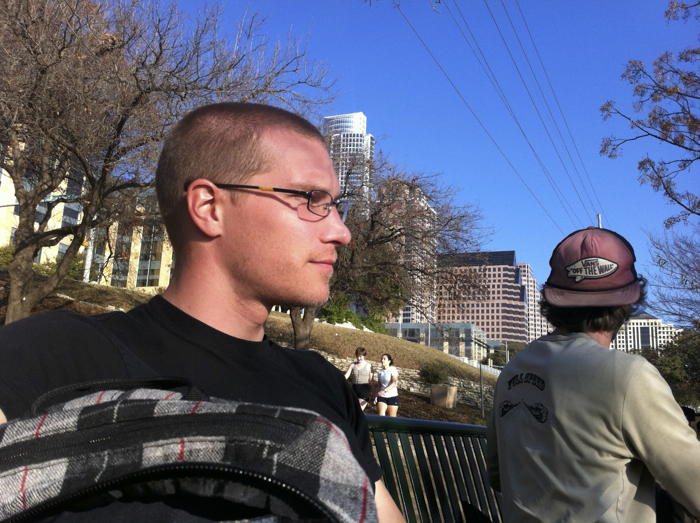 Sure enough, Joe was home. He told us however that he was busy fixing the ramp and that we couldn't ride it. Bummer! So we rode back to 9th Street trails and spent some time emptying the pits with buckets. I honestly wasn't convinced it would dry up before we left Austin.
Wednesday 19 ↑
I looked up some places to get breakfast, and picked Austin Java (Joe later told us it was a good restaurant). It actually wasn't breakfast, because we had… surprise… a burger :-D (#7). Then we rode to 9th Street trails, which were almost around the corner. We met Kevin Porter[8:3] there. He wasn't riding though, everything still was too wet. We decided to spend some time (2h) fixing one of the landings of the bigger line. I think it ended up looking pretty good. One of the locals thought so too. He even invited us to another set of trails, Hush, and then called one of his buddies for directions. We figured we could check those out tomorrow.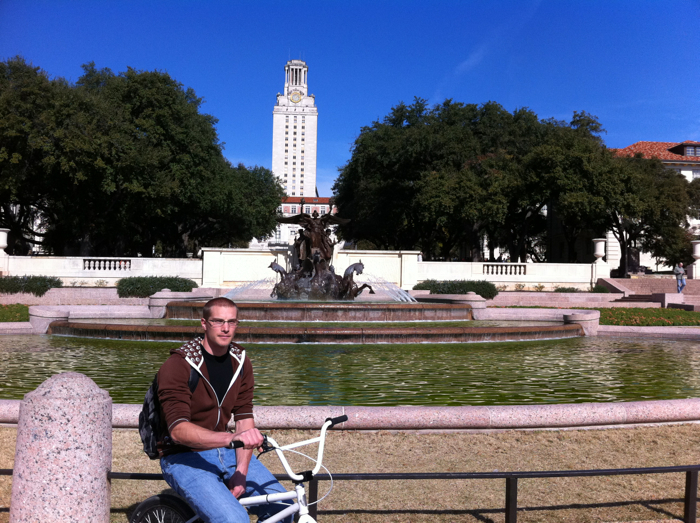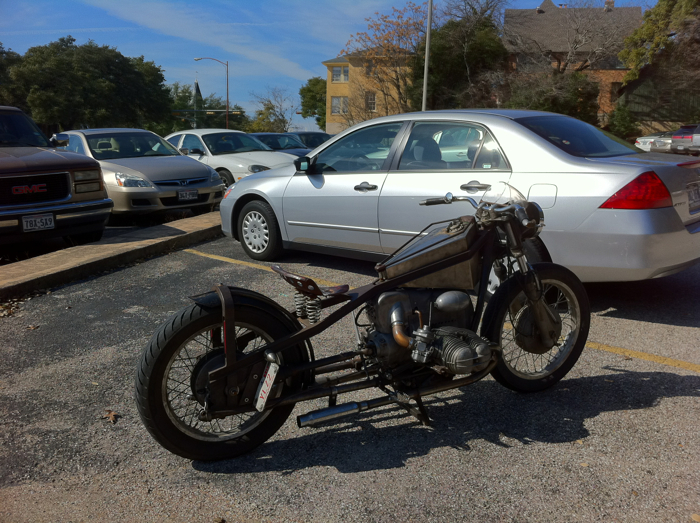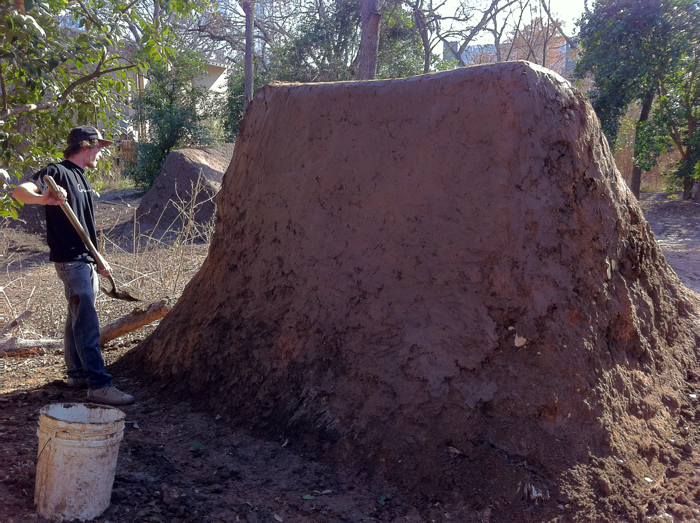 Today we wanted to go to Eastside trails. The directions Tyler from Empire gave us were pretty accurate. That is, the directions to the woods were accurate. Enter the woods and it was a different story. But Adrien found the trails relatively quickly. He must have some sort of 6th sense, a trails detection radar :-)
Eastside trails. What a sight! Never have I seen such huge sets. Sadly nobody was jumping them while we were there, but you should watch this or Anthem II to get an idea. And there were so many people digging. People from all over the U.S. There were some czech dudes also. And a girl! Angie Marino. She even rode, and rode well. So cool! I so wanted to ride too, but wasn't feeling very confident with my injured ankle[9] and didn't wanna jeopardize another summer of riding. Better still play it safe for a couple of months. We also helped digging for an hour or two.
Then we left to ride a concrete park south of Austin. In the group was Angie, Brian (a guy from PA) and 3 other guys (one had a Standard Trailboss frame with a Profile Elite hub, the exact setup I've been thinking about getting). We cruised through various neighborhoods, along highways and stuff. It was fun. Adrien and I didn't stay long at the concrete bowl. We headed back to downtown Austin and had dinner at the Iron Cactus.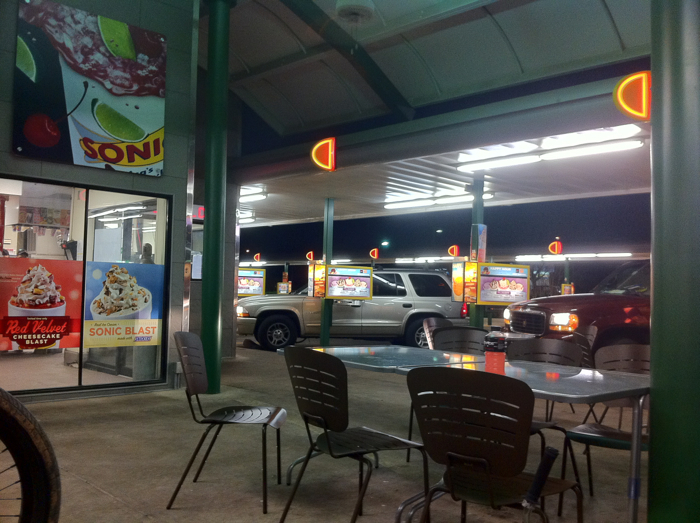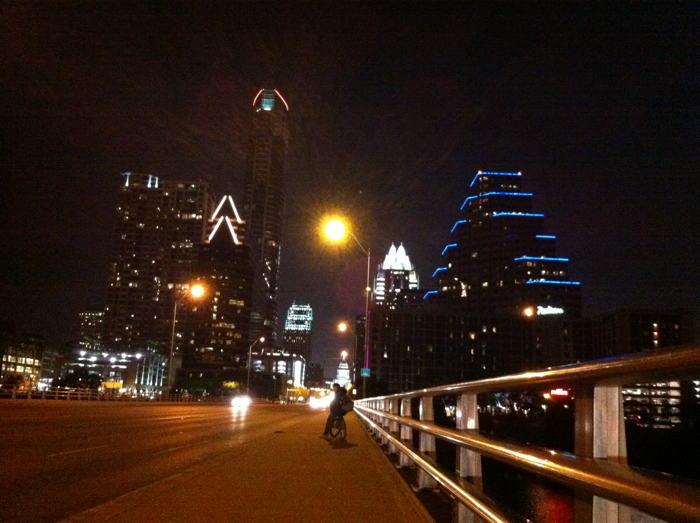 Thursday 20 ↑
Such a fucking cold day! We first rode to Empire for Adrien to buy some T1 shirts. Then we went to a Starbucks to drink some hot chocolate. I actually drank most of Adrien's, because he forgot to take his magical pills that allow him to ingest dairy products. 2 hot chocolates is too much, ugh. We continued on 5th Street until Joe Rich's place. We met his insanely pretty girlfriend Misha, and all together went get some coffee/tea at Progress Coffee. It was great. Joe was busy for the rest of the day, doing some accounting for T1. So we decided to go again to Eastside trails. On our way there, I got a flat tire. First one of the trip (I also broke my fucking chain twice in Woodward). It was quickly fixed, but still kinda sucked because Adrien's hand pump was weak. We did a bit of digging, but no riding. I think I got a cold on that day from sitting around in the cold doing nothing. Some dude who looked very much like Josh Stricker[8:4] (it probably was him) made a fire. That helped a bit. On the ride back to the hotel, I was freezing. And Adrien wouldn't keep up with my pace. Dude, you need to exercise a bit! ;-)
We were being really lazy, so I ordered pizza from Pizza Hut (pizza #6). It wasn't good at all, but we were starving…
Friday 21 ↑
A slow day. I got up around 10am and rode my bike to the closest mall while Adrien was still sleeping. I was hoping to find a sports apparel store or some department store where I could buy a large bag for my bike frame. The box was too much of a hassle. I couldn't find anything, and it was kind of a creepy experience to go to a mall at 10 in the morning.
We had a late lunch at Opal Divine's, again (burger #8). We stopped at REI and found a very large bag for just 40$. Adrien still wasn't convinced by the idea of putting our bike frames into a soft bag (it turned out ok). Adrien called Joe, but he said he was too busy and the ramp wasn't fixed yet. So we went back to the hotel for a while.
We wanted to give the Austin nightlife a try. It was incredible. Lots of "alternative" bars with good music. That's definitely something we don't have in Geneva. We ended up at a place called Beerland. The people seemed nice (we didn't talk to anyone) and the music went from unbearable to great. But it was only rock, no electronic crap.
Saturday 22 ↑
The first part of the day consisted of doing laundry. I tried to pick a place as close to the hotel as possible, but it still was a bit of a stretch. We had a small breakfast at La Tazza Fresca.
Later, we hit our second McDonald's of the trip (burger #9). Then we rode to T1, and met with Kevin Porter, Chase Hawk and some other riders. Chase and Joe were still fixing the ramp. It looked we weren't going to be able to ride during our stay in Austin :-( After a while, everybody left so Adrien and I gave Joe a hand to screw some of the skatelite. So in the end, we didn't ride the T1 ramp, but we helped fixing it. Which is kinda cool too.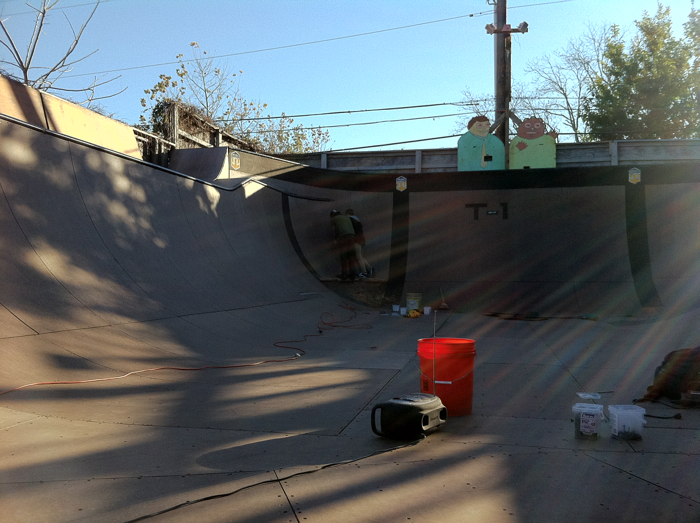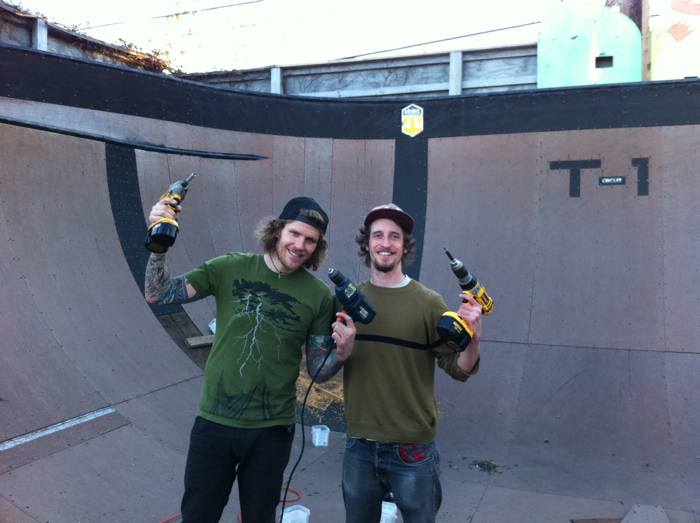 In the evening, we went out again. This time there was a free birthday gig at the Headhunters, right across the street of Beerland. They were playing punk rock! At a free show! I had such a great time.
Sunday 23 ↑
Our last day in Austin, and, again, a slow day. I actually spent a whole week in Austin and didn't ride any BMX (except to get from point A to B). Can you believe that? That's typical me. Anyways…
We had lunch at Hooters (burger #10) and then went again to T1. Joe took us to a place called Cafe Medici. It's one of the best coffee places, according to him. He said he used to go there all the time when he lived nearby. Back at T1, we bought some shirts for 10$ a piece. What a treat!
We went back to the hotel to chill a bit and then take our bikes apart and pack our bags. Since we now were on foot, we decided to grab dinner at this place called Star Seeds, right next to the hotel (burger #11).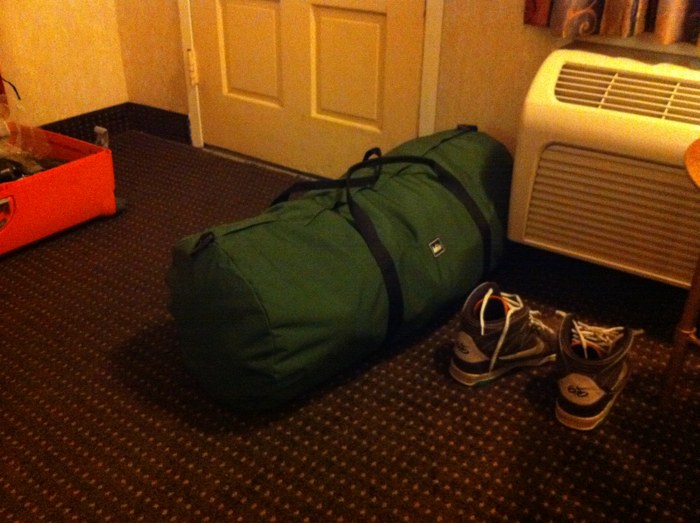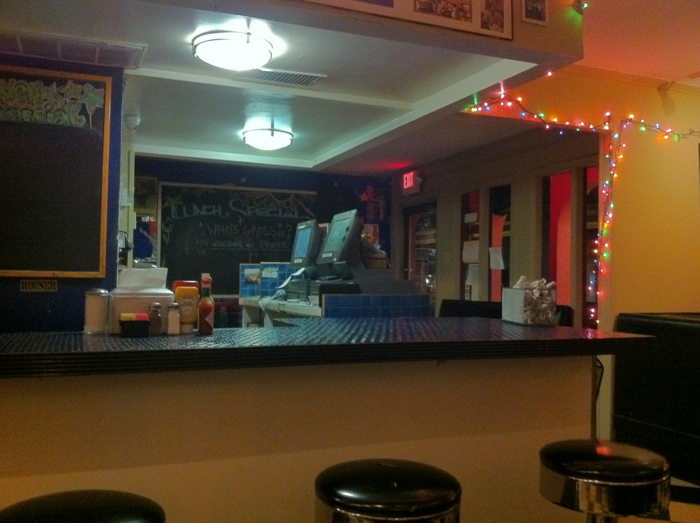 Monday 24 ↑
Our flight to San Francisco was at 8am. We got up at 5:45am and were driven to the airport by none other than Mr Joe Rich himself. What an honor. Seriously. I'm glad I got to meet the guy that I'll always remember seeing in freedombmx #17 (see the scan here) doing what seemed to me an impossible transfer at Posh (I think). At the time, the only BMX videos I got to watch were the X-Games on Eurosport. Joe never was on them, except that one year. I was so psyched. Then there was of course Roadfools 98. There was a video review in freedombmx, and they basically said "wenn ihr nur ein video kauft, denn dies". If you got to buy only 1 video, buy this one. Roadfools 98 was the first BMX video I bought. And it cost me about 90 freaking dollars, I don't remember why (customs etc.). I ordered it at BusyP in Germany. What a rip off. But in hindsight, it was totally worth it. And then there was the Props Issue 34 with a Joe Rich profile. I bought that VHS too. Oh and I also have the Fox Expandable 2 VHS with the T1 part. What can I say? I just love his smooth riding style… And now I know that he's a really good person too. Like Ruben said in Props 34, "Joe is a better person than rider", hehehe.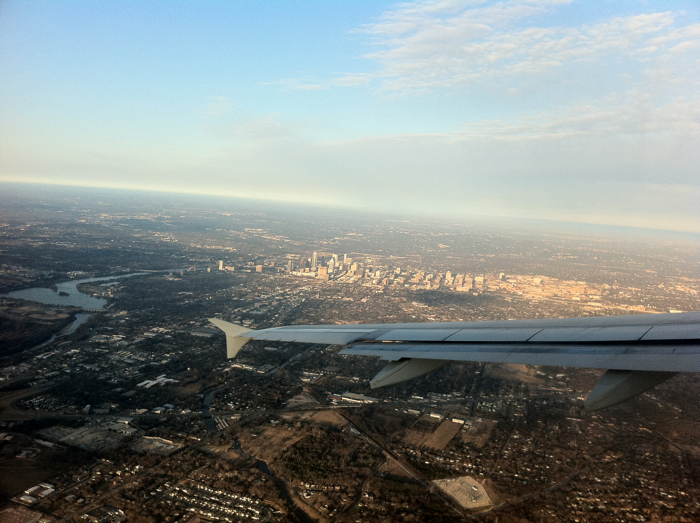 This time, we managed not to have any overweight luggage. We actually put most of our clothes in the bag with the bike frames. This way, we only had to pay for 1 extra piece of luggage. We took a shuttle again from the San Francisco airport to our hotel, the Castle Inn on Broadway. We got there too early to get into our room, so we just left our bags and went for a walk. We went to Fisherman's Wharf and had a pizza (#7) at an expensive tourists trap. We walked back on Hyde Street, saw the cable cars and the twisty Lombard Street I remembered driving down with Alex the last time I've been in SF.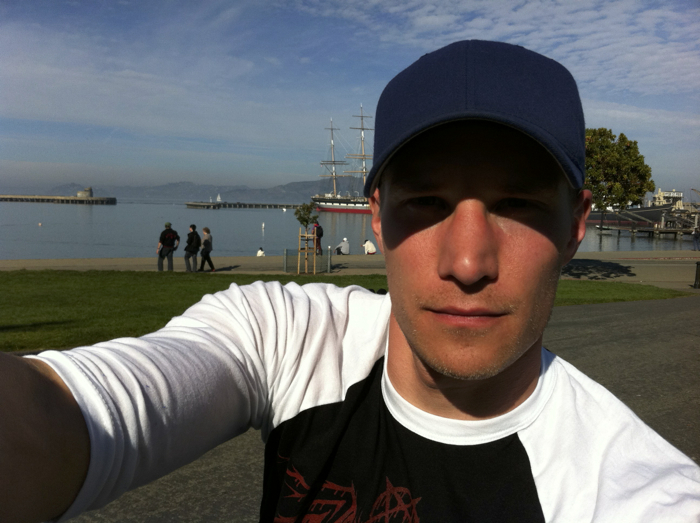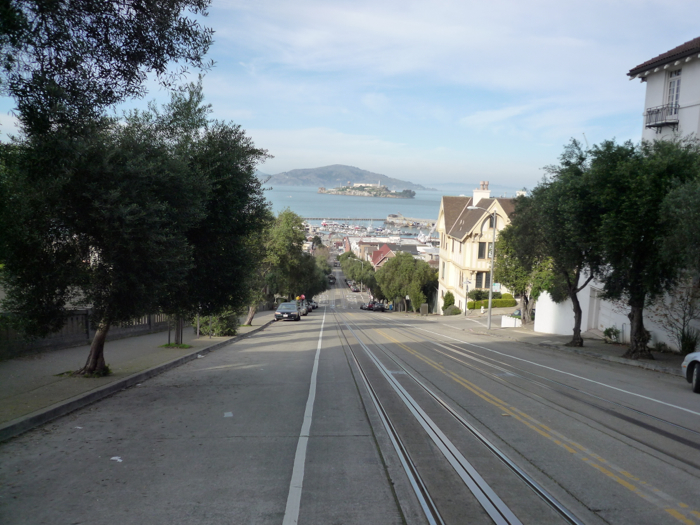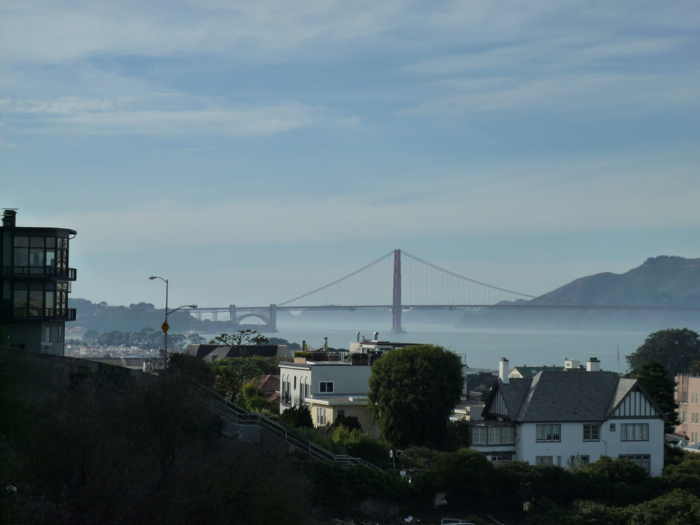 After a quick stop at the hotel to check into our room, we walked to the Apple Store on Stockton Street. I was thinking about buying a 11" MacBook Air with 64GB SSD and 4GB RAM. But they weren't selling that setup in store, and it wasn't possible to order it for pickup. Basically you needed a US address and probably a US credit card. Oh well… They had a 128GB/4GB model, but it was 1300$. Too much. Adrien was starting to feel weak. Too much walking and too sick, so we went back to the hotel for a while.
Later on, we met with Brian at the Pier 39 Bubba Gump. It was fun.
Tuesday 25 ↑
For the last time of our journey, we had to put our bikes back together. We were going to meet Stephen for a quick tour of the San Francisco Adobe office. It was quite interesting. The working environment seemed better to me than in San Jose. More designers and engineers, less management. That's always better ;-) After the visit, the three of us had lunch together at a hip restaurant. T'was good.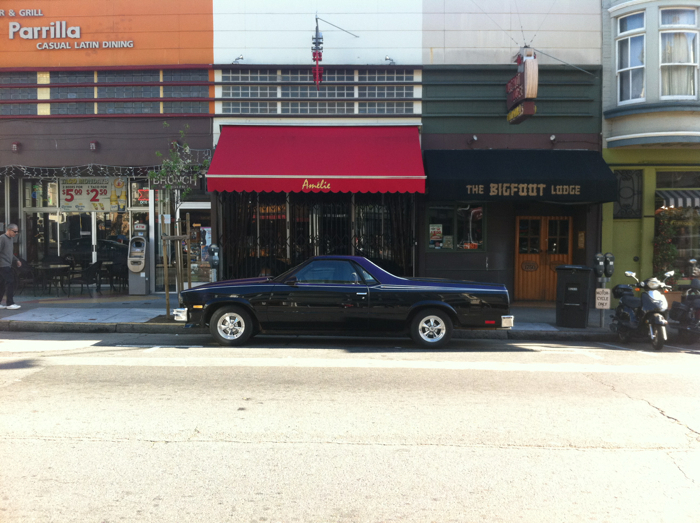 From there, Adrien and I headed east to the sea. The weather was nice, the sun was shining, so we decided to ride all the way from (almost) the AT&T park, along the waterfront, to the Golden Gate bridge. We didn't cross the bridge, just shot some pictures, stayed a while for the stunning view and then headed back into the city.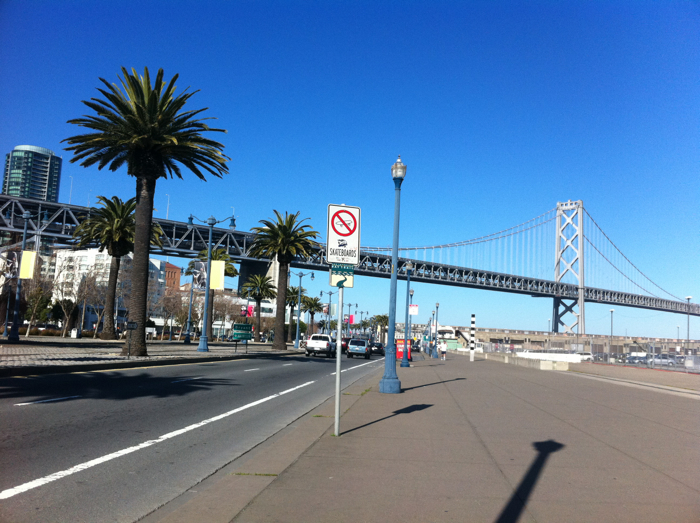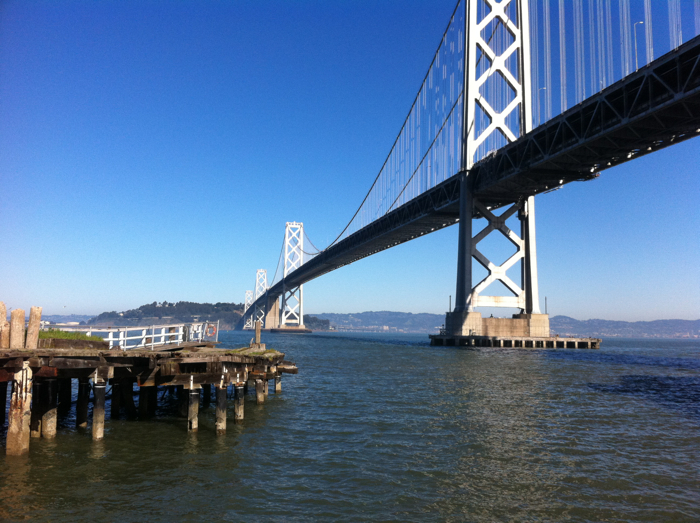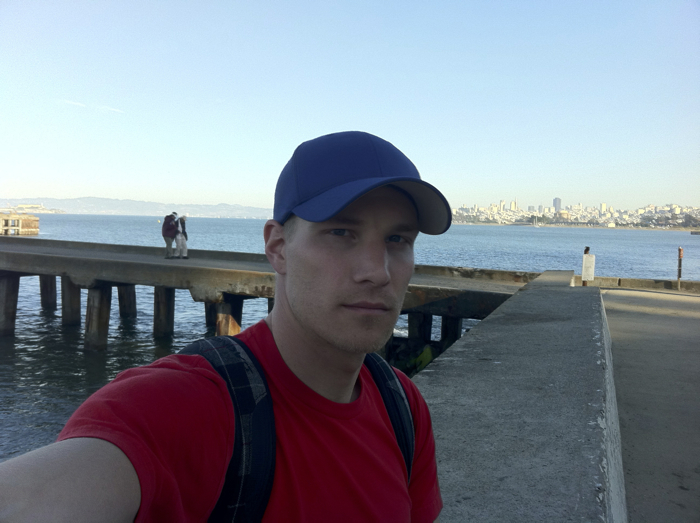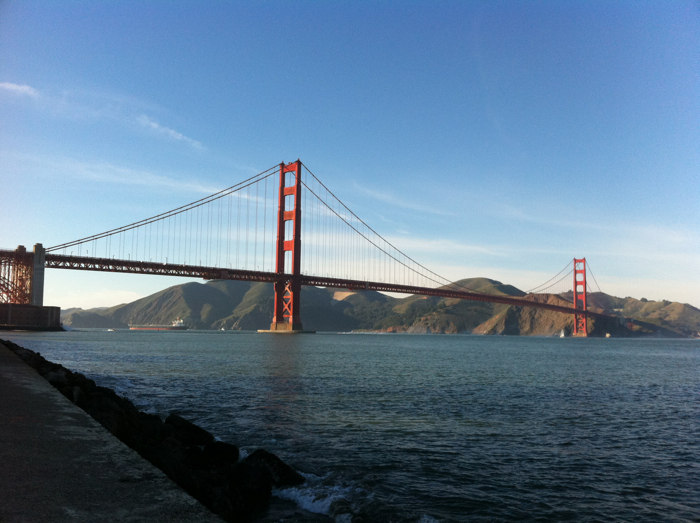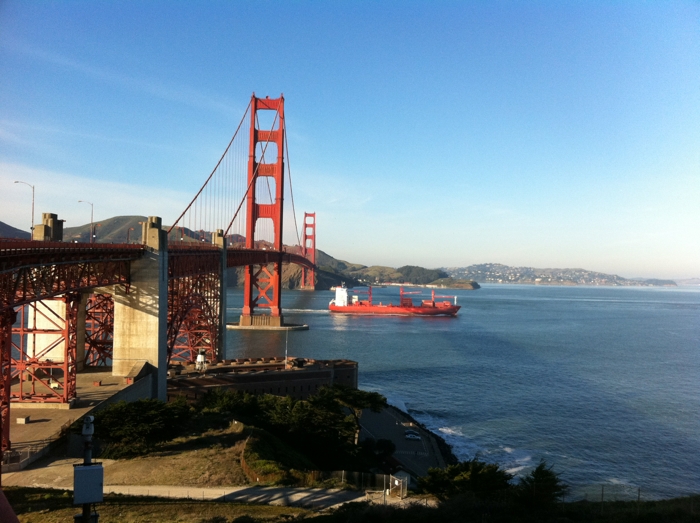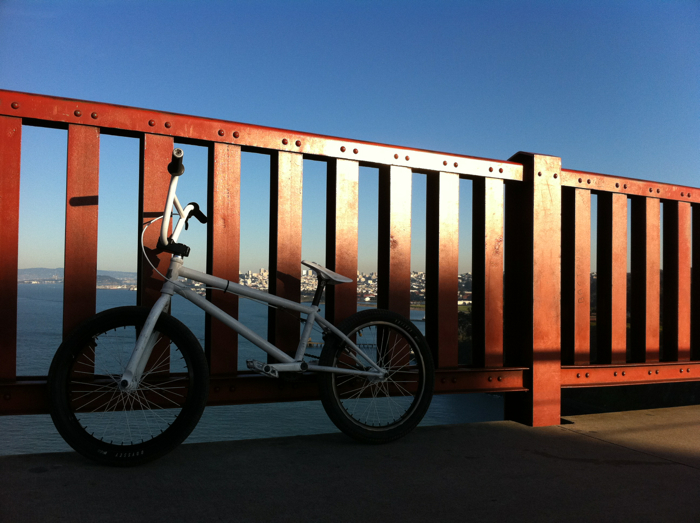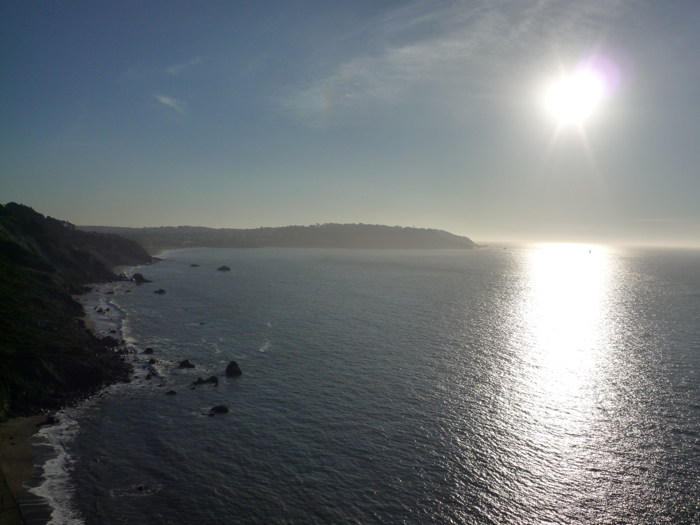 Brian highly recommended we'd watch the movie True Grit. So we did. I thought it was ok, nothing special. I probably was a bit disappointed because I didn't understand a single thing Jeff Bridges mumbled. I liked the girl's character though.
Wednesday 26 ↑
I woke up around 9:30am with a sore throat. It seemed that cold I got a couple of days ago was still sticking around. I thought it would be a good idea to get a hot chocolate at the Starbucks around the corner, while Adrien was still waking up. Then I quickly made a reservation for the car we were going to need the day after. The rest of the day was very laid back.
First we rode to Alamo Square to have a look at the famous Victorian houses, a.k.a. the painted ladies. Then we had a burger (#12) at Jay's Cheesesteak on Divisadero Street. We continued our way to the west and entered the Golden Gate Park. We cruised around for a while and chilled near the Conservatory of Flowers. Finally we checked out Haight Street. All in all, tons of nice and interesting stuff to see.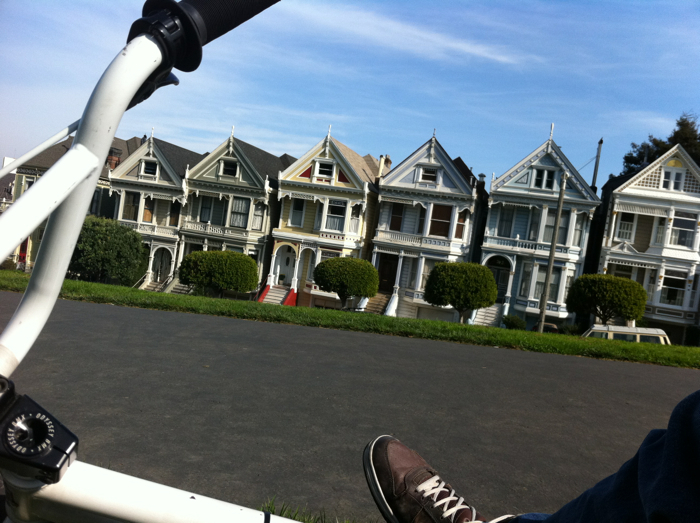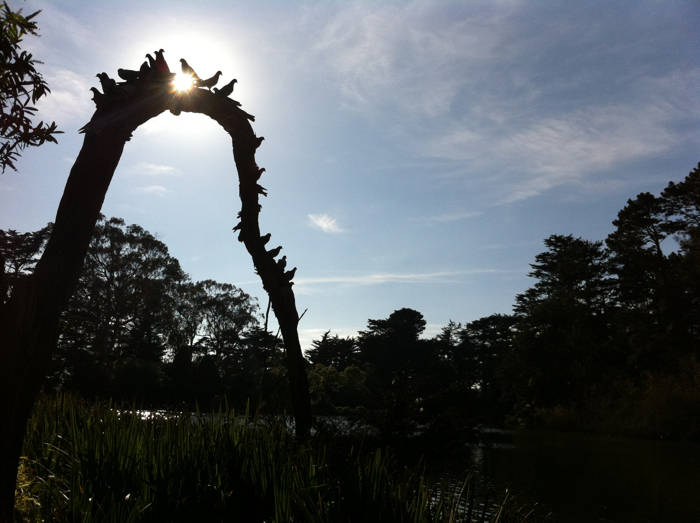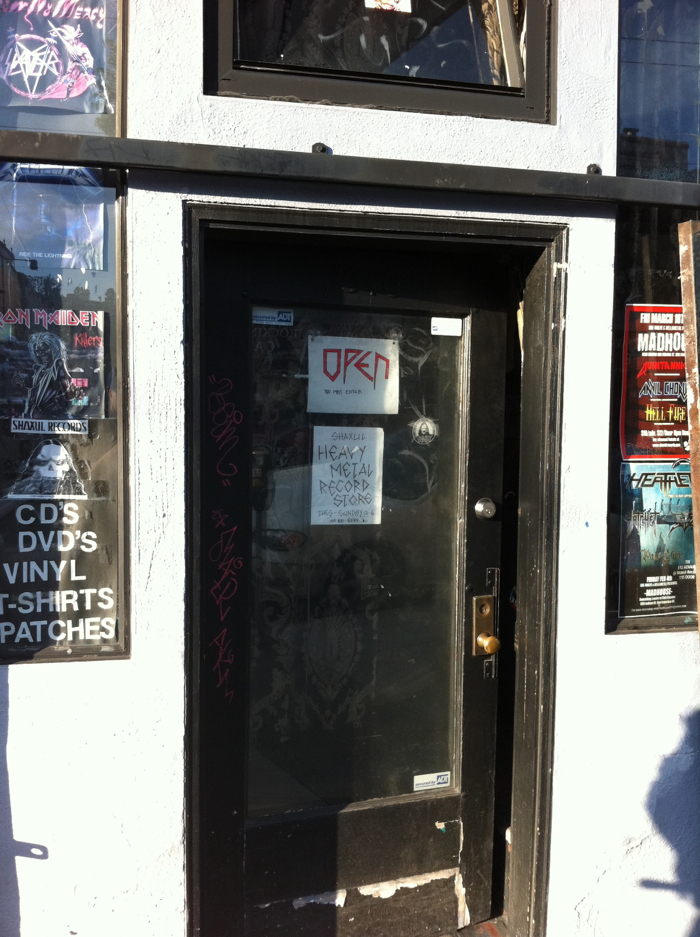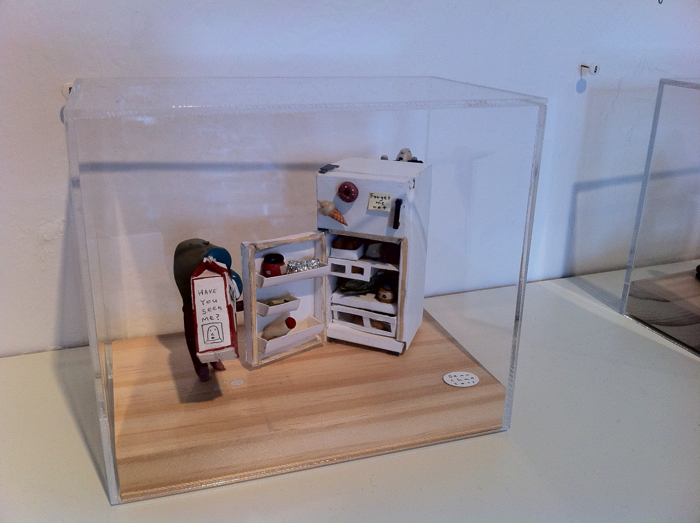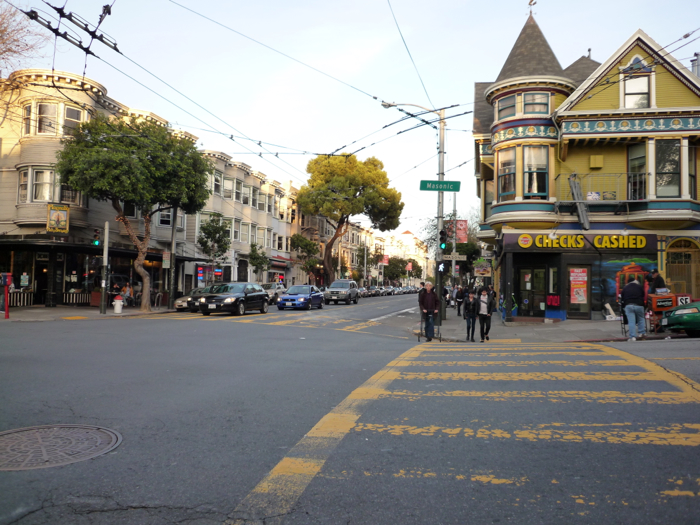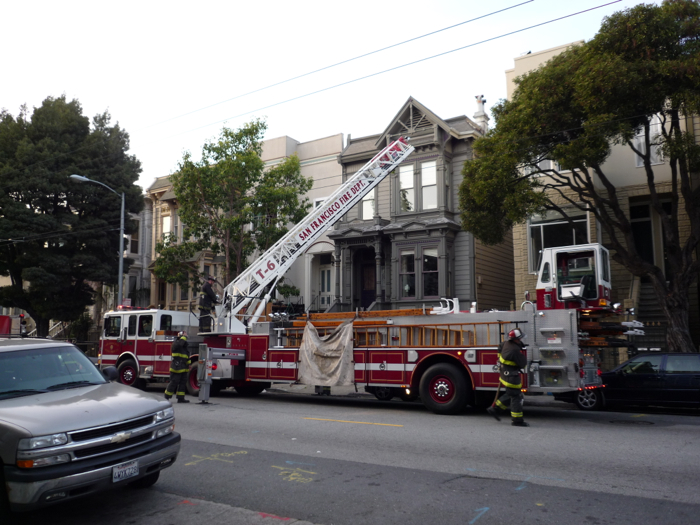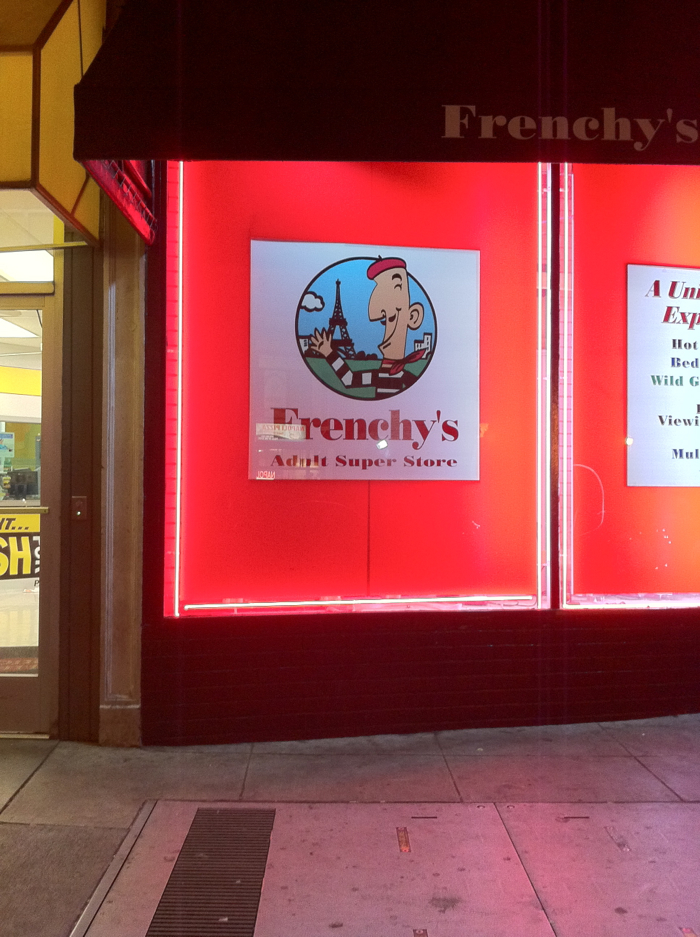 In the evening, after a stop at the hotel, we headed downtown again to have dinner at California Pizza Kitchen (pizza #8).
Thursday 27 ↑
Unlike yesterday, we had biiig plans for today. We would rent a car to 1) finally get those 10 shovels Adrien really wanted, 2) do some shopping for clothes, and 3) meet Stephen one last time at the Lake Cunningham bowl. The car rental started at 10am. We got up at 9am. Adrien really needed a tea. Of course, it needs some time to drink a burning hot tea… I didn't know if the reservation would get cancelled after some delay. It didn't matter anyway, because we made it. So the rental company got us an ugly green Ford Fiesta. A small green car. In America. You couldn't get more noticed.
Our first stop was at an Orchard Supply Hardware, the same kind of store Adrien found his dream shovel in Huntington Beach. But it was pointless. They wouldn't sell shovels without handles neither. The clerk gave us directions to some construction hardware store. Adrien didn't listen to them and I didn't care much. We drove to the area he told us about, I'm pretty sure, but we couldn't find any hardware store. Well. Our next stop was the closest Office Depot to the Westfield Valley Fair Mall. This time I let Adrien do the explanation why he needed 10 shovels without handles. In the end, he got a sweet deal. 10 shovels (with handle) with a 10% off and a small saw for 5$ instead of 8$. Finally! It was funny cutting the handles off in the parking lot. People were curious and asking us what we were doing.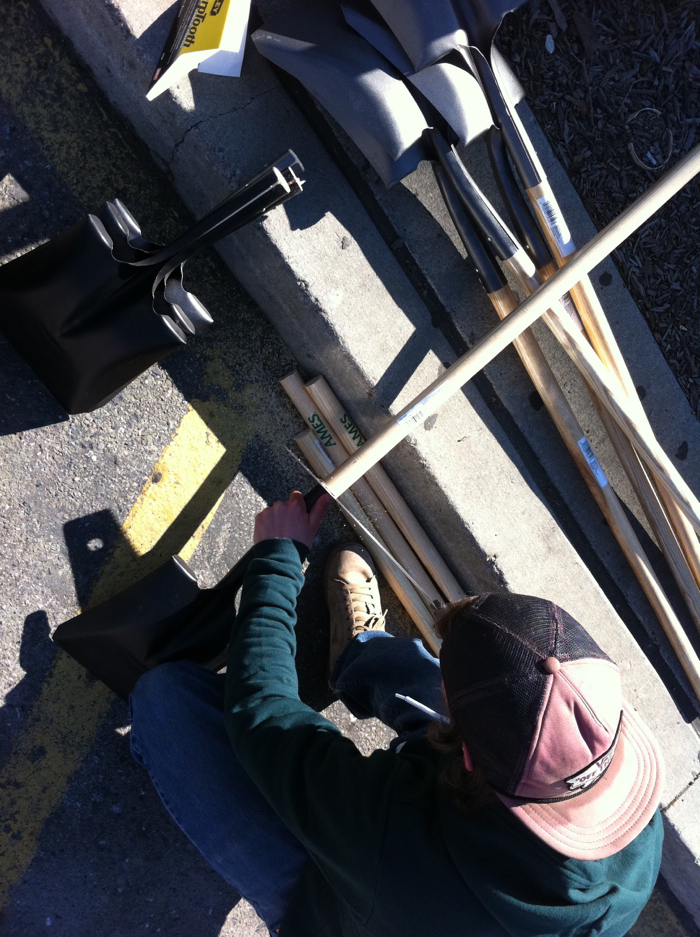 Then we went to the Westfield Mall. I wanted to check out the Vans store (got some clothes and shoes), the American Apparel store and I also wanted to try to find a decent carry-on suitcase. I did, and felt confident that my suitcase wouldn't be overweight for our flight back home.
We made it almost on time to the Lake Cunningham bowl where we were meeting Stephen. So there he was, with his brand new bike, ready to ride BMX again for the 2nd time in a week, after a 6 years hiatus. So cool! I'm proud of you man. That bastard even got the limited edition Anthem Steadfast frame! Such a nice bike. The guy who put the parts list[5:1] together really has great taste ;-) The riding session was awesome. I could tell that my carving skills got better. I didn't know if it was the stay at Woodward, or simply the fact that when we came here 3 weeks ago, I hadn't been really riding my BMX since my injury in May. I think Ron Wilkerson[8:5] was riding there that night: old school bike, huge airs out of all the vert parts of the bowls, unreal carving in the full pipe. A guy (Aaron Foley) we met last time told us that Ron was a local. We left around 7:30pm, tired, and with the 1h drive back to San Francisco ahead of us.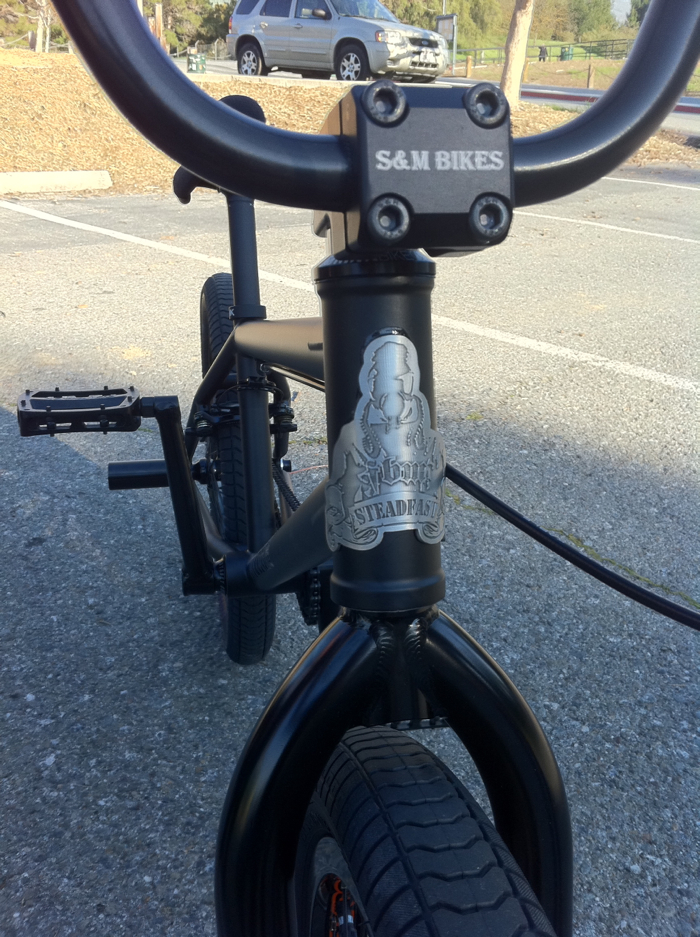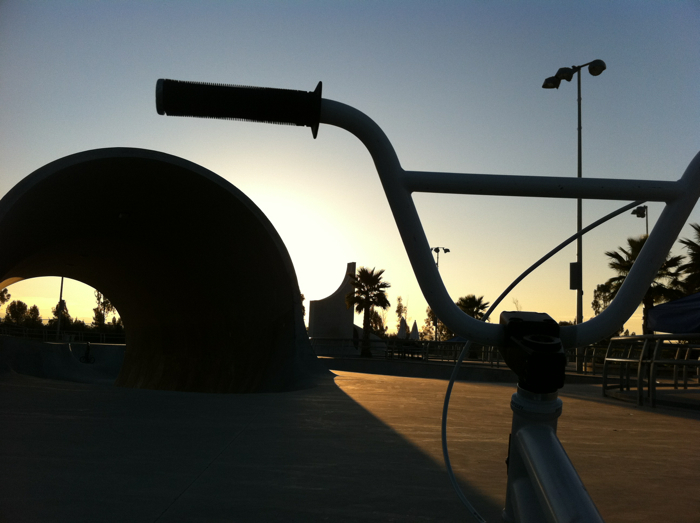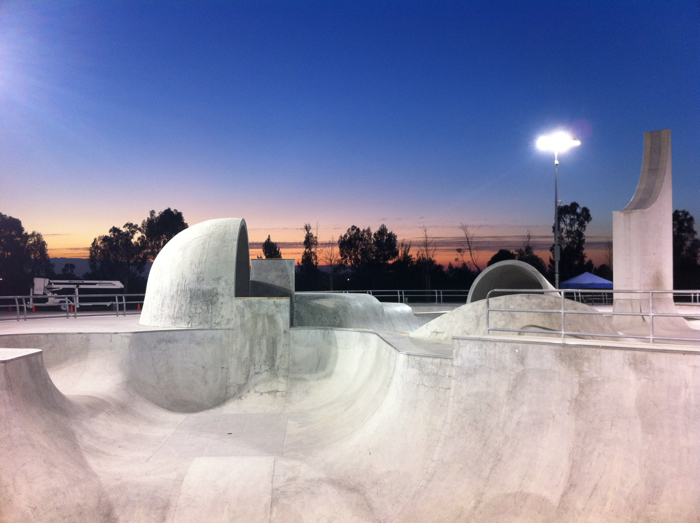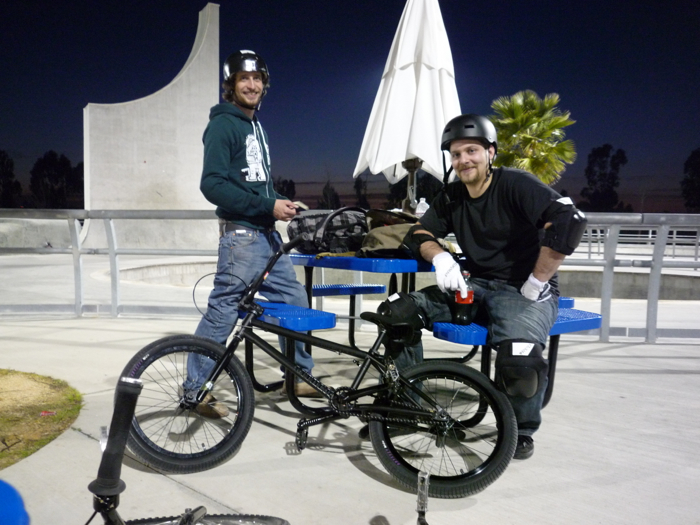 Friday 28 ↑
We got up again at 9am, this time to return the car. Everything went well. After a short coffee break, we decided to try to find the Potrero Del Sol bowl. I was convinced that it wouldn't allow bikes, but when we got there, a couple of BMXers were already riding. One of them gave us directions to some trails supposedly located in the Golden Gate Park. We didn't stay at Potrero very long. The bowl was nice, but I still was a bit tired from last day. We decided we wanted to check out these trails, so we headed west. We had lunch on Haight Street at some mexican place.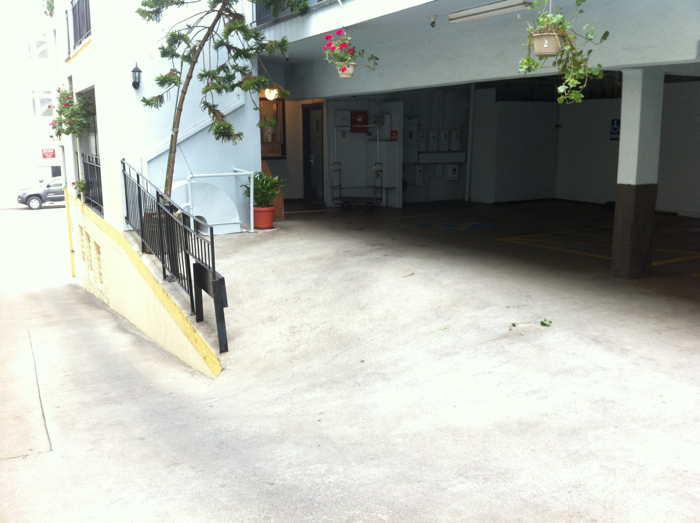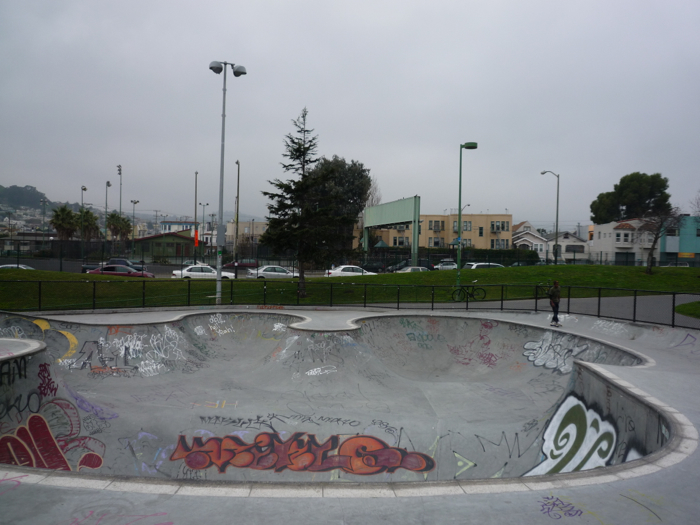 It didn't take us long to find the trails (Adrien and his 6th sense again probably), but they were very disappointing. Well, after Austin's Eastside trails, any trails would be disappointing. But these were really sketchy. We didn't ride, just watched a bunch of locals. Then we went to Market Street and the Apple Store. I was almost going to buy that MacBook Air 11" 128GB/4GB, but in the end my common sense won. From there we rode back to the hotel and rested a bit.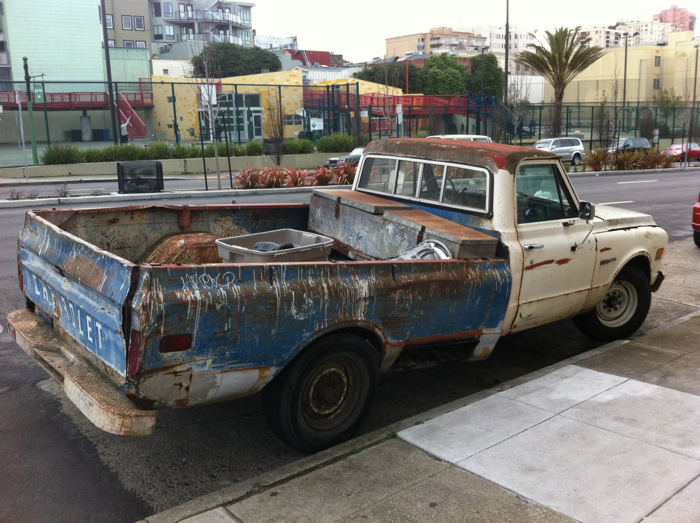 I had contacted Serena[10] earlier that week to tell her that Adrien and I were in San Francisco and that it would be nice to go have dinner one night. We agreed on Friday night. She picked us up at the hotel and took us to Happy Shabu Shabu in Japantown. So much food! Then she took us to a chinese place where we had some quite funky desserts, haha. Finally she gave us some sort of accelerated guided city tour by car, by a birdcrap-covered car :-D. We drove through Golden Gate Park, to her Kung Fu school, to that street with all the clubs (don't remember the name), to (outside of) Zynga's office building where she works, past her apartment, to a hill with a great view of the city (by nite). All in all, I think we had a good time. I guess we could have talked more, but eh, I'm not talkative.
Saturday 29 - Sunday 30 ↑
Last day …already! :-(
I got up around 9am because I didn't know at what time the checkout would be and I still had to pack. Adrien only got up at 10am. It turned out the checkout was at 11am. Needless to say he didn't make it out on time :-) We decided it was best if we took our bikes apart now, to save us some time and stress later that day. All in all we finished packing everything (in the parking lot) around 12:30pm. Ugh!
Then we walked to Fisherman's Wharf where we would meet Brian one last time. He absolutely wanted to take us to a sushi place on Pier 39. I, on the other hand, wanted to go to an In-N-Out. In the end we did both. During the whole trip I thought I've never eaten at an In-N-Out Burger, but now I'm almost sure that I actually ate at the exact same one 8 years earlier (burger #13).
We spent our last hour at the Starbucks next to the hotel. The shuttle to the airport (loooong ride!), the checkin (looong line!) and the flight (looooooong flight!) all went well. No extra fee because of overweight luggage, no lost or damaged suitcases. Just perfect. Adrien was kinda pissed because he forgot his dear pillow at the hotel, and because he failed to post his postcards (which btw were bought enough days earlier to post them in time). Procrastination ;-)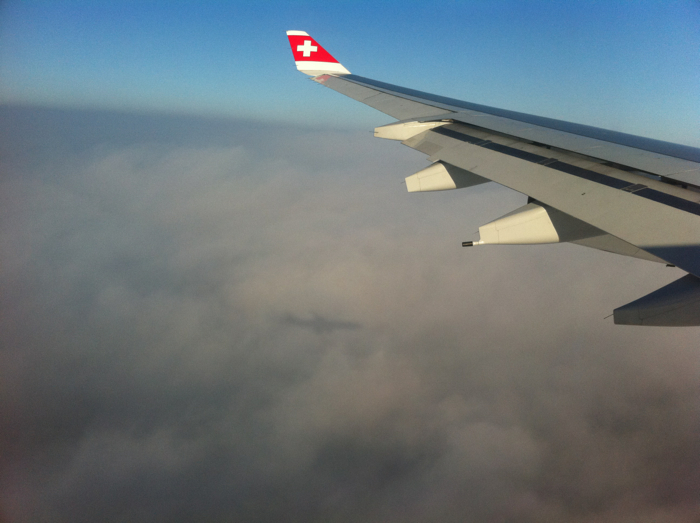 Aïsha came to pick us up at the airport. I think it was my first airport pickup in Switzerland. Nice! Adrien's mom, girlfriend and step dad picked us up at the Geneva train station. I was finally home around 7:30pm on Sunday evening, ready to go back to work the next morning at 8am. Or not.
Postscriptum
I really had the time of my life. I finally got to see and ride places I've been watching in videos for so many years. I met incredible people and spent quality time with old friends. Of course, not everything was perfect, but that's fine as long as you learn from your mistakes. I got along with Adrien pretty well. He was getting on my nerves sometimes, so were I on his, probably. But I guess that's just normal if you're with someone 24/7 during 3 and a half weeks.
This is definitely not going to be my last BMX-oriented trip. Next stop Pittsburgh? Malaga? Australia? New Zealand? Who's with me?
---