iPhone homescreen evolution
I had the idea to write this after seing sites like this or this, and after having more and more members of my family getting iOS devices and recommending apps to them. How do I find cool or useful new apps? By reading blogs like shawnblanc.net and sites like The Sweet Setup for example. I also bookmark my findings.
My current homescreen
I try to keep the most used apps only 1 tap away, i.e. not in a folder or on a secondary screen. The absolutely most used apps are in the dock, which, if I think about it, is not really ideal because that zone isn't the most easily reached while holding my phone one-handed. I'm experimenting with having only one apps screen. This means that I have to use folders on my homescreen. My grouping is weird. The first folder, "Apple", is a bunch of apps grouped by developer, obviously. A bit counter-intuitive. The second folder, "Utilities", is actually more like an "Other" or "Miscellaneous" folder. Then I have "Games", "Social" and "Photography". Besides all the Apple stock apps like Messages, Phone, Camera, Photos, Settings, App Store, Mail, Safari, Calendar and Music, I installed a couple of other apps. Here's the detail: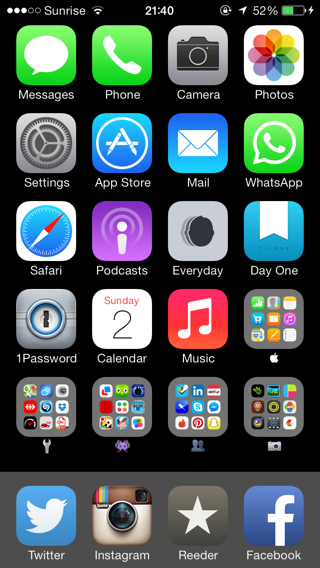 Docked apps
Primary apps
Apple folder
Like I mentionned before, this folder contains all apps developed by Apple. There are the stock apps that can't be deleted (which I find very annoying) like iTunes Store, Reminders, Voice Memos, Passbook, Weather, Newsstand, Stocks and Videos. Then there are the sometimes useful stock apps like Contacts, Notes, Maps, Calculator, Compass, FaceTime and Clock. And finally there are the apps I chose to install.
Utilities folder
This folder more or less contains all the apps I couldn't put anywhere else.
Games folder
I still think that many games aren't destined for touch screens. I'm proud to say that I never played Angry Birds, Flappy Bird or any other crappy mainstream hit game. I just don't get it.
Social folder
Photography folder
I just realized that 4 apps in this folder were just used to fix Instagram's shortcomings. Instagram missing a feature? There's an app for that.
A little bit of history
I wish I had started doing this with my first iPhone, the 3GS, in 2009. Instead, I can only go back 2.5 years. On my iPhone homescreen, I've always had a lot of stock apps. I've also pretty much always used my iPhone with the orientation lock on.
So it seems that 2 years into using the iPhone, I still had the default apps in the dock: Phone, Mail, Safari and iPod. I was using pretty much the same apps as now. Photosynth was on my homescreen because back then, the stock Camera app couldn't do panoramic shots. I had 3 apps screens.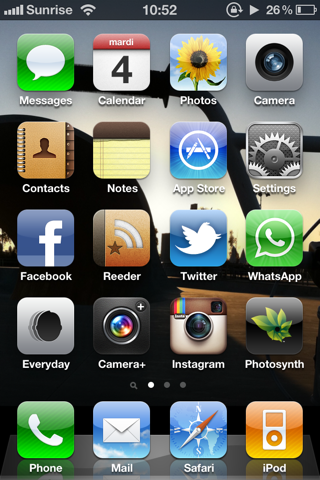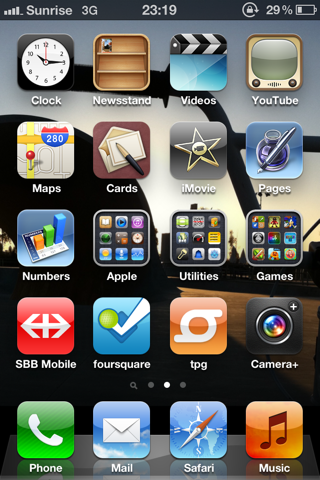 For some reason, the Clock app got promoted to the homescreen. Camera+ and Photosynth were moved into a "Photography" folder.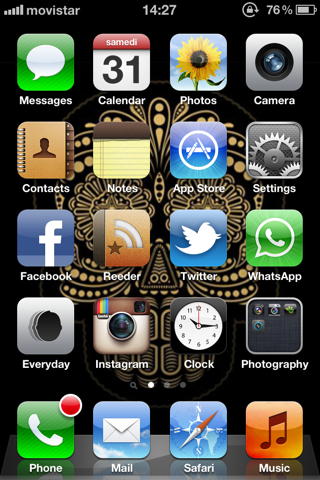 I didn't like having folders on the homescreen, so the "Photography" folder disappeared. The Maps app got promoted, so were the stock Reminders app and iBooks. I can't remember why. Twitter was moved to the second screen. I've regularly tried to get into Twitter, but the whole 140 characters limitation always irritated me (and still does). Everyday disappeared from the homescreen, because I had set a daily reminder. I also did some cleaning and had only 2 screens of apps, down from 3.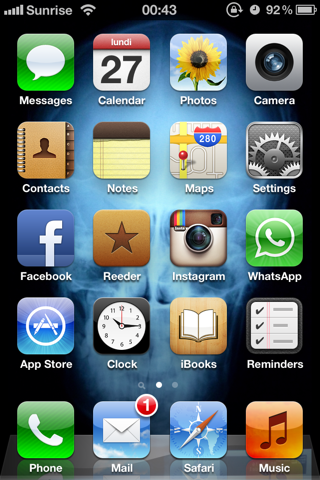 In fall 2012, I got the iPhone 5 and I switched to a black wallpaper to increase readability. To the extra row of apps, I added the excellent Letterpress game and Day One. Twitter and Camera+ got the chance to make a comeback onto the homescreen.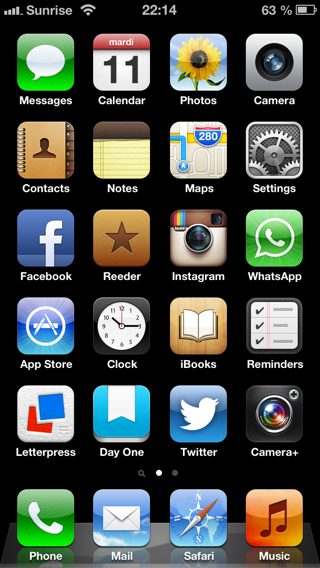 I finally changed the dock apps! Only Mail stayed. The 3 other chosen ones were WhatsApp, Instagram and Reeder. Every now and then, I have a spanish-learning phase. So I installed Duolingo. Everyday came back to the homescreen whereas Contacts, Maps, Reminders and iBooks were removed from it. Another game was added to the homescreen: Draw Free. So was Google's Authenticator app.
I tried to have a second screen consisting of folders and some apps I was testing, but wasn't sure yet I would keep.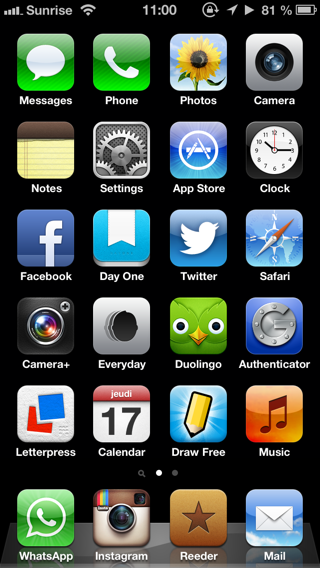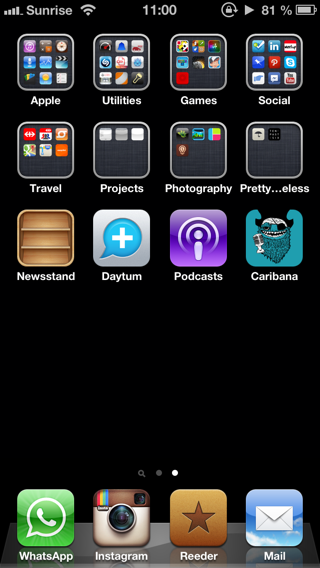 When I was a bike messenger in 2013, I was keeping a list of all our clients' addresses in a spreadsheet. That's why Numbers replaced Authenticator on my homescreen. On the second apps screen, a "Krick" folder was created as well, containing useful apps or bookmarks, such as Strava, Forecast, Train composition, Public restrooms etc.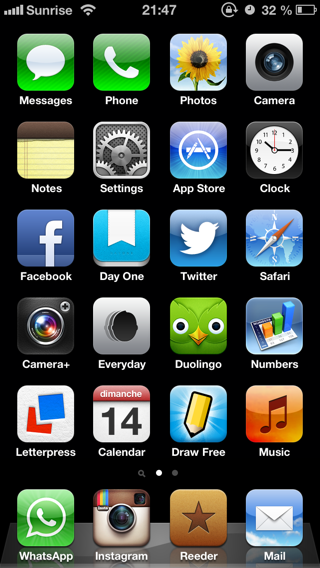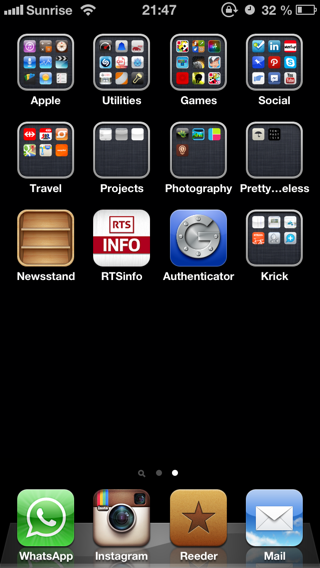 Also because of my bike messaging, Google Maps got moved to the homescreen. Games were demoted, and RTSinfo promoted. I finally succeeded in having a second apps screen consisting exclusively of folders (the Newsstand was a folder in disguise in iOS 6 and couldn't be moved into a folder… wtf Apple?!)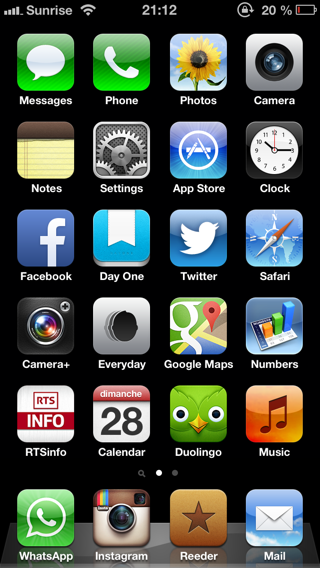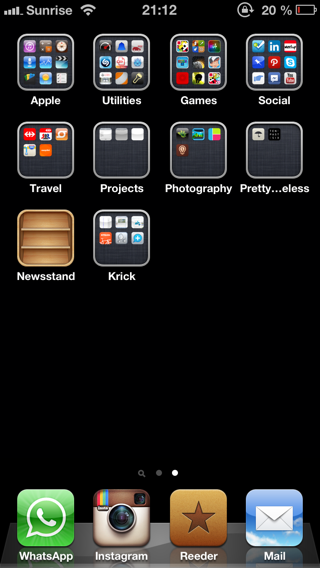 In fall of 2013 iOS 7 came out and visually changed the whole experience. For a couple of months, we would have old iOS 6 icons sitting right next to new iOS 7 ones.
I only made 2 changes: replaced Duolingo with Letterpress and Camera+ with Tinder.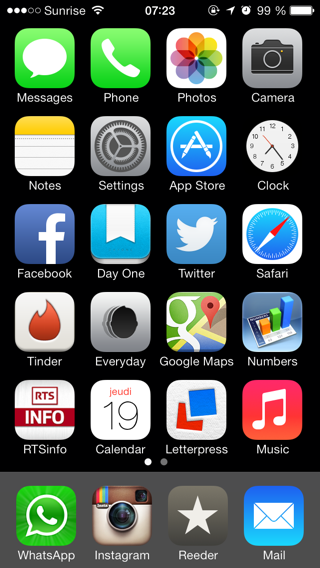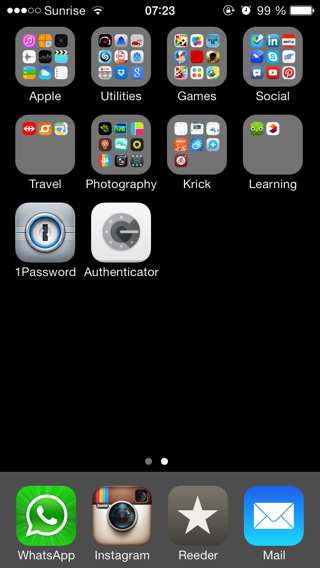 Again for my bike messaging, the Forecast webapp was promoted to the homescreen where it replaced the stock Notes app. RTSinfo was replaced by Authenticator. I was really trying to put all my most frequent apps to the homescreen, so I would rarely have to swipe to the second apps screen.
Meanwhile, that second apps screen got crowdy again as I was trying some new apps.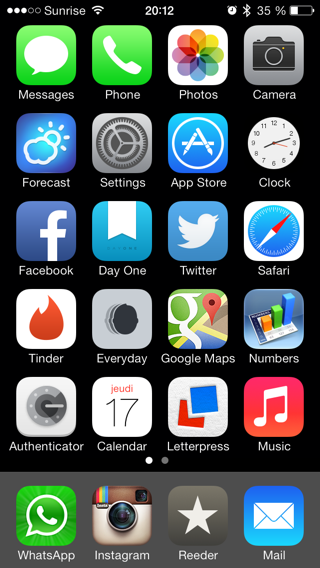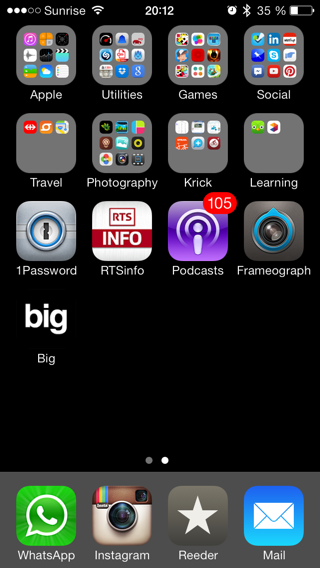 As I met someone via Tinder and as it started to look kinda promising (but turned out to be a dud), I deleted it and put the Podcasts app in its place.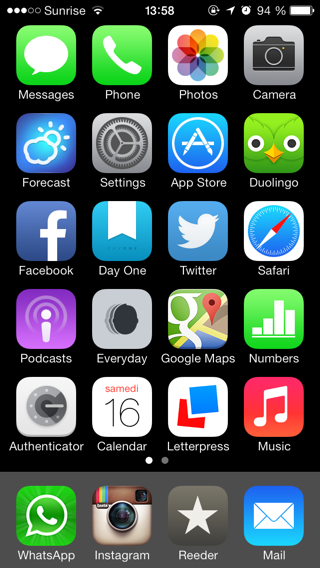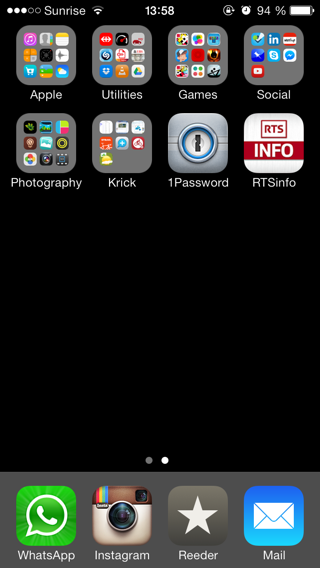 In 2014, I'm trying something new: having a single apps screen. So far it works great. I also thought it was fun to use emojis or unicode symbols for folder names.