Schenkelklopfer
I have now lived in Genève and Zürich. The former is home of the Radio Télévision Suisse (RTS) — the Swiss French tv channels — and the latter has the headquarters of the Schweizer Radio und Fernsehen (SRF) — the Swiss German equivalent. I've visited the RTS 3 times: during a field trip in elementary school, during a live and public broadcast of Garage — a Saturday morning show for teenagers and young adults — and finally in 2013 during a tour organized by the EPFL Alumni. When I moved to Zürich 2 years ago, I thought I could check out what the SRF studios look like. I asked my sister if she would be willing to join me to be part of the audience on a tv quiz called 1 gegen 100. We never settled for a date, so at one point I thought I could try to go all the way and actually participate in the show as a candidate.
The show
1 gegen 100 translates to 1 against 100. One candidate has to defeat his 100 opponents, a.k.a. the mob. All 101 players have to answer questions, given 3 possible choices. For every eliminated opponent, the candidate gets 1'000 CHF. If the candidate gets the wrong answer, he's out and a new candidate is randomly selected among the opponents still in the game. If the candidate defeats the whole mob, he can go home with the money he collected.
Of course, it is hardly possible to be smarter or luckier than 100 people. That's why the opponents only have 6 seconds to answer. Additionally, the candidate can get up to 4 jokers. The first 3 jokers are unlocked after the first question is answered correctly. A fourth joker can be acquired when at least 75 opponents are eliminated, by answering a musical quiz[1]. Using a joker means that the candidate doesn't have to answer the question and automatically moves on in the game. However he doesn't get any money for the eliminated opponents either. Worse, when playing a joker, the candidate actually loses half of his money — he basically buys the answer.
There's more. During the whole game, the candidate can play one double joker, where every eliminated opponent brings in double the amount, i.e. 2'000 CHF. If the candidate has eliminated all his opponents, he can win an additional 25'000 CHF if he chooses to play the last question.
Here's an example of a showdown:
question 1: the candidate answers correctly, so do the opponents. Win: 0 CHF. Opponents left: 100.
question 2: the candidate answers correctly, 13 opponents don't. Win: 13 x 1'000 CHF = 13'000 CHF. Opponents left: 100 - 13 = 87.
question 3: the candidate answers correctly, 8 opponents don't. Win: 8'000 CHF. Total so far: 13'000 CHF + 8'000 CHF = 21'000 CHF. Opponents left: 87 - 8 = 79.
question 4: the candidate doesn't know the answer and uses a joker. 11 opponents answer incorrectly. Win: 0 CHF. Total so far: 21'000 CHF / 2 = 10'500 CHF. Opponents left: 79 - 11 = 68.
question 5: the candidate answers correctly and senses that a lot of his opponent might not know the answer, so he uses his double joker. 35 opponents get the wrong answer. Win: 2 x 35 x 1'000 CHF = 70'000 CHF. Total so far: 10'500 CHF + 70'000 CHF = 80'500 CHF. Opponents left: 68 - 35 = 33.
question 6: the candidate doesn't know the answer and uses a joker. 10 opponents answer incorrectly. Win: 0 CHF. Total so far: 80'500 CHF / 2 = 40'250 CHF. Opponents left: 33 - 10 = 23.
question 7: having eliminated 77 opponents, the candidate can try to win an additional joker in a musical quiz. He chooses not to risk it, goes with a normal question, and answers correctly. 20 opponents don't. Win: 20 x 1'000 CHF = 20'000 CHF. Total so far: 40'250 CHF + 20'000 CHF = 60'250 CHF. Opponents left: 23 - 20 = 3.
question 8: the candidate doesn't know the answer and uses his third and last joker. No opponent answer incorrectly. Win: 0 CHF. Total so far: 60'250 CHF / 2 = 30'125 CHF. Opponents left: 3.
At this point, the game can end with 3 different scenarios:
question 9a: the candidate answers incorrectly, looses everything and a new candidate is chosen among the 3 opponents that are left in the game.
question 9b: none of the opponents answers correctly. The candidate is not sure about his answer, so he stops there and goes home with 30'125 CHF.
question 9c: none of the opponents answers correctly. The candidate is sure about his answer, and tries to collect the 25'000 CHF bonus. It turns out his answer is correct, so he goes home with 30'125 CHF + 25'000 CHF = 55'125 CHF.
A full game usually lasts longer. This shorter example simply illustrates the game mechanics. You can see that the theoretical maximal amount you could win is 225'000 CHF[2]. The best score so far is 105'000 CHF, which is already pretty badass.
The casting
The range of subjects covered by the show's questions is very broad, but quite Swiss centric. And by Swiss I mean Swiss German, as the Swiss Germans tend to forget about the other 40% of the country. I don't consider myself to be particularly smart. I would say that I have a very average knowledge, in the literal sense. I guess I know more than most people about science and what is nowadays called "geek culture". However I know nothing about things most people enjoy, like soccer, stars, contemporary music etc.
If you want to participate in the show, you have first to complete an online form. I don't remember exactly what was asked, but I do recall that they asked for a lot of details like personal interests, a personal evaluation about my knowledge in various domains etc. If you match the production's obscure and unknown criteria, you are invited to a casting with dozens of other people. Mine took place in May 2015 at the Swissôtel in Oerlikon. The staff takes a picture of you and then you sit down to take a test. You have to answer 100 questions in a limited time, the same kind of questions as the tv show's. I was a bit surprised by the difficulty and variety of the questions, to the point that my first 20 answers were either educated guesses or just plain random. This puzzled me so much that before handing in my test, I counted how many questions I knew the answer to for sure. Twenty five. Ha! I felt so dumb that at the end of the test in the field titled Wichtige Bemerkungen[3] I scribbled
WHAT?! :) 75% ERRATEN :D
I actually wanted to write "GERATEN", meaning "GUESSED". In retrospect, this was a stupid move because in the 75 guessed answers, there is a good chance that about 25 were right (given 3 choices of answers by question), meaning a total score of 50/100. So, like I said, very average smart. Which happens to probably be exactly what the production is looking for. Too intelligent people would literally ruin the show and nobody would watch it, as while watching the show you don't like to feel too stupid not knowing anything compared to the candidate. At the other end of the spectrum, too dumb people would be boring to watch as well. It's funny though how at the beginning of the casting, the organizers repeatedly flatter the participants, telling them that they're looking for smart people etc.
I wonder also if the questions are re-used for every casting. Probably not, because you can apply again after a 2 years moratorium. Or maybe the questions change every year. Or maybe the production uses the castings to rate the difficulty of the questions, depending on how many people answer correctly, and then they re-use them during the actual tv show, easier questions first. I'm really not sure about this either, because even though the very first question of the show is easier, I'm not convinced that all subsequent questions are ordered by difficulty. Sometimes it might look like they are, but that's only because there is a whole series of questions on subjects you're not comfortable with.
If somehow you qualify for the show, the production sends a Doodle for you to select the production schedule that suits you. I was invited for 2 production weekends in June 2015 and 2 in October 2015, then months later to 2 in April 2016 and 2 in November 2016. Although I was available for all but one, I was never selected. Why? I don't know. What quota didn't I fit into? Too young? Too old? Too smart after all? Nah, come on! Too dumb? Because of the remark on my casting test? Not Swiss enough? Too male?[4]
The recording
In March 2016 I got an email asking me if I could be a replacement candidate for any of the two April 2016 production weekends. This basically means that if any of the actual candidates is sick or can't make it, I would jump in. On the morning of Saturday April 9th, I get a phone call. The production would like me to come a.s.a.p. to the studio for the recording of the second show of the day (the fourth show of the production weekend). Although at this point I really felt cheap, I was happy that I could finally see how this tv show is done.
| Date & time | Activity |
| --- | --- |
| Sat April 9, 14:00 | Enter the studio, log in |
| 14:15–16:00 | Recording show 207 |
| Sun April 10, 12:45 | Meet at the studio entrance |
| 13:15 | Enter the studio, log in |
| 13:30–15:15 | Recording show 208 |
| 15:15–15:55 | Break |
| 16:00 | Enter the studio, log in |
| 16:00–18:00 | Recording show 209 |
It turns out that if you miss part of a production weekend because you entered as a replacement candidate, you can participate in another production weekend! So in the end, I was one lucky bastard because I could potentially[5] play in 9 shows instead of 6.
| Date & time | Activity |
| --- | --- |
| Fri April 15, 13:00–13:30 | Welcoming and briefin |
| 13:30–14:15 | Trial |
| 14:15–14:45 | Break |
| 14:45 | Enter the studio, log in |
| 15:00–16:45 | Recording show 210 |
| 16:45–17:45 | Meal break |
| 17:55–18:10 | Break |
| 18:15 | Enter the studio, log in |
| 18:30–20:15 | Recording show 211 |
| Sat April 16, 12:45 | Meet at the studio entrance |
| 13:15 | Enter the studio, log in |
| 13:30–15:15 | Recording show 212 |
| 15:15–15:55 | Break |
| 16:00 | Enter the studio, log in |
| 16:00–18:00 | Recording show 213 |
| Sun April 17, 12:45 | Meet at the studio entrance |
| 13:15 | Enter the studio, log in |
| 13:30–15:15 | Recording show 214 |
| 15:15–15:55 | Break |
| 16:00 | Enter the studio, log in |
| 16:00–18:00 | Recording show 215 |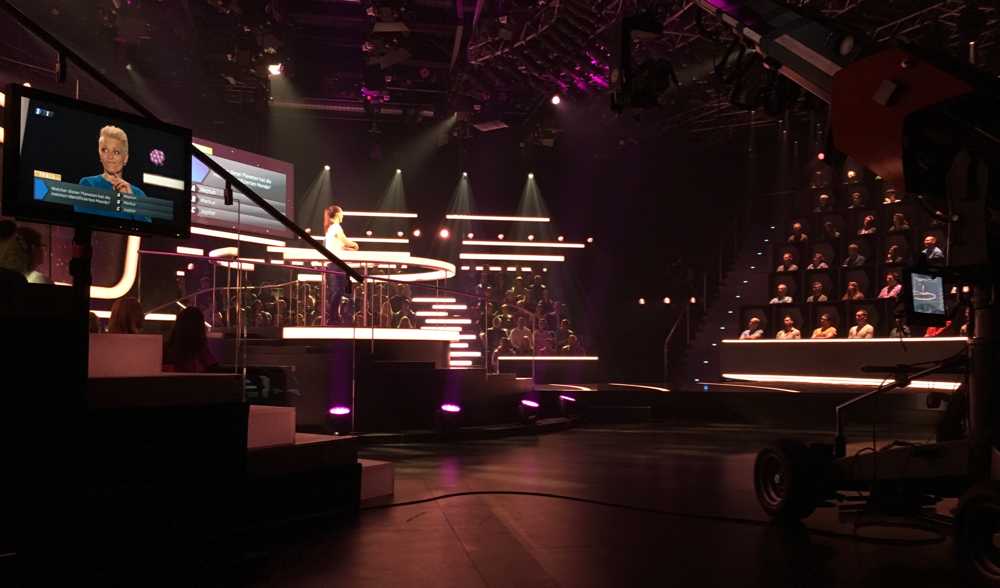 Overall it was a fun experience to see how the show is made. Here's a random bunch of observations and impressions from the recording sessions:
the production crew was awesome: the girls taking care of us players, the crowd warmer Chris Augsburger, the show's host Susanne Kunz
the 100 opponents can continue to answer questions with their remote controller even when they've been eliminated from the game. Every day, a top 3 of scorers is established, with prize money. The production says they do this for the opponents to look more lively and not fall asleep. Maybe they also do it to collect stats?
the filming of the show is a lot more straightforward than I thought. There are very few interuptions, most is shot on first take. There were a couple of technical failures like microphones or cameras shutting down, but nothing irreversible. The most annoying problem was the game system failing to register the 100 opponents' answers on a question where the candidate was against only 3 opponents. What's more, the candidate gave the wrong answer and at least one of the opponents had the correct answer, meaning that if there hadn't been the technical problem, the candidate would have been eliminated!
the camera mounted on a crane to do traveling shots moves impressively smoothly
having discussed a bit with some of the opponents[6], I confirm that the level of knowledge covers a huge spectrum
the casting crew does its job well because we really looked like a sample of average Swiss middle class folks. What's average? Well, not very pretty people, mostly smaller than me, all ages, all weights etc.
one of the advantages of being single is that I could do all of this over 2 weekends without telling no one at all
a lot of the crowd warming consists of asking where people are from, making jokes about where they are from, discussing soccer scores, trying to hook single people up etc.
the studio is way smaller than it looks on tv. Do they use wide-angle lenses? Is it the lighting? The kind of artificial fogginess in the studio?
everyone gets 100 CHF per production day, for expenses. Considering that I live in the same city and went to the studio by bike, that's a pretty sweet deal
we all get a PIN for the answering remote. I'm pretty sure it corresponds to the candidate number you get during the casting. I was 8350. There were a lot of nine thousands and even ten thousands in the crowd. This highlights even more the sheer amount of people that entered the competition before me. Again, why?
it's weird that after spending hours and hours with the same group of 100 people, there seem to always be new faces. There are also the people you notice since the beginning and see all the time.
the whole experience is actually quite tiring. You have to answer so many questions, and always in 6 seconds. Tiring but fun nonetheless.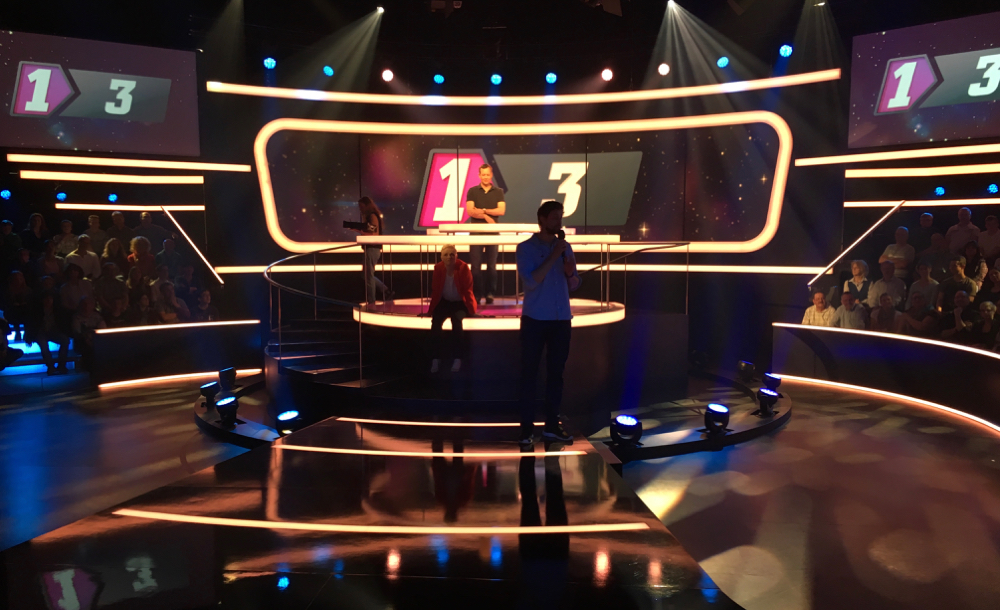 The outcome
I'm not allowed to tell you how it turned out. Even if I was, I wouldn't tell you. Here's the airing schedule of the shows if you want to see how I did. You can watch the show on tv on Monday evenings at 20:05 or online at Play SRF. And don't conclude that I didn't win just because I'm providing you with all 9 shows :P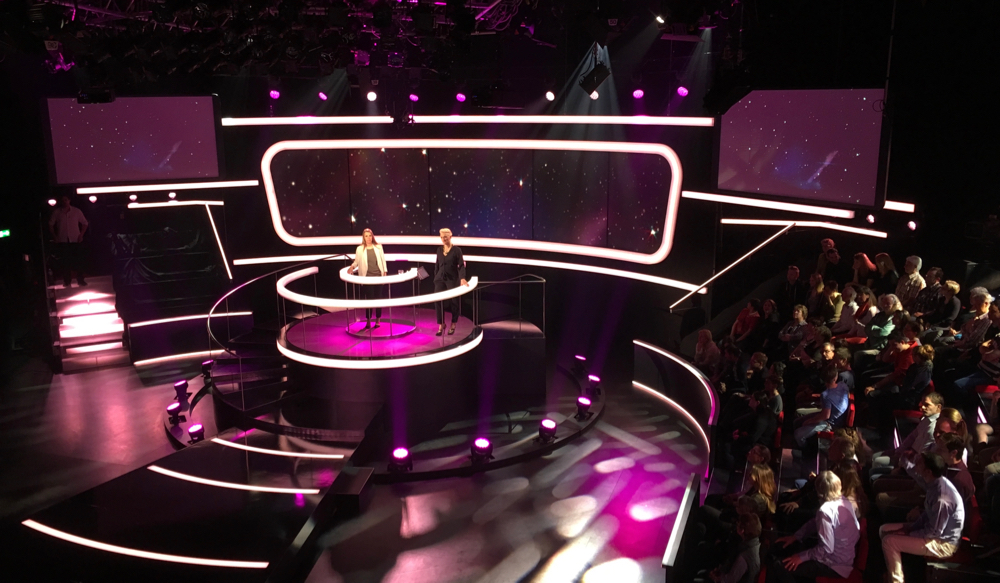 My goal was to see how a tv show is done. So that's definitely fulfilled. I was kind of hoping never to be selected as a candidate, because then you stand in front of 100 people. Granted, it's not a live show, but I hate talking in public, even if you're there to, maybe, win money. Besides, I honestly don't know what I would do with the money. Probably nothing, just save it.
I was also hoping to be a bit better than average. Quite a challenge if you consider my score during the casting. I have an additional handicap compared to the majority of the other people on the show: my German skills are way worse. German might be my mother tongue, but I've lived 33 years in the French speaking part of Switzerland and did all my education in French. For example, the very first question we got after I've joined the game as one of the 100 opponents was the following. Do you know the answer?
Wie wird ein relativ simpler Witz häufig bezeichnet?

A) Schienbeinknaller
B) Schenkelklopfer
C) Schulterkracher
Come back here in a couple of months for a summary of how my tv appearance went.
---