tryin to be original
today was silvia's 22nd birthday. last week, after eating at mcdo in town with iiome, we went to city disc to kill time while waiting for our train to renens. i (re)stumbled across the nofx ("10 years of f**king up") dvd and iiome had the great idea to buy it for silvia's bday. we decided to get it at fnac, coz usually it's cheaper there. so today afternoon we went to buy the dvd, along with mario kart double dash (iiome). we spent the better part of the afternoon playing the game (which is ok, but nothing breath-taking), and i tried to come up with a nice wrap (?) for silvia's present :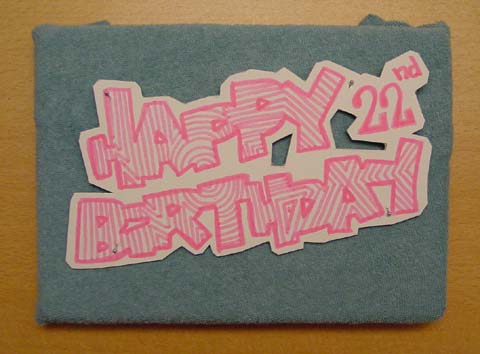 ok… so i put the dvd in an old (clean!) bedsheet (kept together with safety pins) and made a crappy "grafiti" (nobody noticed that the stripes in the letters form the word "NOFX"… oh well… i'm a misunderstood artist ;-P )
then we went to eat at a pizzeria, t'was good, we went for a drink dunno-where with most of the dudes from my lab (which is kinda weird, coz i usually don't talk to them)
back home, we played some more mario kart… retards!
and then i had the stoopid idea to watch a part of "roadfools 98" (bmx video). stoopid idea, because iiome kept doing pointless and annoying remarks about bmxers and bmx in general… oh well.