So you think you're fast?
—
Like I briefly mentioned in my yearly review, I've been riding downhill with friends in a couple of places. One of those was Lenzerheide, which has also been a stage of the UCI DH World Cup for several years. It's nice to be able to ride the same spots as the top pros. There are 2 road gaps that are closed to the public, and I doubt we would jump them if they were open. There's a high speed jump about ⅓ down and a gnarly rock section ⅔ down we also skipped. The end of the track is different. The days we were in Lenzerheide, one section was closed for maintenance. The rest is mostly the same.
Damien and I thought it would be fun to give a shot at a complete non-stop run of the World Cup track. Damien's run clocked in at around 4:12. Mine was around 4:26. The winner of the 2017 leg was Greg Minnaar — who happens to be only 1 year younger than me, so no age excuse for me here — with a time of 2:57.042. I couldn't find a first-person view of his run, so I took the 3rd place Danny Hart with 2:58.868. In 2017, Danny was the current World Champion, so using his video is perfect.
Here is a visual comparison of the 3 runs. Go ahead and hit the Play button below. Danny's video should automatically pause to let Damien and me catch up.[1]
Damien was a bit quicker at the beginning, but then our runs are comparable. If we had the balls to jump the roadgaps, and if the track was exactly the same, we might shave off 10-15 seconds. But then we would still be 1 minute back! 3 minutes vs. 4 minutes. These guys are nuts…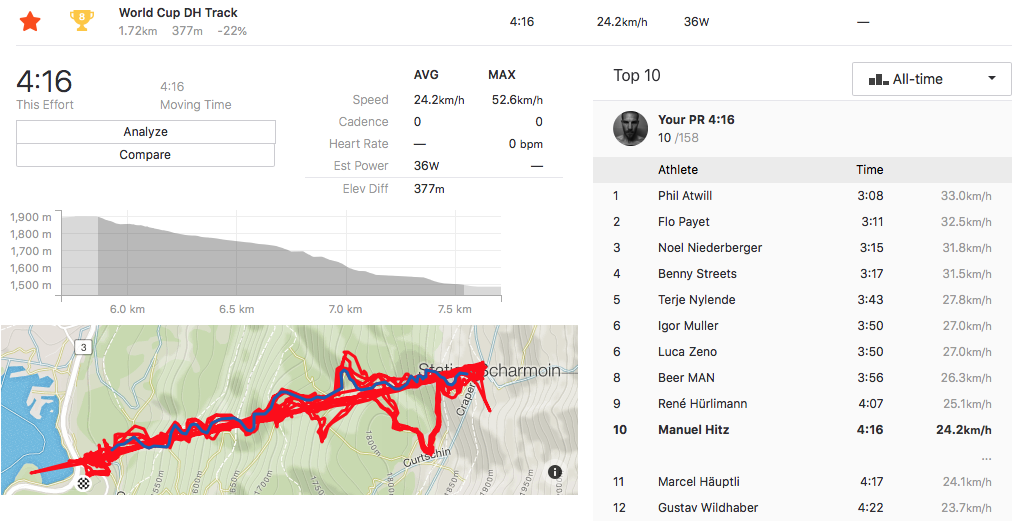 I'll try to improve my performance next time.
---
the technical implementation is a bit fragile. I have spent 2 evenings battling with video file formats and Chrome and Firefox. Fuck it. It works in Safari on iOS11 and in Safari on macOS High Sierra. ↩︎