BMX frame specs
—
When I switched from my Standard Trailboss to my FBM Steadfast, it was the first time that I changed only the frame. Usually I would also renew other components, meaning that you cannot really know why your new bike is handling differently. Something was different with the Steadfast, but I could still not tell exactly what. On paper, the frames looked really close: same chainstay length, same bottom bracket height, same top tube length, same seat tube angle. The Steadfast has a quarter of an inch (6mm) longer seat tube, a quarter of a degree smaller head tube angle, and a 12mm longer head tube. It doesn't seem like much, but you can feel the difference, somehow.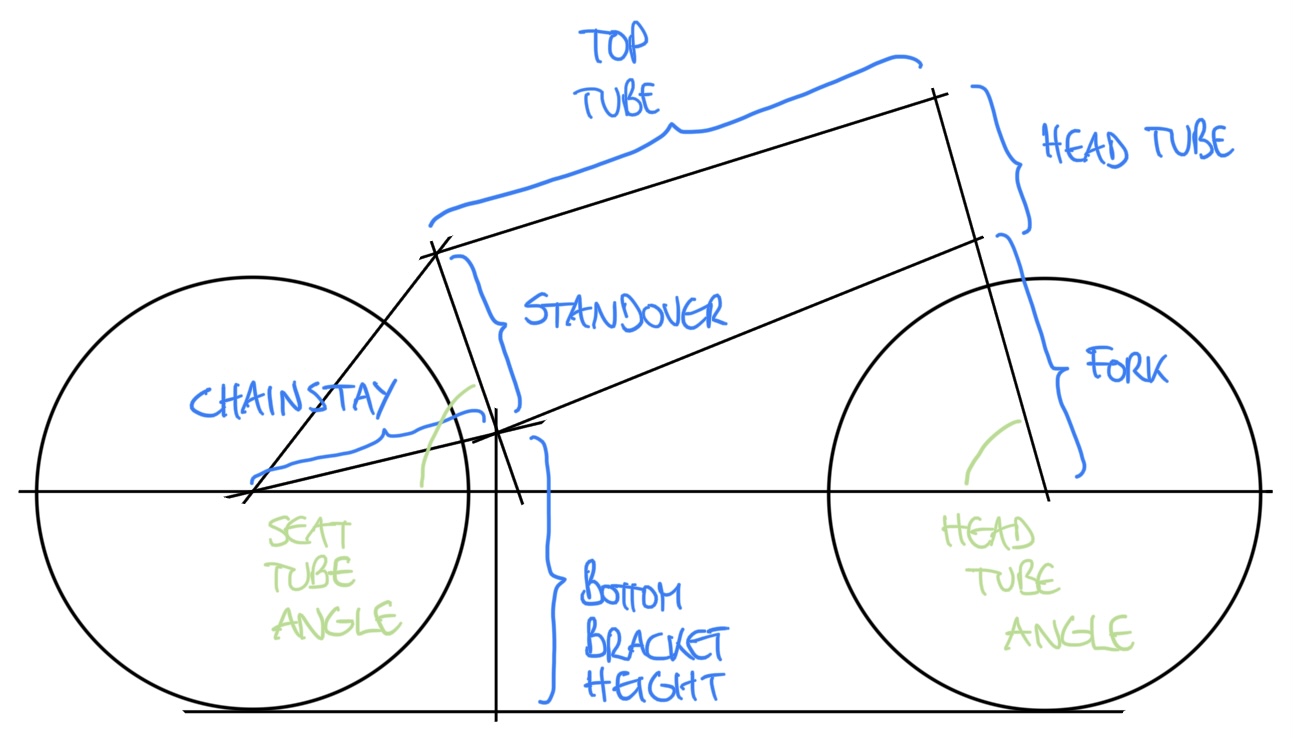 So I thought I could try to visualize my last 3 BMX frames, to try to understand what I prefer, and why. It turns out, I still don't get it. I do understand that longer chainstays and a longer top tube make for a more stable, less reactive bike. But the way BMX frames are specified is really completely useless. All brands will provide chainstay length, bottom bracket height, top tube length, standover, seat tube angle and head tube angle.
| | S&M Cam Wood | Standard Trailboss | FBM Steadfast |
| --- | --- | --- | --- |
| Chainstay | 13.65" | 13.75" | 13.75" |
| Bottom bracket height | 11.7" | 11.625" | 11.625" |
| Top tube | 21" | 21.5" | 21.5" |
| Standover | 8.125" | 9" | 9.25" |
| Head tube | 115mm | 115mm | 127mm |
| Seat tube angle | 71º | 71º | 71º |
| Head tube angle | 74.5º | 74.5º | 74.25º |
Problem #1
The provided bottom bracket height is a really dumb value. It is supposed to measure the height of the bottom bracket to the ground. But that obviously depends on the tire size. BMX bikes have 20 inch wheels, so I'm assuming you are supposed to subtract 10 inches (half a wheel) from the bottom bracket height to get the height difference with the rear dropout, where the wheel would be fixed.
Problem #2
With only chainstay length, bottom bracket height, top tube length, standover, seat tube angle and head tube angle, you cannot draw a frame. The rear triangle is doable, but then you are stuck.
Problem #3
So I measured the head tube length of my frames, and assumed a fork length of 320mm. It seems my Odyssey fork has that length, but the manufacturer does not provide that info. Even with these 2 additional values, you still cannot draw a frame. I had to make the assumption that the fork is fixed on the horizontal line going through the dropout and the bottom bracket offset. This is clearly not guaranteed. So, in the end, I have no idea how to draw a BMX frame given the minimal specs provided by the brands.
But I still went ahead and built the following little form to draw and compare frames.