Iceland
—
With New Zealand and the USA – re-pea-ted-ly – already crossed off my bucket list, this year's vacation brought me to Iceland. Alex and Katia wanted to join me, and as I'm still not sure I would want to travel alone, I let them in on this 10 days trip.
The plan
Or the absence thereof. We sat together one night in spring with the intention of coming up with a list of destinations. It turned out as impossible. We ended up not being able to pick places to go because everything looked amazing. So we just decided to drive around the island on road 1. No other plan.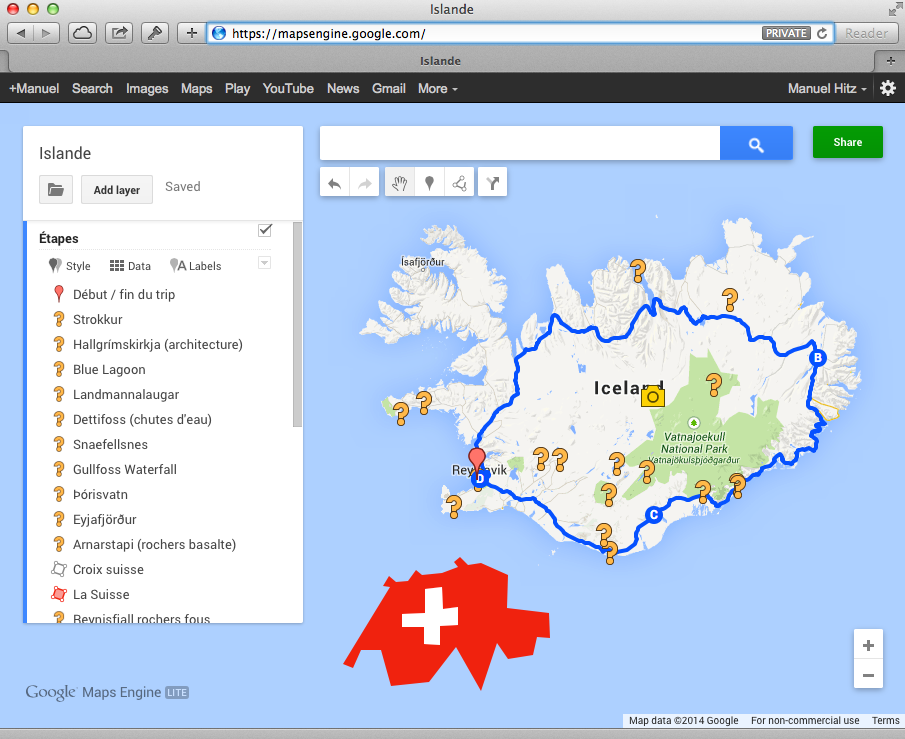 To get a sense of distance, I drew a little Switzerland to scale. So Iceland is big, but very manageable for 10 days. Besides this time limit, my traveling companions expressed their desire to be cautious about expenses – Alex having spent too much money on photo equipment recently, and Katia not earning much outside of her studies. This budget restrictions meant for one that they wanted to do camping and secondly that we would not eat at restaurants. That was the deal, which was fine by me.
Alex seemed to take the concept of having no plan a bit too literally, as very few hours before leaving to the airport, his bags weren't packed. He ended up lacking socks, underwear, toothpaste and showering gel. Well done, dude.
The road log
We were supposed to get a Suzuki Grand Vitara. However somehow the rental company fucked up and we got a Hyundai Santa Fe. Which would have been alright if it wasn't smelling like it was lit on fire all the time and if it didn't have a freaking hole in the gas tank! We noticed that after a third of the trip, thanks to Katia's unique technique of filling a gas tank. We're still not sure if the hole was there all along or if it was caused by Alex's somewhat questionable off-road driving skills. Anyway. The car was a piece of junk.
More generally speaking, you should know that outside of Reykjavik and Akureyri there are no radio stations. Since we didn't plan our trip, nobody brought CDs or a cassette adapter. I would also say that you should rent a real 4x4, not an SUV like we did. But of course, that comes with a price.
Day 1
Day 3
Day 4
Day 5
Day 6
Day 7
Day 8
Day 9
Day 10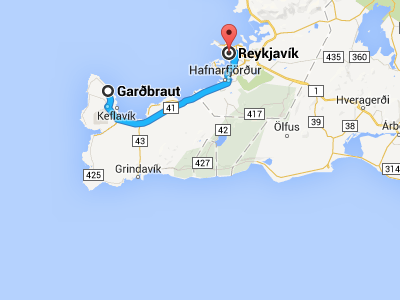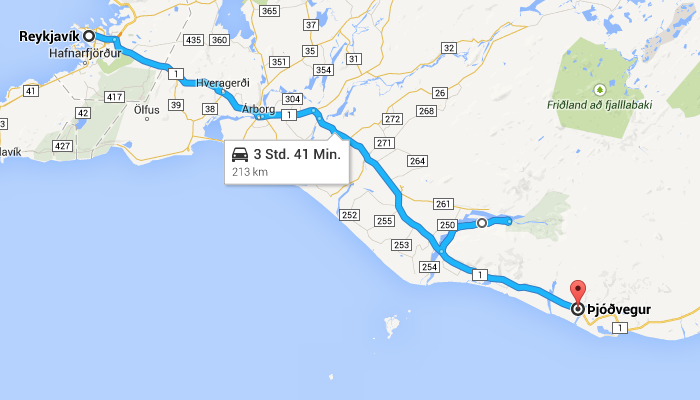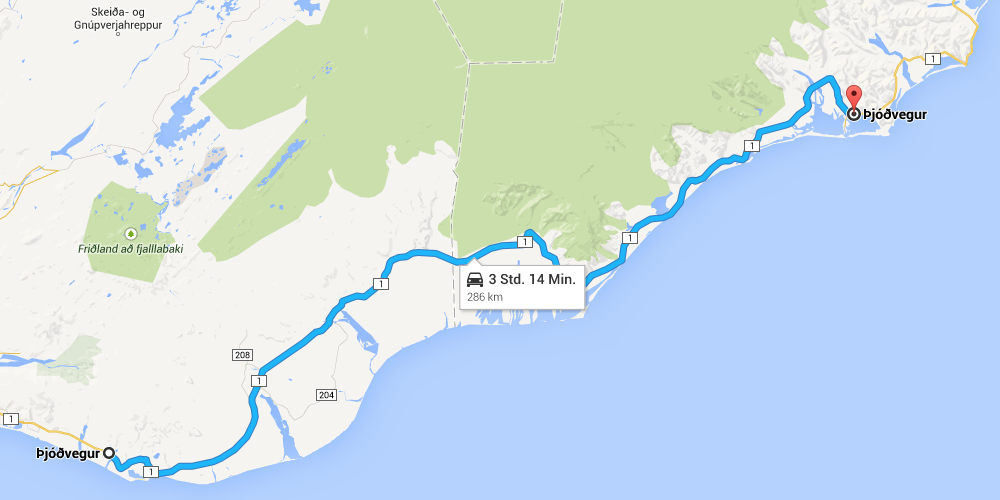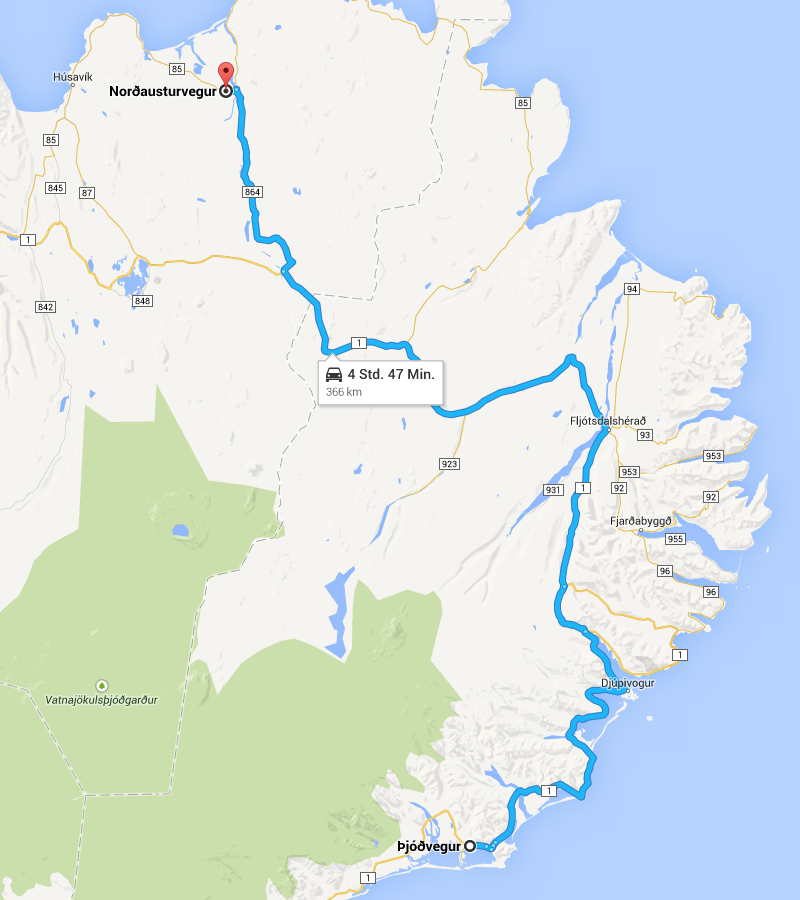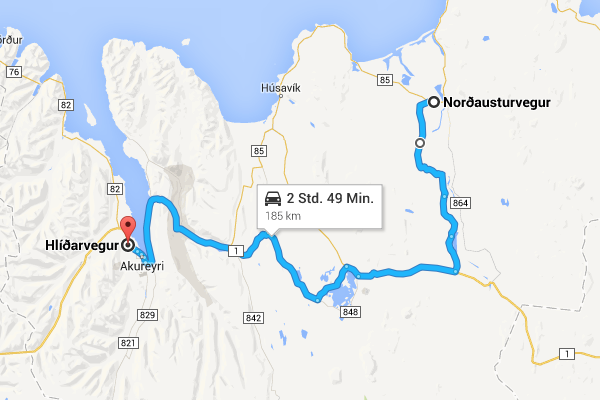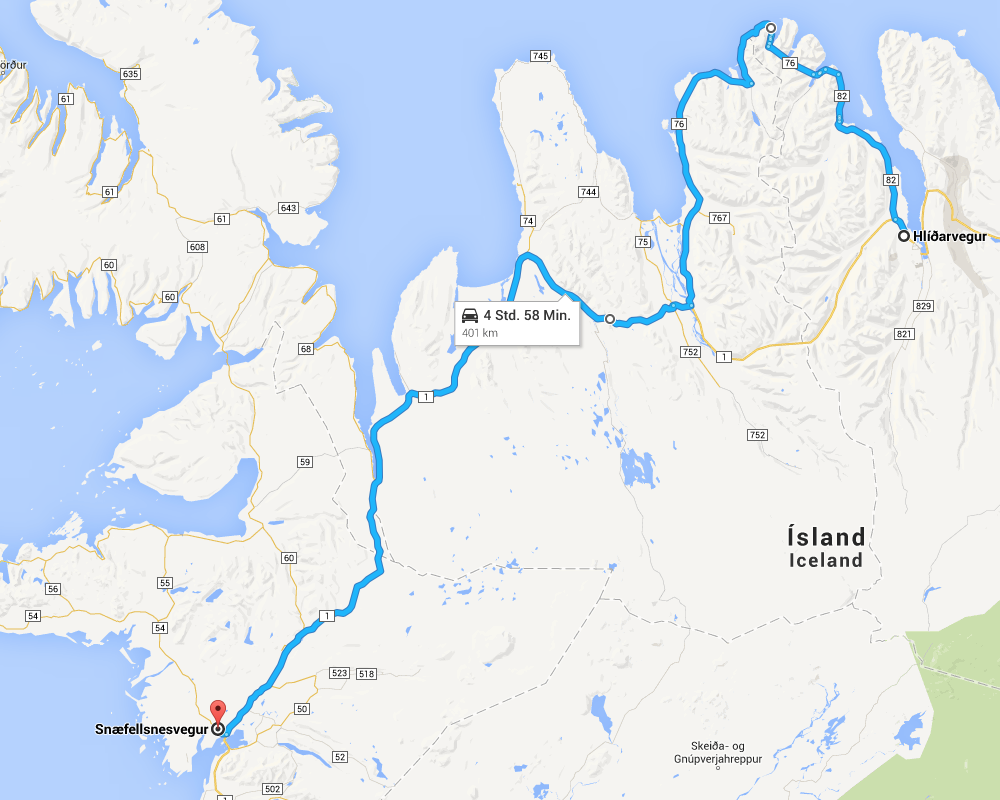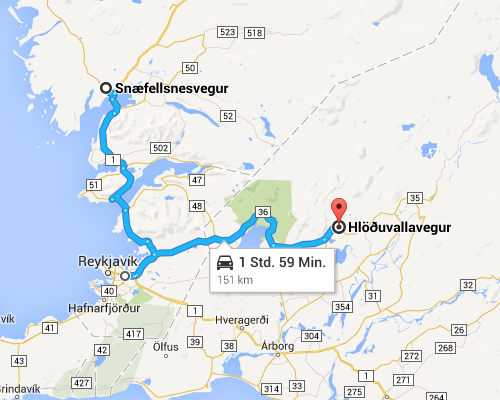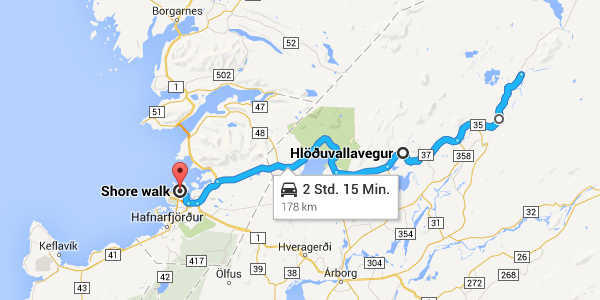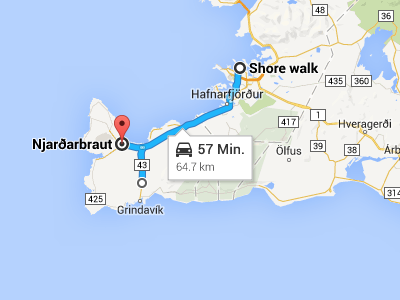 Legend has it you can camp wherever you want, for free. Nobody bothered us, so maybe it's true. Or maybe we were just lucky. Here is the list of locations where we camped, in case for some odd reason you want to go to Iceland and camp at the exact same spots we did. Or something. Note that by "camped", I also mean sleeping in the car[1].
It's actually a bit eerie to look at the Street View images of these locations…
The sight-seeing
I think it's safe to say that the whole point of this trip was to see gorgeous landscapes. Mission: accomplished. Here's the chronological list of "points of interest"[2] – like they say in Iceland – we saw and visited, including baths:
Reykjavik, of course. I was expecting a bit more cuteness, especially after reading this. It's a nice city, but nothing special in my opinion. Or maybe I missed something.
as soon as you leave the city, during a couple of hours driving, you go through several different types of landscapes: green pastures, rocky deserts, round-rocks-covered-in-moss plains etc. It's almost as if God played Simcity while building Iceland, you know, like placing squares of different types next to each other.
Seljalandsfoss where you can walk behind the waterfall
we wanted to drive up to Þórsmörk, but the road we chose was too off-roady and too river-crossy for our crap Hyundai. We saw a part of the Eyjafjallajökull glacier however, which was pretty cool
Jökulsárlón, a.k.a. the Glacier Lagoon. Most amazing thing I have seen so far. It was dead silent, except the cracking ice sounds (and the tourists boat motor, which is a shame really)
the geothermal site of Námaskarð. Now we're talking! Smelly smokey volcano craziness
the baths of Mývatn, an overly expensive tourists trap. But it's a funny experience to have a bath in this viscous opaque water – as long as you don't think about what certain couples do in there. It's opaque after all.
Dettifoss. If you have watched the opening title scene of Prometheus, you have seen Dettifoss. But you have seen it on a screen. Believe me, in real life, it. is. the. shit. You can get as suicidally close to it as you want. Very impressive.
the horseshoe-shaped Ásbyrgi canyon, which was the most peaceful place on Earth until a bunch of italian tourists arrived
the city of Akureyri
Geysir, or rather it's little brother Strokkur. It's almost as cool to watch the geyser as to observe the tourists waiting for the eruptions
the spa of Laugarvatn was very pleasant
the Gullfoss waterfalls were nice, but a bit too crowded. You couldn't go anywhere you wanted like at Dettifoss. Yes, I'm well aware that I'm part of that crowd and that by criticizing tourists I'm critizing myself.
Bláa lónið, a.k.a. the Blue Lagoon, the tourist trap #1 because it's conveniently located on the road from KEV airport to Reykjavik


The photographer
Alex did his best to capture all of these beautiful landscapes on picture[4]. He had a bag packed with all sorts of equipment I don't know anything about, and also a set of polarizing and density filters. One day, shortly before getting into Akureyri, we were driving fast down a windy road. There was an incredible sunset behind us, and Alex started to snap some pictures in true paparazzi fashion, leaning outside the window – at close to 100km/h. Our speed and the wind put a little too much effort on the tiny screw holding the filters and the camera lens together, and shortly after, a couple of hundreds of CHF of equipment went soaring into the air, tumbling on the road and being hit by the cars following us. Obviously Alex was pissed, mostly at himself for taking such dumb risks. I admired his reaction though. He told us not to talk to him for the next 30 min, which I like. Usually people try to comfort you, which pisses you off only more. And then once his inner rage settled a bit, we went to eat at a Subway in Akureyri. Therapy through food. I like :)
Needless to say that finding a shop selling camera filters outside of Reykjavik was pointless. On our first day in Reykjavik, we completely randomly stopped at a camera store for Alex to get a battery charger. After the filter incident, Alex suggested that they might carry what he needed. The problem was we had no clue where that shop was. I later had the idea that the address might be on the register's receipt and with the cached Google Maps on my iPhone[5] we could find it. And we did! On the freaking first try! Let me brag about my navigational skills here. There. Ok, so, 2 days after breaking his filters, Alex got new ones. It turned out that they were even cheaper than in Switzerland – well, having to buy them twice is not cheaper in the end, but you know what I mean. All the equipment the store was selling was actually cheaper, and Alex had to resist hard his desire to buy a tripod. Hehe.


The Iceland – New Zealand showdown
Like I've mentioned before, I have so far been lucky enough to travel to New Zealand as well. I found the two countries kind of similar: sea, volcanoes[6], vast plains, mountains, sheep, emptiness etc. What is different however? Well… Iceland is a bit more green and has way less tourists as soon as you leave the Reykjavik area. I suspect however that the tourism in the whole country will grow. There are a lot of people I know that have been to Iceland. I preferred New Zealand however. The only real downsides of NZ are the sandflies and the long flight – but then again, you're sitting in a chair in the sky so that doesn't count. In New Zealand, the mountains are higher and prettier, people speak and write English, the weather is hotter, you can ride BMX[7] and DH. But you don't get all of Iceland's geothermal goodies, I reckon.


The mysteries
How do they gather their sheep for shearing? They are all over the country! How do they know which ones belong to whom?
Why are there so many hay bales everywhere? The ratio of hay to sheep seems way off. Ok, they have around 8 months of winter, but still.
Marie & Marti
Here's a funny coincidence. We had a transfer in London on our way to Reykjavik. While walking to the Iceland Air terminal, we bumped into Marie, a classmate of Katia. She was visiting her cousin Marti in Reykjavik and would be joined later on by some other family members. Marti moved from Genève to Iceland with her boyfriend and worked on a boat that does whale sighting in summer and northern lights in winter. At the end of our first day in Reykjavik we went to Marti's place to spend the evening. It was funny being in Reykjavik with someone from Genève. And Marti is quite the character. Before we left, she gave us tickets so we could go whale watching. We took the occasion on our last day in Iceland, and luckily it was Marti's working day so she was our guide on the boat. Pretty cool!

LGW vs. LHR
Both our flights were Genève – London – Reykjavik. I only noticed the day before we left that on our way back, we had to transfer from London Gatwick (LGW) to London Heathrow (LHR). Ebookers gave us 2h 45min to do so, and I figured they knew what they're going and that it would be tight but enough. Well you guessed it, it is not. Not even close. Our flight from Reykjavik landed on time at 11:45, we got our luggage, and arrived at the bus ticket counter at 13:00. The clerk laughed at us, said the bus would take 2h and that we might be able to get to Heathrow on time if we took a taxi. We went outside and tried to hire a taxi, with no success. There was a sign saying that taxis could be reserved inside. So I went back in and booked one, which would be there in 15ish minutes. When I went back outside, Katia & Alex said that we had to go a bit further to get a taxi. I told them that we would have one soon, but they wouldn't listen. So I followed them to wherever they wanted to go, but the taxis there also needed reservations. Soooo… back to square one. I was starting to get really pissed. The taxi I reserved finally arrived. Our driver – Tom – said that if we were really lucky, we would be at Heathrow in 50 minutes. He was really great, avoiding trafic and consistently beating his GPS's arrival time predictions. In the end however, we got there at the exact time our flight was taking off, at 14:30. So yeah, at least we didn't have to dash through check-in and security. During the taxi ride, I called ebookers who told me of course that there was nothing they could do. At Heathrow, we went straight to the Swiss counter, and there the lady told us we could have a flight for about CHF 400. We headed to the British Airways counter to find a cheaper one, but no success. I checked online, in vain. So we went back to the Swiss counter and, surprise, it turned out we could get on the next flight for free. What a relief!

No Internet
When I'm abroad, I put my iPhone into flight mode 24h/24. I also avoid connecting to public wifis because it just isn't safe. When I know I'm going to need Internet access, I subscribe to a temporary VPN service before leaving on vacation. Anyways. I almost got through my stay in Iceland without the need to go online. When we had our mess in London, I connected to the airport's wifi to try to find a flight home. As soon as my iPhone was online, it got flooded with notifications and froze. I had to restart it.
I'm always surprised how well I cope with the absence of Internet, especially considering how much time I spend online back home. I spent some time playing Monsters ate my Birthday Cake, listening to music and reading Creativity, Inc..


The Katia & Alex contradictions
Some tiny things annoyed me during this trip, maybe more than they should have.
I think I'm taking the co-pilot role too seriously. While I was assigned co-pilot, I tried to stay awake, read the road signs and look at the map. When Alex was co-pilot he was doing anything but. And also sleeping. So was Katia.
like I mentioned before, it was decided that we would camp to save money. I don't think it's very smart then to drive around up to one hour[8] to find a suiting spot to build the tent. Ok, one hour of gas is still cheaper that a room in a guest house, but still, it's nerve wrecking.
so Katia and Alex insist on doing a huge detour via Ólafsfjörður and Siglufjörður, but then sleep through part of it
again, about being on a budget. Katia bought a coat for ISK 39800 in one of the tourist shops. Ok, it's a coat, you will keep it for a couple of years (I hope), but the timing of the purchase kinda sends the wrong signals, no?
The mandatory selfies
The happiest man alive, judging by the pictures.




---