US cities
—
I stumbled upon a quiz that lets you list all the US cities that pop into your mind. I got 61. I did not open the state dropdown to see the list of states, otherwise I would have remembered that it is of course Arizona that sits between California and New Mexico, and then I would have gotten Phoenix, one of the two >1 mio people cities I did not find. The other one is San Antonio, Texas. No way I could have thought of that. I did not look anything up, just typed whatever popped into my head.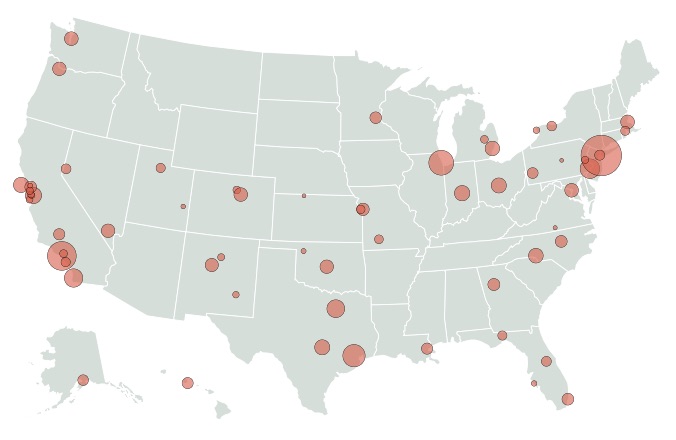 Here is my weird list of cities in the order I typed them:
Los Angeles, CA
New York, NY
San Francisco, CA
Seattle, WA
Chicago, IL
Houston, TX
Dallas, TX
Austin, TX. Been there
San Jose, CA. Been there
San Diego, CA
Santa Fe, NM. I recently heard about it
Pittsburgh, PA. I lived there for a year
Philadelphia, PA. Been there
Miami, FL. Been there
Orlando, FL. I have been to the Universal theme park there with Alex
Atlanta, GA. Big airport
Las Vegas, NV. Been there
Raleigh, NC. I don't know
Niagara Falls, NY. Been there
Reno, NV. I don't know
Flint, MI. Michael Moore, obviously
Washington, DC
Portland, OR. A place I want to visit at some point, and Marina is there now
Minneapolis, MN. I remembered Minnesota
New Orleans, LA. Been there
Tallahassee, FL. Drove through there
Woodward, OK. I wanted Woodward, PA
Woodward, PA. Home of every BMXers dream skatepark of late 90s
Springfield, MO. I had to type "Springfield" because of the Simpsons
Boston, MA
Jersey City, NJ. Random
Oklahoma City, OK. Home of Mat Hoffman
Albuquerque, NM. Not sure
Detroit, MI
Providence, RI. Viviane studied there
Burbank, CA. I don't know
Venice, FL. I was actually thinking of Venice Beach, Los Angeles
Huntington Beach, CA. Been there
Roswell, NM. Aliens!
Boulder, CO
Moab, UT. Model name of my 22 year old bike
Salt Lake City, UT
Santa Cruz, CA. Been there. Also a bike brand
Campbell, CA. Stephen lived there
Charlotte, NC. Stephen lived there
Bethlehem, PA. BMX trails were there
Long Island, KS. This is an error, I thought Long Island in New York is a city
Columbus, OH. Columbus is a kind of steel bike tubing
Oakland, CA. Been there
Emeryville, CA. Home of Pixar
Cupertino, CA. Home of Apple
Redwood City, CA. Home of Electronic Arts, Serena worked there
Rochester, NY. No idea how that came up
Indianapolis, IN. The Indy 500
Denver, CO
Kansas City, MO. An error, I wanted Kansas City, KS
Kansas City, KS
Honolulu, HI. Been there
Anchorage, AK. I almost forgot about Alaska!
Halifax, VA. I actually wanted the Halifax where Swissair flight 111 went down. But that's in Canada, oops.
Bakersfield, CA. Drove through there
I should have remembered Memphis, TN or Cleveland, OH. I couldn't figure out how to spell Tehachapi, and did not remember Temecula.