2020
I started last year's recap with a bland
2019, another average year.
I think we can safely say that, with this COVID-19 pandemic, 2020 was not average at all. However, I think for me it was less of a change than for many other people. I have no kids to homeschool, no partner to get angry at for spending 24/7 together, I don't travel that much anymore. In "normal" times, I don't go out to bars and clubs. I miss going to restaurants from time to time, but on the other hand, I probably close to halved my food budget. So, for once, in 2020, you got to experience how an asocial introvert (me) feels like in a world usually made for extroverts.
Job
One way 2020 was still special for me is that since March and Switzerland's semi-lockdown, I have been working from home. My employer until then allowed me to work from home 1 day per week, but I very rarely seized the opportunity because the office is close (on purpose, it was the main criteria to pick my apartment) and above all because I always thought that I don't see many people outside of work, so I should not skip that. It turns out, 100% home office is ok. I am actually less distracted, e.g. by people showing up at my desk. I am equally productive, but I work a bit more in bursts, with lots of short breaks. It makes the work day overall a bit longer, but it doesn't matter, as there's nothing to do after work anyway.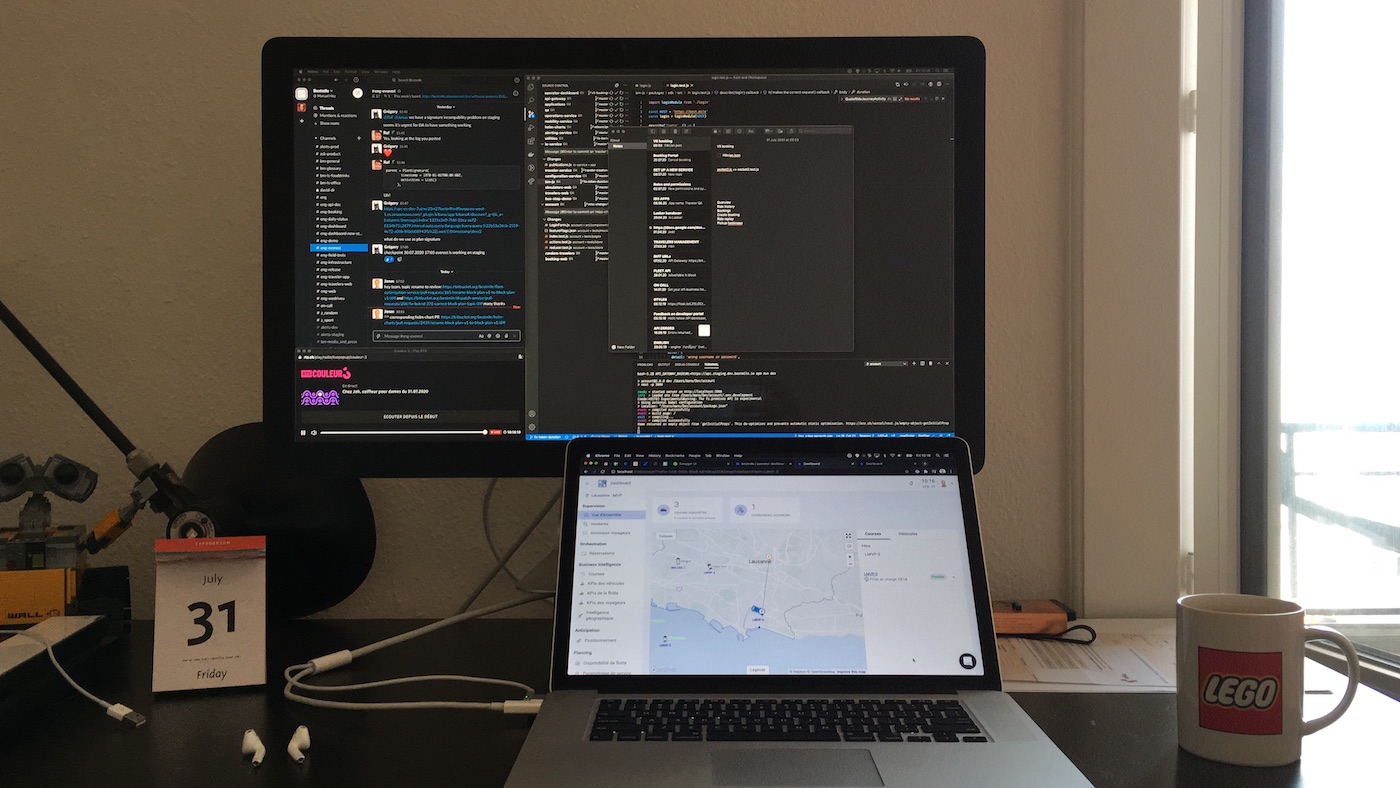 Travel
I was supposed to go to Barcelona again in April with my Zürich BMX buddies. Obviously that got canceled. On the bright side, I finally achieved my year without air travel! Summer was more chill on the COVID-19 side in Switzerland, so I re-iterated last year's week with sisters and nieces and bike. This time with 1 more niece (who did not exist last year) and 1 more sister (who did exist last year, but simply did not join). So that's me with 7 women, haha. We spent a nice week in Sörenberg. The place was perfect for the kids, a bit less for biking.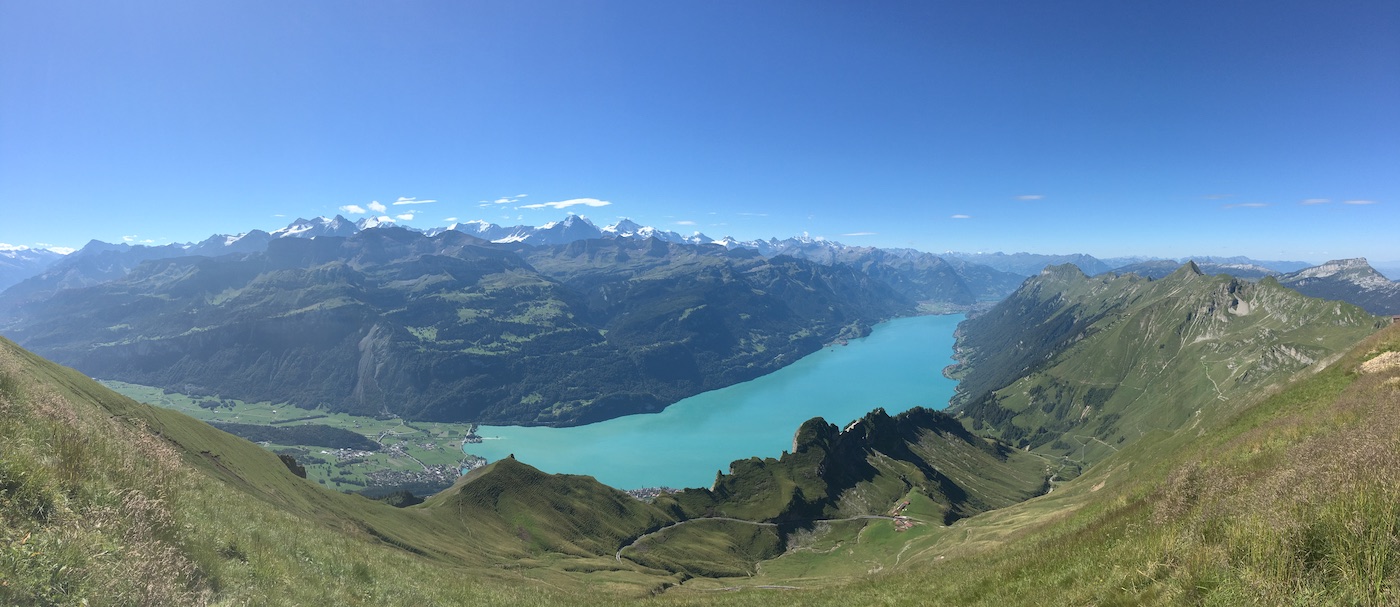 BMX
BMXing was shit in 2020. Between being injured and travel restrictions (I have no car, so I have to take public transportation, which is less than ideal in COVID-19 times), I only got to ride at the Genève bowl once. A new bowl was built in Evian, across the lake from Lausanne. But again, impossible to get there given the circumstances. During the semi-lockdown, my only getaway was riding my city bike to our BMX trails on the weekends to build the jumps for the upcoming trails season. We got very close to being forced to tear everything down again, despite having asked for authorization and being on a private property. We made the mistake of bringing in a couple of truckloads of (good!) soil to build our jumps, because the local dirt composition basically is gravel and sand. In the end, we got fined. For now, given that I could ride the place only once, the money and time investment was most definitely not worth it. Let's hope things will get better in the 4 remaining years the authorities let us stay there.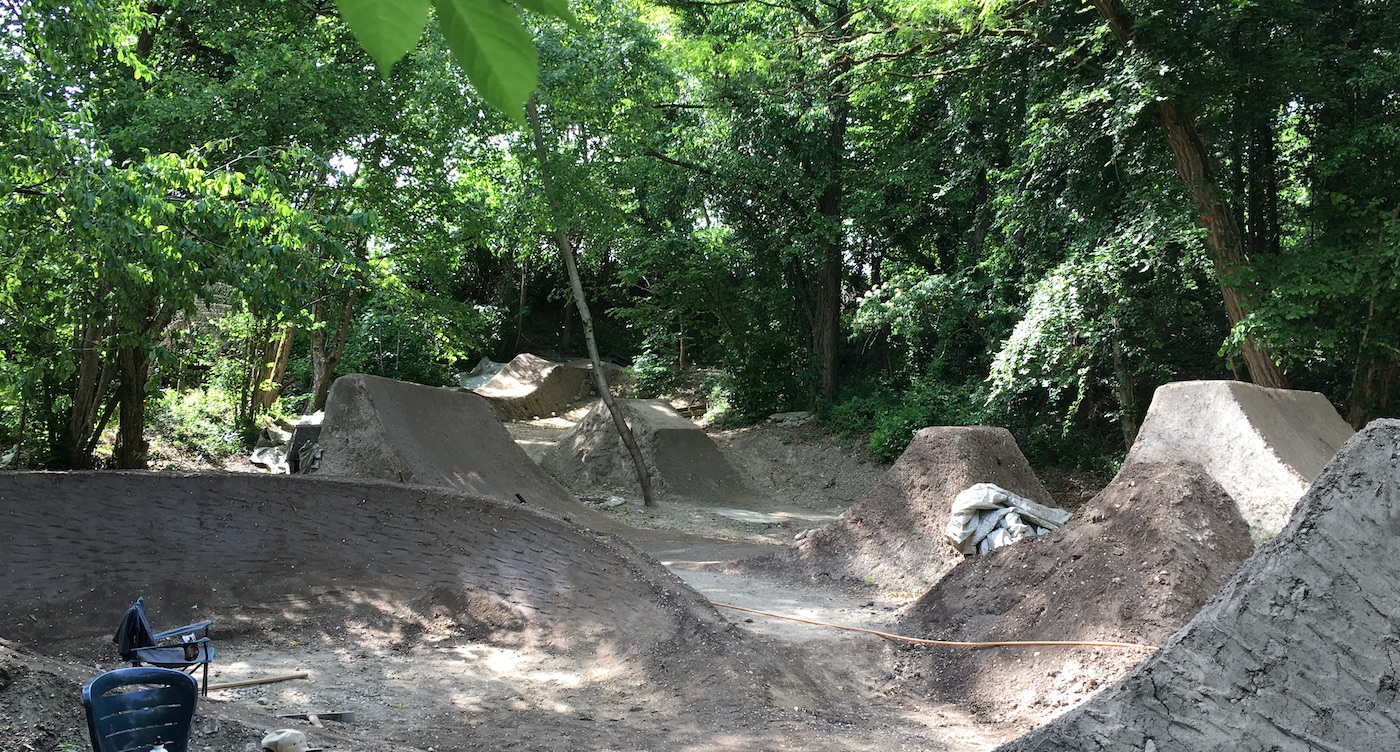 Mountain biking
Mountain biking needs less infrastructure that BMXing, so, in 2020, I did a bit more of the former. Rides around Lausanne went fine. As soon as I left my home turf however, things went to shit. In June, I got a concussion and AC joint tear. Once my shoulder recovered, I got injured on my right wrist in September while riding downhill at EVO bike park. I still don't know what it is, it still hurts (less but still), but the doctor at the CHUV's Centre de la main said that it was "nothing". I guess I got my usual luck with misdiagnosing doctors.
My Strava stats for 2020 destroy the ones for 2019, but it's mostly because I was using my city bike to ride to the BMX trails. It still counts as sports of course, but not mountain biking.
| Year | Time | Distance | Elevation gain |
| --- | --- | --- | --- |
| 2019 | 96h | 1537km | 25353m |
| 2020 | 124h (+29%) | 2229km (+45%) | 38281m (+51%) |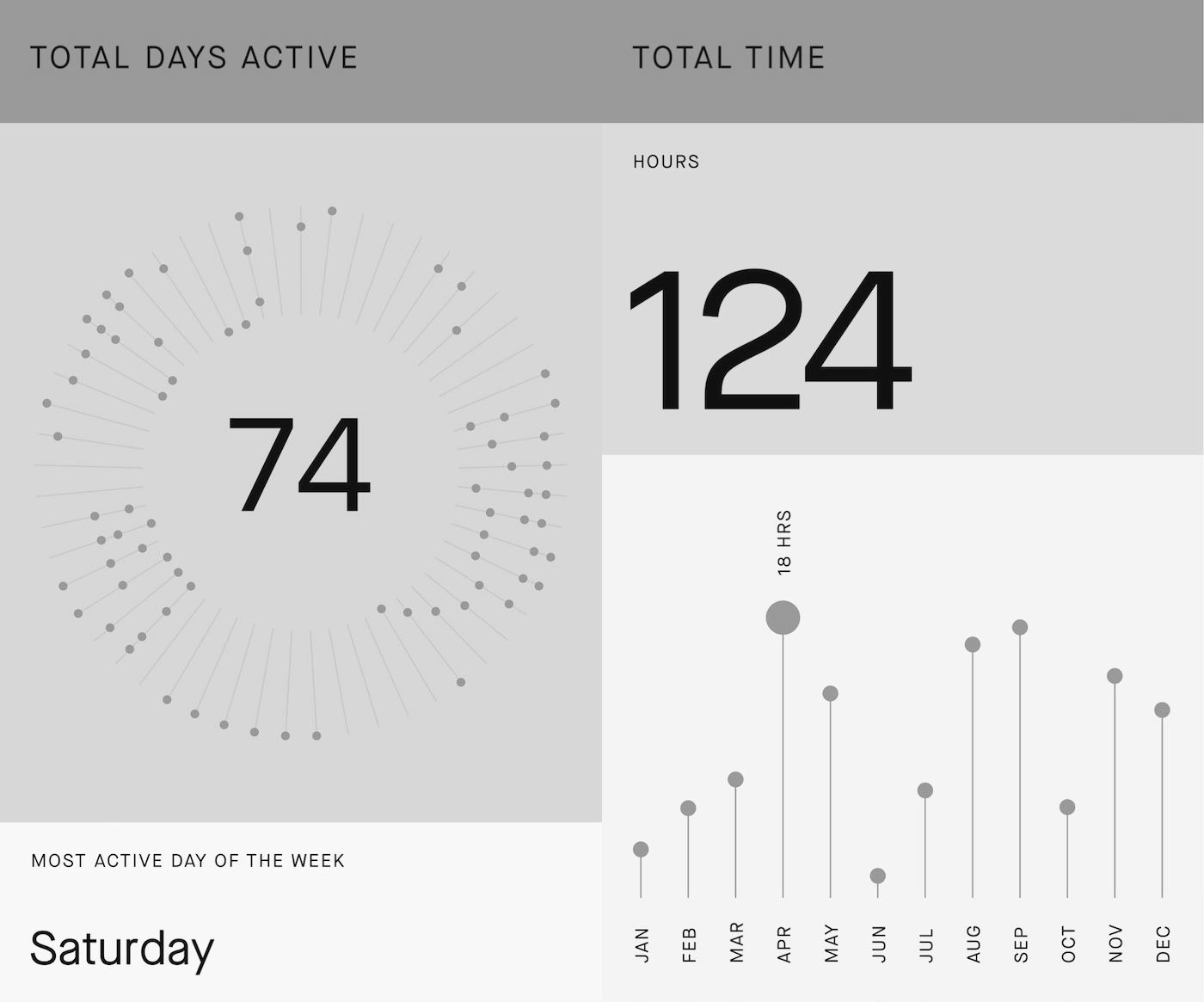 A random encounter during one of my rides at the beginning of the year showed me some nice trails in the eastern part of Lausanne.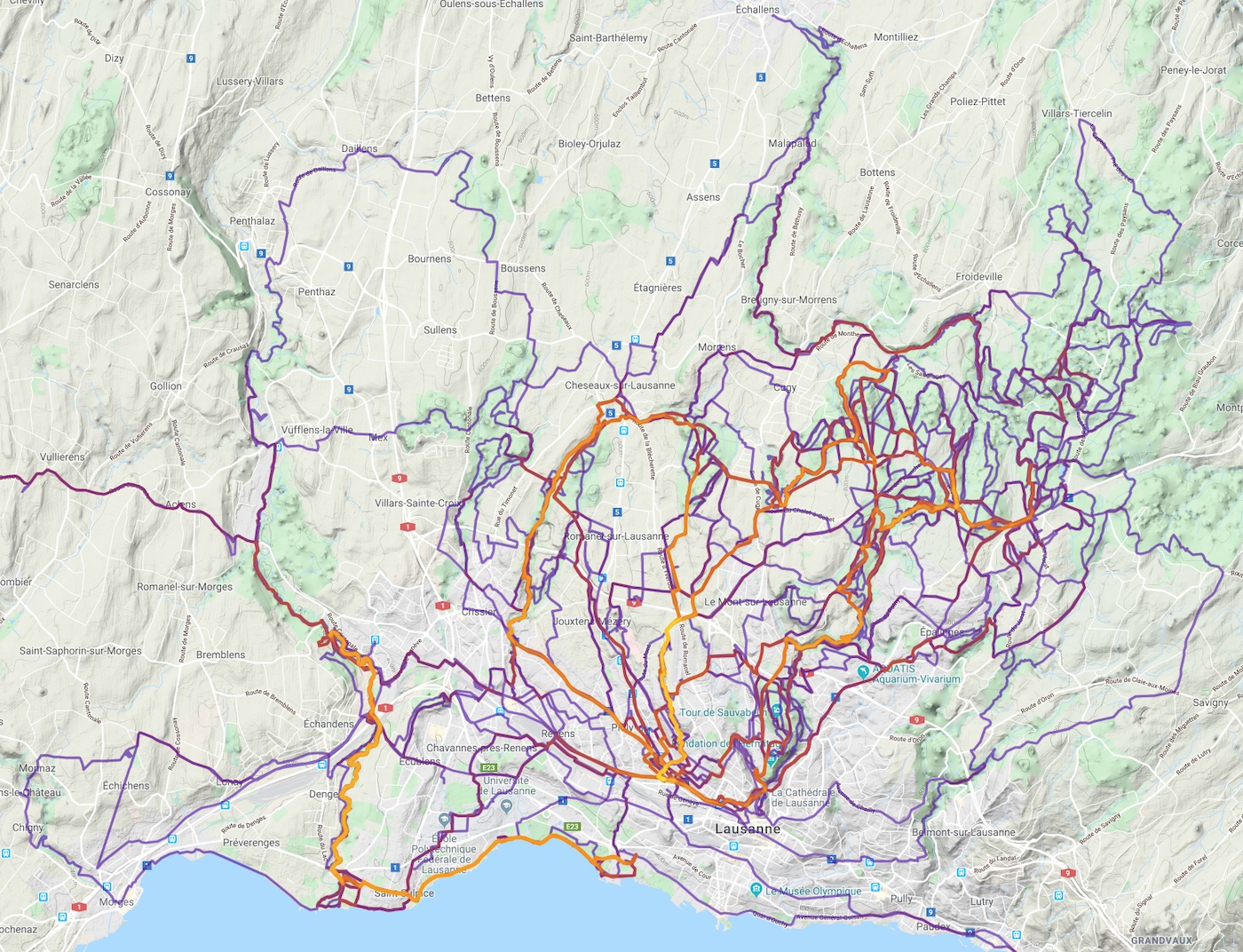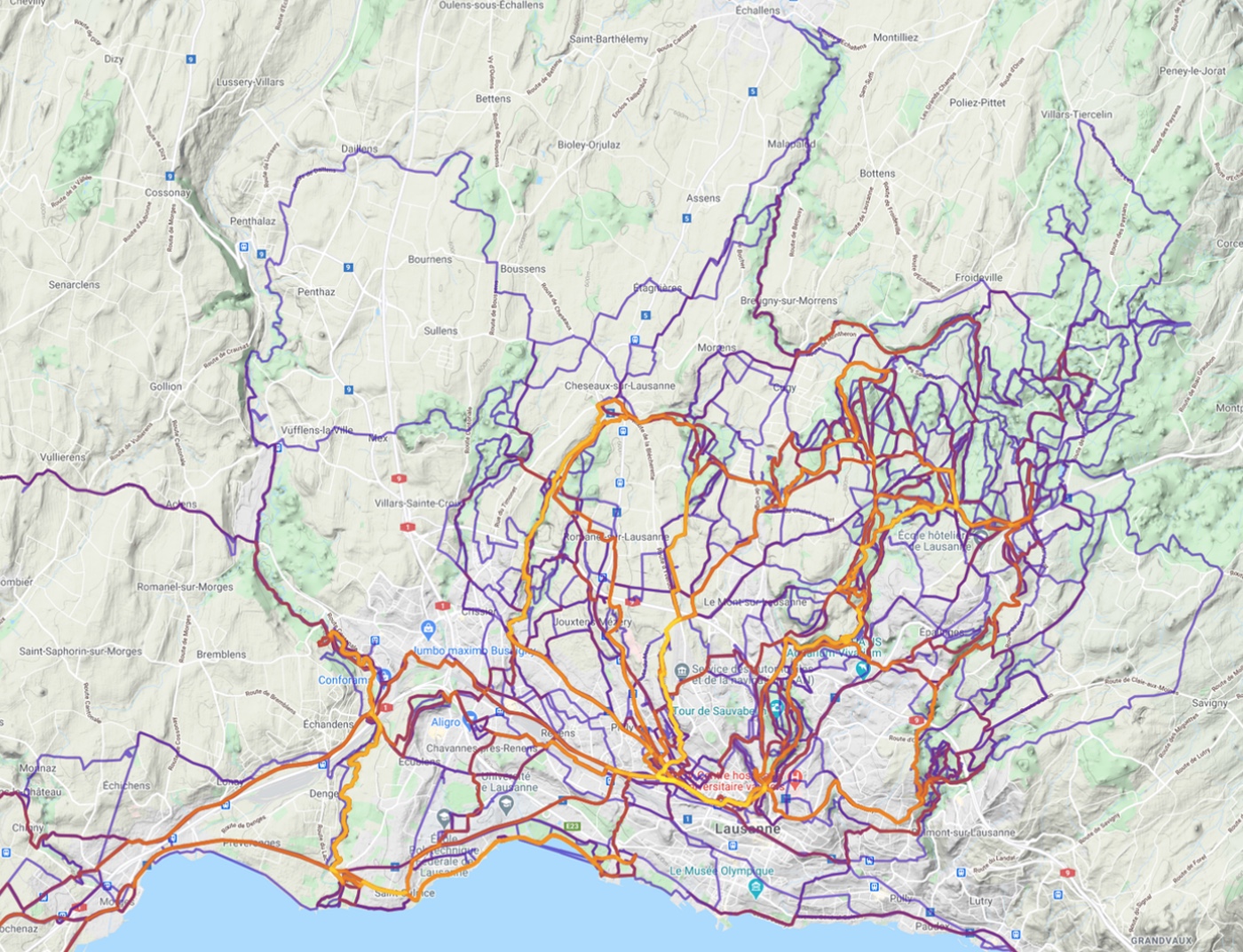 In May I purchased an annual SBB Bike Pass allowing me to take my bike on the train for "free". Even with COVID-19 and my injury, it paid off. At the end of the year I was at CHF 314.30 worth of bike transportation costs, while the Bike Pass cost CHF 240.
Consumerism
My buying shit was a bit all over the place in 2020.
I re-discovered Wizo and ordered their complete discography in CDs.
the biggest and most unexpected expenditure was for replacing the bike frame I destroyed. I also needed a new helmet and a pair of sunglasses.
I got some more gear for biking: a yellow North Face sweater and some stylish Cinelli caps
1 pair of Vans slip-ons, still the most comfy shoes ever, but that get worn down way too fast. And a pair of Larry Edgar Vans BMX shoes, because, you know, the hype.
I changed my mattress after 16 years
I replaced my desk with a shelf and a smaller standing desk (120×80 instead of 160×80). It was a fun endeavour hauling all this on the train and bus: the 8kg desk and the set of drawers for the shelf in my messenger backpack, the table top under one arm, the shelf under the other. I'm happy with the standing desk. I actually never lower it and spend about half a day at the desk, and the other half at the dining table. I'm in the process of putting my 27" display on a desk mount.
I got a beach volley ball so we can go play with the office buddies during lunch breaks. It made a bit less sense this year, as nobody was at the office, but we kept the tradition and still met about once a week during summer.
I bought a guitar stand to display the guitar I don't use instead of hiding it in a closet.
because of COVID-19 of course, I ordered a pack of Testex face masks. I probably washed them already more than the recommended 5 times, so I'm not sure if they're protecting as much as I think they do. Usually for prolonged stays in public places (e.g. train rides), I use one-way masks (GB/T 32610-2016).
LEGO and Nintendo collaborated on a whole bunch of toys in 2020. I ordered 10 packs of the character pack series 1. Usually, you quickly run out of luck, but somehow I got all 10 characters. I'm pretty sure there was a trick.
right before the semi-lockdown, I ordered the latest iPad Pro with Apple Pencil. For the fourth time I succeeded in convincing myself I needed an iPad. This time, I do use it more often than my aging 2012 MacBook Air (that I brought back from the dead by simply disassembling and cleaning!). In fall, I bought an iPhone 12 Pro, replacing my iPhone 6S from 2015. I probably could have waited another year, as the latest iOS version is still supported.
Media
Books
Definitely not much paper-based reading this year…
Winners Take All: I read about a quarter of the book, but stopped for some reason. It is interesting, so I will have to get back into it.
M'explique pas la vie mec!: very important topics, but I was disappointed by how everything is presented.
Games
Podcasts
I took a lot of evening walks listening to podcasts. Here's my 2020 selection, covering a wide range of topics:
Et en français:
Series
Because I bought an iPad in March, I got a 1 year free trial for Apple TV+. I watched:
My absolute must-watches of 2020:
Not from 2020, but that I watched in 2020: The Leftovers. It was recommended to me several times, so I gave it a second try. Once you get past the first couple of episodes it gets pretty good. And I really liked Carrie Coon.
Ok entertainment:
Shows I didn't like:
Last but not least, and not a tv show per se, but I came across the very good Dopamine shorts from ARTE.
Concerts
I had tickets for No Fun At All in Genève and Me First and the Gimme Gimmes in Solothurn, but both got canceled obviously. Going to shows is definitely something I miss.
Dating
In my opinion, meeting strangers during COVID-19 is not the smartest thing. I still was on and off Tinder the whole year, with some pretty fucked up conversations. Before all this, I had one date with an Irish girl named Jenny. I suggested we'd go watch the girls' hockey finals (Japan vs. Sweden) at the 2020 Winter Youth Olympics. The whole date was a bit awkward, but I topped it all off with this: after the game finished, we walked towards the metro. We stopped at a crosswalk and I said "I'm this way" and she replied "So that's it?! No going for a drink or something??". Given how the evening went, I was a bit surprised and was like "Uhh… I don't know… I guess not?" and left. Haha, classic dumb me.
Family
When I lived in Zürich (2014–2017), my sister and I would regularly visit my grand-parents who live nearby. We thought it would be a good idea to see them as often as we could while they were still alive. Well, my grandad finally kicked the bucket in August, at the mighty age of 94. I think I still haven't entirely realized he left us. Since I'm back in Lausanne, I would only see him a couple of times a year. But 1) as this year, I either haven't seen people at all, or on very rare occasions, 2) as I have indeed seen him at our last whole-family-get-together in June, 3) as I haven't seen anyone at Christmas, it's almost as if he was still around and I simply haven't seen him. It's eerie.
At the other end of the spectrum, like I already mentioned, another niece was born. Nieces: 4, nephews: 0.
Epilogue
There was exactly one thing I was looking forward to in 2020: celebrating my 40th birthday surrounded by all my friends and family, like 10 years ago. What I got instead is not seeing many of them in over a year. Thanks life 🖕
At some point this year, the Oatmeal published this genius comic: how to be perfectly unhappy. I think I have never seen something describe my mind better.
Embrace the suck. Move the fuck forward.